Wolverines' tough start to school year
DUNROBIN -The Wolverines must have had a busy first week of school, as the teams were unable to gain momentum in the National Capital Amateur Football Association (NCAFA) regular season as the three football teams making up the club went 0-3 last weekend.
The West Carleton tykes were able to put points on the board during a Saturday, Sept. 7 game but the Orleans Bengals put up more winning 48-24.
Sunday, Sept. 8 was a double-header of football at the Wolverines home field at West Carleton Secondary School. The barbecue was smoking, and fans filled the sideline on a beautiful day for football.
There were 12 NCAFA regular season games played across the city last Sunday. The Wolverines mosquitoes fell 48-20 to Bel-Air and, although the score has yet to be posted, the West Carleton pee wees fell to the Nepean Eagles who were able to find running often room during the game.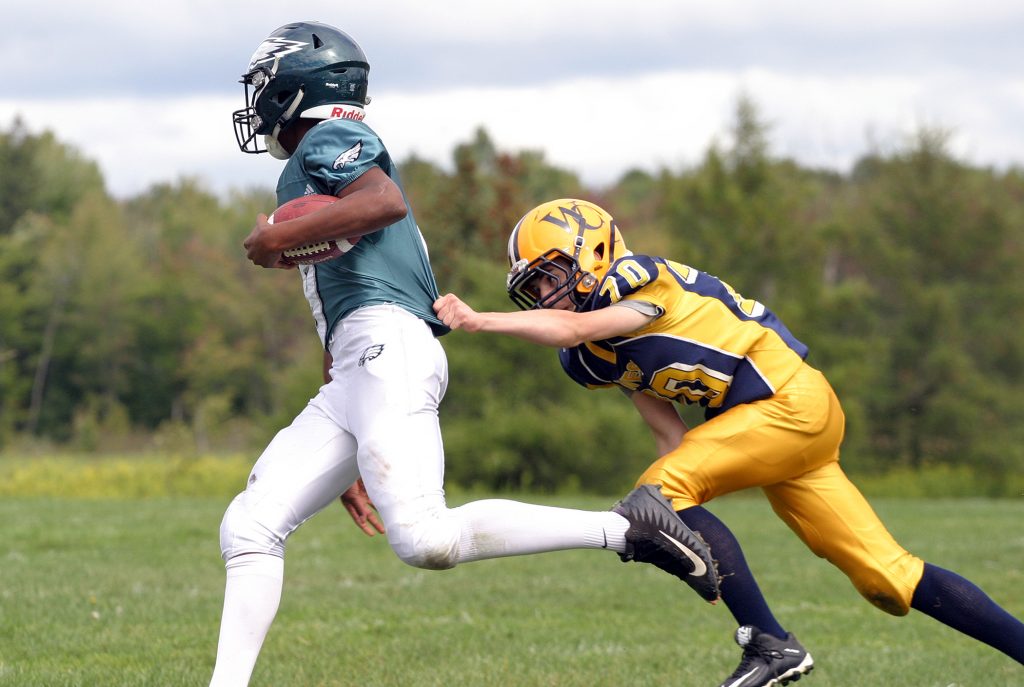 The loss gives the pee wees a decent 2-2 record in the 12-team league. At press time, that put the Wolverines in a tie for fourth place in the league with three undefeated teams ahead of them.
Next up for the pee wee team is another home game Sunday, Sept. 15 at 1 p.m.
The mosquitoes fall to 1-3 on the season. That's good enough for third in the five team, 9v9 league.  The two teams above the Wolverines are undefeated and the two teams below have yet to get a win.
The West Carleton tykes have yet to get a win this season and have an 0-4 record in the 15-team division.
The Week 4 HESN NCAFA Power Rankings are out. They only take in to consideration the first three games of the season so far. The pee wee team sits at Number 6 of 12. Their win last week had no affect as they didn't move positions from week two to week three. The Cumberland Panthers hold the Number One power ranking spot with a 3-0 record.
The mosquitoes fell from Number 3 to Number 4 in the five-team power ranking poll from Week 2 to Week 3. They should be able to hold the spot in the Week 5 power rankings despite last weekend's loss as the South Ottawa Broncos who still look for their first win. The powerhouse Bell Warriors hold the top spot with a 3-0 record.
The Wolverines sit at Number 15 of 15 in the Tyke Power Rankings, but one win is all that's needed to shoot up the poll.
---