Winter carnival samples Carp Riverwalk
CARP – Carp residents got a sneak peak of the proposed Carp Riverwalk Project during last Saturday's winter carnival – a four-season walking trail along the river.
The Friends of the Carp River (FCR) along with representation from the Huntley Community Association (HCA), are exploring the development of a pedestrian trail along the river below the Diefenbunker Museum and the Carp Mess Hall.  Called the Carp Riverwalk Project, the one-kilometre loop would have all-season use for people to enjoy walking, jogging, snowshoeing and cross-country skiing along the Carp River.
The concept dates back to the 2012 Carp Community Design Plan which shows a possible future trail that runs from Craig's Side Road to Donald B. Munro Drive. The FCR's project focuses only on the part of the trail that is located on city-owned land along the river beside the Diefenbunker Museum grounds.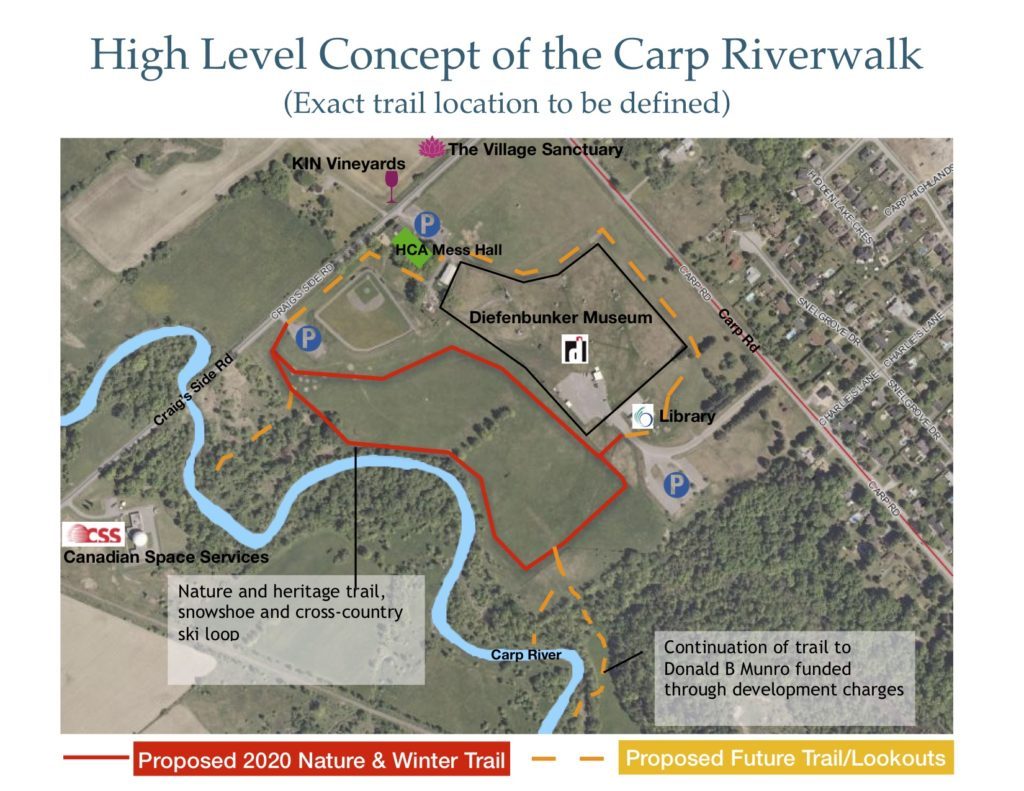 "I love walking and I find there's not enough walking trails in the community," Josee Leblanc told West Carleton Online Saturday, Feb. 29 from her booth in the Carp Mess Hall during the winter carnival.
Volunteers were lending snowshoes and cross-country skis to festival goers who wanted to take a tour of the trail.
Leblanc is an FCR board member and one of the leads on the Carp Riverwalk Project. The trail is scenic with beautiful views of the river as well as unique views of the Diefenbunker.
The FCR hopes to add Interpretive signs that would provide information about the Carp River and about the former Canadian Forces Station Carp. The FCR hopes at some point to add some future trails and even some lookout paths to take visitors closer to the Carp River. To do that though, they would need permission to create access through the fencing that surrounds the property as part of the former CFS Carp that made up the secret military facility. That fence is considered a heritage site.
Leblanc also hopes a "natural play structure" will be part of future plans as well.
For now though, Leblanc has a simple request of the Carp community this year.
"We just want the community on board to try the trail this summer and if there is a lot of interest, we can look in to developing it further," Leblanc said.
If you would like more information on the Carp Riverwalk Project, the Friends of the Carp River of information on how to volunteer, click here.
---