DUNROBIN – West Carleton Secondary School (WCSS) students took their peers on a tour around the world without ever leaving the school.
Members of the WCSS Muslim Students' Association (MSA) gathered together Tuesday, March 10 in the school foyer to share their diverse cultures with their fellow students in their Around the World event.
MSA students crafted informative posters about countries with significant Muslim populations and handed out samples of traditional foods to attendees. Students proudly represented their heritage by dressing in traditional clothing, playing music from a variety of countries, and encouraging their peers to participate in group dances.
"This event was really made to show people that Muslims come from all around the world and our culture is so diverse," Grade 12 student Hiba Alami-Chentoufi told West Carleton Online.
A large number of students and staff alike attended the event to learn about countries such as Palestine, Ghana, Syria, Turkey and several others.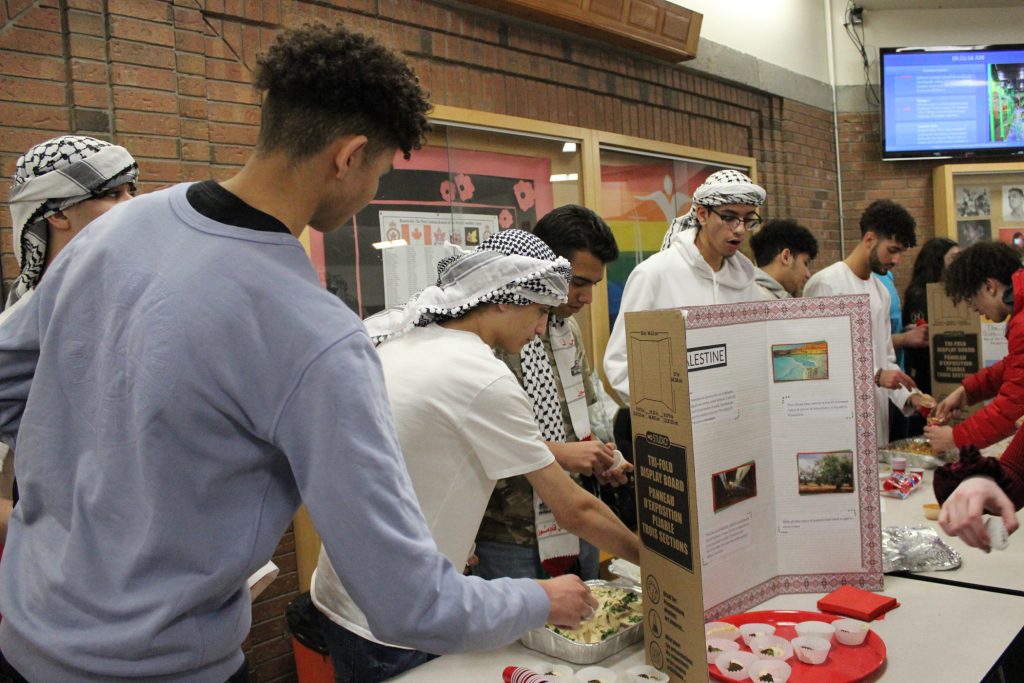 Grade 12 student Wunnam Saani enjoyed sharing her extensive knowledge about her Ghanaian roots. Saani worked hard to create a display which would show off the best of what Ghana has to offer. One item she brought to show her peers was a game called Oware.
"You have a bunch of pebbles that you move around the board – you start with four in each, and as the game goes on, you keep on taking pebbles from your opponents," Saani said. "The person with the most pebbles in the end wins."
Saani also created a poster and gave out bofrot, a Ghanaian food similar to cinnamon sugar doughnuts.
The MSA is a club dedicated to representing Muslim culture in their school community. They organize several events throughout the year allowing everyone to participate in fun and informative Muslim celebrations.
"It's really fun," Grade 10 student Norhan Eloseily, who assisted with the Lebanon stand, said. "I'm happy to get to share our culture with the school and show people where we come from."
---