WCFHT providing parking lot injections
CARP – The West Carleton Family Health Team (WCFHT) is using innovative methods to serve its patients during the COVID-19 pandemic.
In a report to the Canadian Family Physician, the official journal of the College of Family Physicians of Canada, WCFHT doctor Karen Ferguson and registered nurse Julie Bradford outlined how the Carp clinic is providing service to patients in need of injections. The WCFHT opened a parking lot injections clinic.
"Since the World Health Organization declared COVID-19 a global pandemic, Canadian physicians have transformed how they provide care to patients," Dr. Ferguson said.
Clinics including the WCFHT have changed many in-person appointments to virtual ones. Clinics have worked to minimize in-person encounters. But many of the WCFHT's patients receive injectable medications on regular schedules.
"We realized, if we did not find a way to offer injections as scheduled, patients could suffer adverse consequences," Bradford said. "Our team developed a protocol allowing nurses to continue to provide these injections in the clinic parking lot."
Patients are eligible for the parking-lot injection clinic if they require an injectable medication which does not involve an in-office assessment. Many of these injectable medications have a pre-set schedule.
"We found there were only a few patients not eligible to receive their injections in this type of outdoor setting," Ferguson said. "One example would be a patient with a previous serious reaction to an allergy shot. Routine newborn immunizations have been provided as traditional in-office visits rather than outdoors, mainly because of provider preference. However, a small number of immunizations have been administered in the outdoor injection clinic for children older than 12 months of age."
The WCFHT's outdoor injection clinic is located near the side entrance of the clinic. Patients are advised to wear a short-sleeved shirt, and to bring their medication for injection with them if the clinic does not have it already.
"Patients are contacted the day before their appointment to be screened for any potential symptoms of COVID-19," Ferguson said. "If any symptoms are present, the patient is advised to be tested, and the appointment is rescheduled."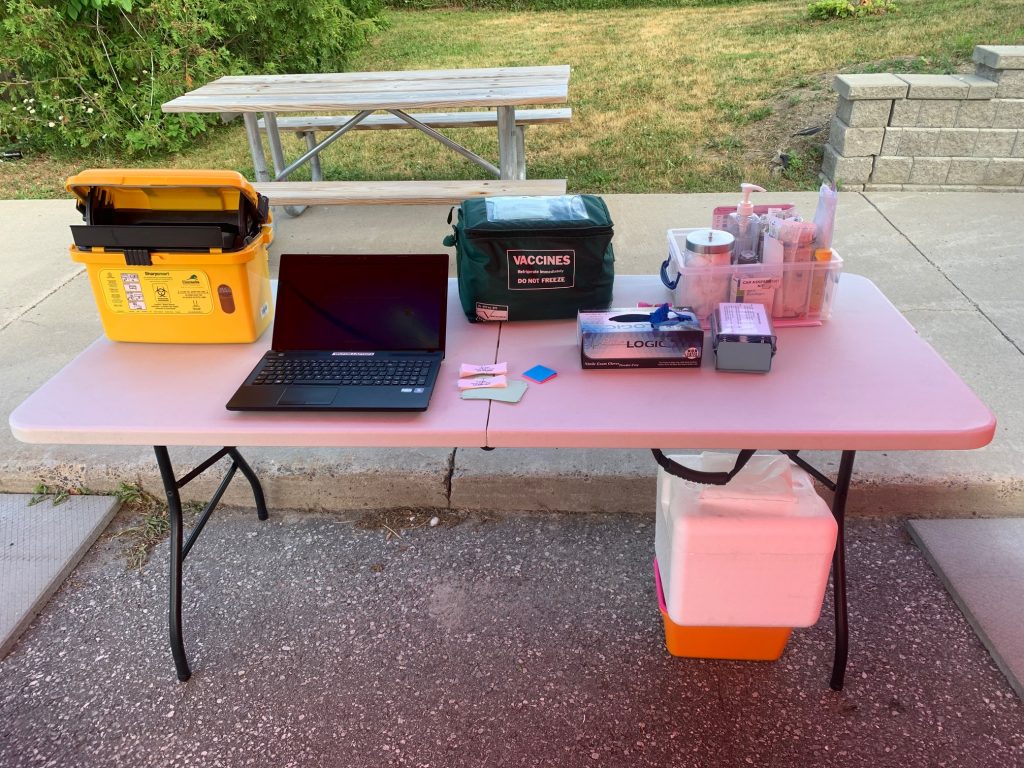 Supplies for the outdoor injection clinic include needles and syringes, alcohol wipes, bandages, sharps container, gloves, hand sanitizer, goggles or face shield, and epinephrine. Any medication, immunization, or allergy serum requiring refrigeration is kept in a cooler bag with ice packs. This bag was obtained from the local public health department and ensures that the cold chain is maintained.
"Regular trips are made to return allergy serum and retrieve immunizations from the clinic refrigerator," Bradford said. "Staff wear appropriate personal protective equipment (PPE) during appointments."
Signs direct patients towards clearly marked parking spots reserved for the injection clinic.
"Patients are advised to wait the appropriate time after the injection and to honk their horn if they have any symptoms or concerns," Bradford said. "To date there have been no serious adverse reactions although we are prepared for such an event. This parking-lot injection clinic requires minimal additional equipment beyond supplies already required for administering injections indoors. We found it helpful to create signage to direct patients, and traffic cones to mark the reserved parking spots. The cost for these was minimal. We purchased a tent to provide shelter from rain or sun, but this is not required."
Between March 20 and June 19 the WCFHT has provided 668 injections in the parking lot clinic.
"We operate this program two mornings per week," Ferguson said. "Feedback has been extremely positive. Patients have appreciated the lower risk of exposure to infection and the convenience of the drive-in outdoor location."
Both Ferguson and Bradford believe this is the only parking lot injection clinic in the Ottawa and Ottawa Valley area. Although outdoor COVID-19 testing has been used in Renfrew County and Lanark County.
They feel, due to the ease of setting up and managing, their pilot project will grow in populariont.
"We foresee other primary care practices adapting the outdoor setting to provide influenza immunizations and possibly other aspects of primary care," Ferguson said. "In our practice, we have found the parking lot injection clinic to be a solution to one of the many challenges of the COVID-19 pandemic. It is an easily implemented, patient-centered option that allows for continuity of treatment while also reducing infection transmission risk."
---