WCAS Spring Into Art Conference 8, April 4
CARP – Stories of art success will be the focus at the Spring Into Art Conference 8 hosted by the West Carleton Arts Society 9WCAS) April 4.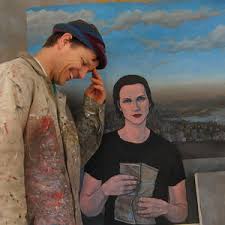 Keynote speaker artist Reid McLachlan will explore the universal themes of what it is to be human and how it can define success.
"Success in the arts," the WCAS released in a statement. "Can it happen? What does it look like? How do I achieve it? Is it a polyseme? So many questions. Like, what the heck is a polyseme anyway? Artist Reid McLachlan has spent his career chasing this elusive chameleon we call success, with sporadic results. Come and hear his thoughts and ideas on the many meanings of success, and on a life spent surviving as a visual artist."
McLachlan has always felt compelled to make images on surfaces. He was formally trained to do this at the Ontario College of Art and Design in Toronto and spent his final year of studies at the OCAD campus in Florence, Italy where he graduated with Honours and a number of awards in 1987. Since then he has painted and exhibited continuously in Ontario and Quebec as well as the U.S. Recently, he has returned to the discipline of drawing, exploring different aspects of his artistic practice through this medium.
Whether painting or drawing Reid's work explores the themes that define what it is to be human – faith, love, loss and death – and seeks understanding in these primal beliefs and emotions that drive us all.
His work can be seen in Montreal at Galerie Bloom, in Ottawa at Cube Gallery and Galerie Annexe, and by appointment at his studio in the Gatineau Hills of Chelsea, Quebec.
Other artists expected to speak at the conference include Sue Adams, Mario Cerroni, Karen Goetzinger and Michael Renouf.
The conference and luncheon costs $65 and will be held at the Trinity Presbyterian Church (1817 Richardson Side Rd.) from 8:45 a.m. to 4 p.m.
Click here for registration information.
---