WC Terry Fox Run co-founder thrilled with virtual event
CONSTANCE BAY – It wasn't the 10th anniversary event West Carleton Terry Fox Run co-founder Linda Cassidy was expecting, but she is thrilled with the one she got.
COVID-19 wiped out almost every major fundraising event held in the Ottawa area this summer. Those organizations able to host something, invariably had to attach the word 'virtual' to it. It was the same story for the 40th Terry Fox Run event held Sept. 20. By extension, it made the West Carleton event, entering its 10th year, a virtual one as well.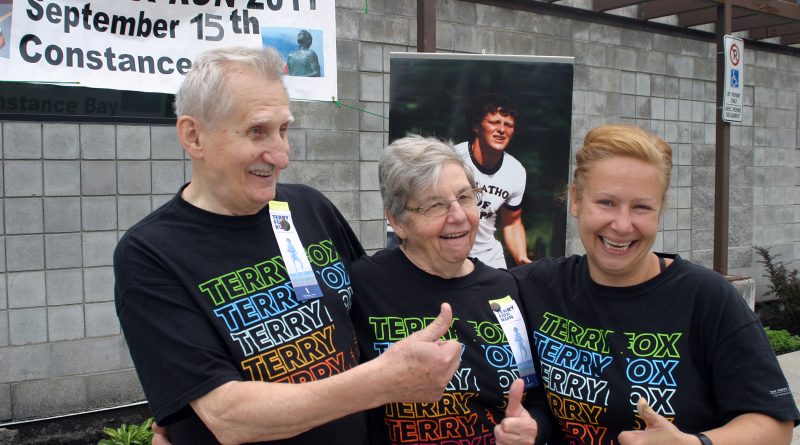 It wasn't how Cassidy expected to celebrate the milestone event, but she was thrilled with the very real support her virtual event received.
"I was overwhelmed with the support for our West Carleton Terry Fox Virtual Run as we had only started fundraising on Sept. 8," Cassidy told West Carleton Online Saturday (Sept. 26). "We now have $4,816 donated to the cause." 
Donations can still be made until the end of October.
Cassidy says it was a mixture of old and new support that made the event a success.
"All my past supporters pledged again for a total of $1,375 plus my personal online total amount raised of $755 for a grand total of $2,130," Cassidy said. "As Bob would have said, I am ecstatic. We can now say we completed our first decade of commitment to the West Carleton Terry Fox Run."
In total, the West Carleton Terry Fox Run has donated more than $70,000 to cancer research.
Cassidy's husband, 'soulmate' and Terry Fox Run co-founder Bob Dupuis passed away earlier this summer. It made for one more challenge for Cassidy to face during the 10th annual event, one the pair thought they had retired from two years ago.
"I would like to thank all our volunteers and supporters, past and present, for making this a big success," Cassidy said. "If there is anyone, who would like to continue the Marathon of Hope for West Carleton, please contact me."
If you think you can help Linda Cassidy maintain the legacy of the West Carleton Terry Fox Run, you can contact her by email here.
---