WC restaurants riding out pandemic
WEST CARLETON – The business model has been flipped on its head, but West Carleton restaurants are battling to stay open, stay afloat and serve their community during the COVID-19 pandemic.
Mid-March, a state of emergency was declared in Ontario due to the fast spreading novel coronavirus. The emergency order closed down all but essential businesses. The country's population was asked to stay home and the country's economy is historically struggling.
Restaurants that closed March 16, a day before one of the busiest days of the year – St. Patrick's Day, were called essential services, but were only allowed to provide delivery or take-out services.
Restaurants Canada, a not-for-profit national lobbying association, estimates more than 800,000 foodservice jobs were lost as of April 2 – more than 300,000 in Ontario alone.
It reports four out of five restaurants have had to lay off employees since March 1 with more cuts to come. Nearly one out of 10 restaurants have already closed permanently and a further 18 per cent will close within a month if conditions persist.
West Carleton Online spoke to three local restaurants this week to get a first-hand report on how their businesses are managing during the pandemic.
FITZROY HARBOUR – "To be honest with you, when the state of emergency first happened, the first two and three weeks, people panicked and stocked up on groceries and it was pretty quiet," Harbour Pizza's Sammy Saad told West Carleton Online yesterday (April 16).
Harbour Pizza has always been much more of a take-out and delivery business, but there was still money to be lost. Saad provides pizza to Stonecrest Elementary School and St. Michael's Fitzroy Harbour Catholic School for their pizza days. He has provided St. Michael's pizza for the last 10 years and Stonecrest the last three.
When the schools closed, Saad said that was about $1,000 a week of lost revenue.
"That's someone's salary," Saad said.
He says lunch used to be a fairly busy time for Harbour Pizza too.
"Now I make one pizza and still have slices left over," he said.
Saad says apart from those early weeks, business has steadied, but he has had to incorporate a number of changes.
He says Harbour Pizza prefers delivery and encourages electronic payment now.
"Call us and pay over the phone and we'll drop off your pizza on the porch," Saad said.
He now has new policies in place. Lots of rubber gloves and disinfectant wipes.
"The machine gets wiped after every use now," he said.
Saad says he has two people not working due to the greatly reduced workload. One of them just didn't feel comfortable working in the current climate.
"It's not too bad, but it is scary," Saad said. "All it takes is one person to get sick."
Saad is well known in the Harbour community. Last year during extreme flooding, Saad stepped up delivering free pizza to volunteers all over the community to help keep them fed and keep them fighting back the tide.
"I love my community," Saad said. "They're good to me, so I'm good to them. That's the way it should be."
Instantly rocketing to the top of West Carleton Online's Hallowe'en stops, Harbour Pizza, instead of candy, gives out cheese pizza slices to the kids that come trick-or-treating.
"The kids love it," he said. "I make about 15 extra large pizzas. The cost of candy is almost the same as the cheese and dough."
The community has stepped up to support Harbour Pizza. Every second Friday the community and nearby neighbours host a virtual pizza party. The idea was sparked by community leader Patrick Garbutt of Kinburn.
"Patrick is my man," Saad said. "He's a big supporter. I love it. It's helpful."
Saad says he expects it to be a challenging spring and is looking forward to when things return to 'normal.'
"It is what it is," he said. "It's not only me. There's a lot of businesses facing challenges. I'm lucky to have a lot of support."
The music stops at the Juke Joint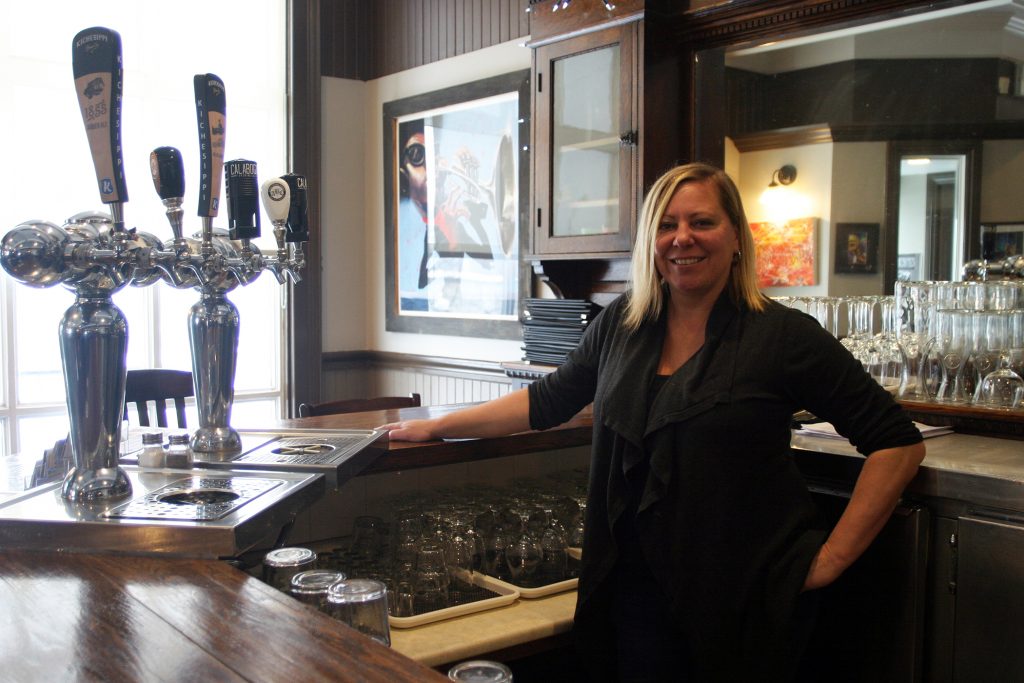 CARP – The Juke Joint Soul Kitchen in Carp celebrated its second anniversary just last February. The restaurant had established a reputation as a place with a unique menu and a great atmosphere. The restaurant was also the home to live music and was expecting to kick of spring with a packed St. Patrick's Day party.
"Oh my goodness, coming out of January and February, we look forward to March," owner Corri Greenberg said of the traditionally slow winter months of the restaurant business. "We had a full house reserved for St. Patrick's Day. Two bands booked. Everything was ready to go, and we had to cancel."
Greenberg spent the first few days of closure doing some work and minor renovations.
The restaurant was closed for a week, but mortgages need to be paid and despite a pandemic, bills keep coming in. She switched her focus from dine-in to take-out.
"This is a huge change," Greenberg told West Carleton Online yesterday. "I make boxes all day long. We had to change our menu a bit. Take-out is different than when your meal comes straight from the kitchen to your table. Everything is scratch made and we want to remain consistent because we're known for that."
And in between the menu change and the box-making, there is cleaning.
"Cleaning, bleach, wipe downs between customers," Greenberg said. "I've been quarantined between here and at home. I'm working 10-hour days now."
Greenberg says the Carp community has really stepped up their support during these trying times. The Jukr Joint has even seen "some new clients," from Stittsville and even as far away as Barrhaven.
"We are having amazing support from our community," Greenberg said.
Last night (April 16) was National Take-Out Day and Greenberg said the Juke Joint was a busy spot.
"I didn't even post anything on social media, and it was a really busy day," she said. "The support has been amazing. I'm hoping we can keep Carp together and keep it as a destination location."
The support has even allowed Greenberg to hire back two of her 11 staff during the pandemic – a full-time and part-time chef.
But as far as the long-term future, for the entire industry, its hazy.
"This is going to change the entire view of Ottawa," Greenberg said. "I'm hopeful with the support, we'll make it through. We bought new patio furniture and we can't even get it out. It's not going to look the same when this is over."
As for the Juke Joint, Greenberg can't wait to host guests in the restaurant again.
"I can't wait to hear live music in here again," she said. "We really miss that."
Lighthouse faces back-to-back spring challenges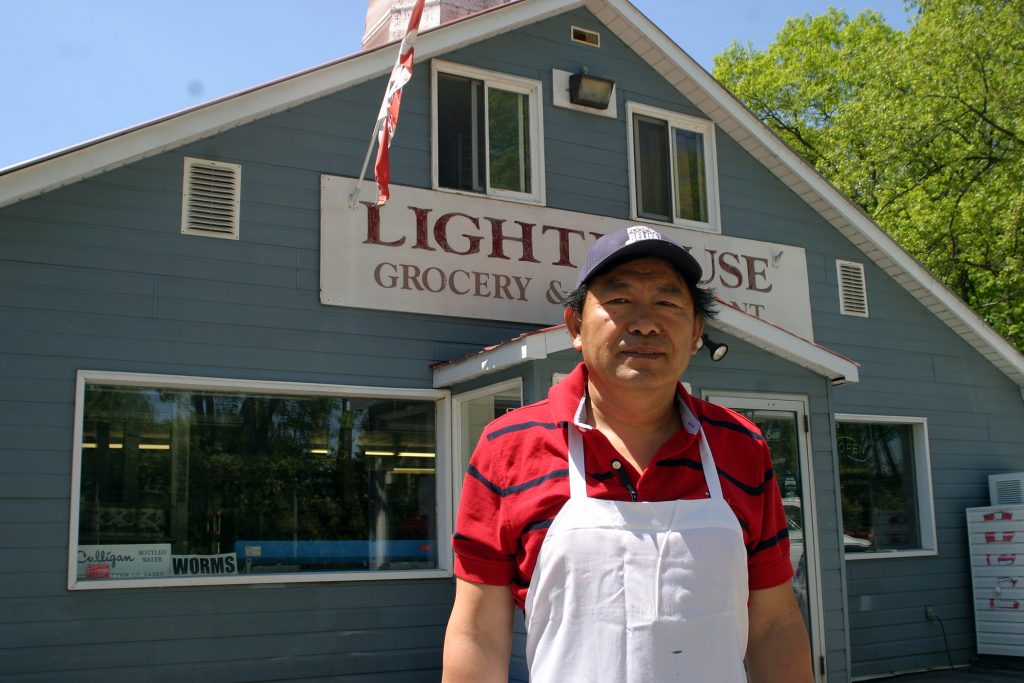 CONSTANCE BAY – The Lighthouse Restaurant in Constance Bay has faced challenge after challenge after challenge the last four years.
In 2017, extreme flooding closed the restaurant for 11 days. In 2019, extreme flooding was so bad, The Lighthouse was closed for six more weeks recovering and rebuilding. This time the pandemic closed the Lighthouse for two weeks.
Owner Sandy Zhang lets out a huge laugh when asked earlier today about the challenges she and her husband Ji have faced over the last few years.
"Oh my gosh, I'm just laughing because I feel so lucky," Zhang told West Carleton Online earlier today (March 16). "We've had so many challenges."
Zhang says The Lighthouse closed as soon as the state of emergency was declared.
"We were not sure if we were essential," Zhang said. "I'm scared as well. We don't want to spread anything. At the time, we weren't ready to be open."
Zhang installed a plexiglass shield at the cash register, purchased masks, sanitizers and gloves, and did everything she could to make sure the restaurant was spotless before reopening.
"We're sanitizing every day," she said. "Now we're really careful. Closed, people will forget us, but open is so much cleaning. It's a struggle between the two."
The Lighthouse has been back open for the last three weeks. They are doing take-out and a bit of delivery – "even our drivers are wearing masks."
Zhang says she hasn't had to lay off anyone yet, but there aren't as many hours either.
"I'm not pushing them to work," she said. "I said if you feel comfortable, come to work. If you don't stay home, I will re-hire you."
Zhang says re-opening looks like the right decision.
"A lot of people are coming and supporting us," she said. "Coun. Eli El-Chantiry ordered dinner and posted about it on Facebook. It all helps. People are helping each other."
But the business has still taken a hit. The Lighthouse has always been a popular breakfast spot.
"This happens and it really hurts us," Zhang said. "Especially breakfast. We're a popular breakfast spot, but people like to eat breakfast in, not take breakfast out."
Luckily, the Lighthouse is also known for its pizza and Chinese food. After four years of unforeseen challenges, Zhang is ready for a return to normal.
"I just want to get back to normal," she said. "I wish that people will be safe. I've also forgotten what normal is like. I hope next year will be the best year ever."
---