WC patio party kicked off Friday
CARP – Sure it was windy and a bit cool, but any Friday is a good Friday to be out on the patio.
Friday, June 12 was the official first day of patio season in the era of COVID-19, and while it was a slow start, community members eventually made their way to the open patios of West Carleton.
West Carleton Online was on the beat Friday afternoon finding itself in Carp and did a little tour of the patios that had previously announced they would be open for the start of the season.
While 4 p.m. can often be a lull in the restaurant business between the end of the lunch rush and the beginning of the dinner hour, we did find one patio full of patrons at the Ridge Rock Brewing Co.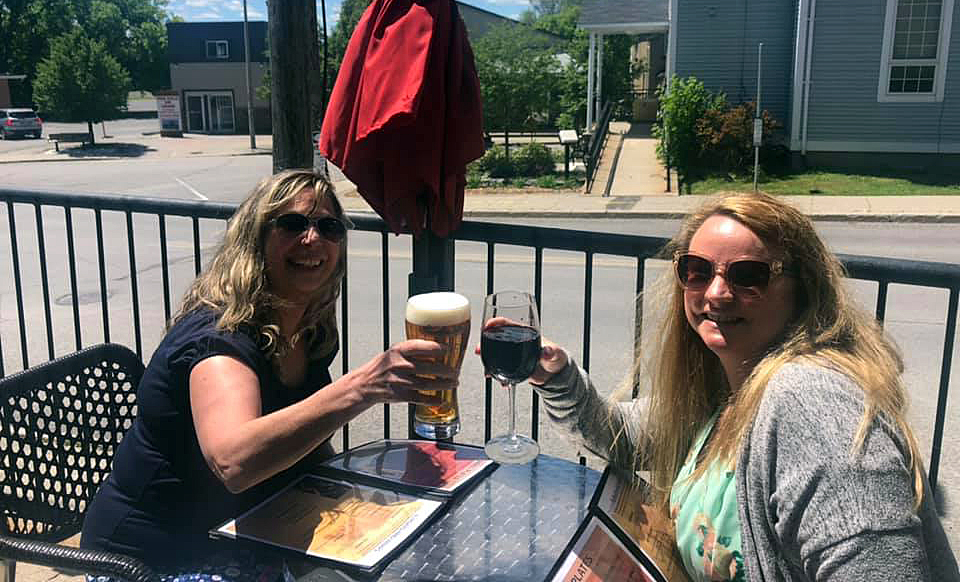 Shortly after four, every table was full on the Ridge Rock patio and there was even one person in line waiting for the next available spot.
At one table, catching up and enjoying a pint was Carl and Lesley Bertrand and Simon Vickery.
"Amazing," Carl said when asked by West Carleton Online how it felt to be back out at a restaurant on a patio for the first time since provincial emergency orders restricted restaurants from hosting guests.
"Fantastic," Vickery said.
"Just happy to be out," Lesley said.
When asked if they had any concerns about being out in a large group during the pandemic, "none at all," was Lesley's reply.
"We're just ready to move on and begin life again," she said.
While the three nearby residents said they had visited the Ridge Rock before, this was the first time any of them had visited the popular brewery's patio.
At another table, no surprise, Coun. Eli El-Chantiry was having lunch with his nephew Eli Junior and Constance Bay's Aaron Guimond.
El-Chantiry had already visited the Swan at Carp and KIN Vineyard's outdoor tasting room and the Irish Hills Golf Club patio earlier in the day.
"It feels great to be out and supporting our local businesses," El-Chantiry said. "It's the new reality. You have to check and clean and be safe. But it's a good step. You can tell people are sick of being home."
El-Chantiry was also able to fit in a haircut during the day.
"It seems like people understand and are being patient," El-Chantiry.
The councillor said West Carleton businesses may not have a huge population to draw from compared to the urban wards, they do have the loyal support of a community that cares.
"The good news is the residents are really out to support their local businesses," El-Chantiry said. "We are lucky in West Carleton because the residents really step up."
For Guimond, it wasn't just about supporting West Carleton's businesses though, it was about taking advantage of life's little pleasures.
"We're out on a patio, eating food someone else made," he told West Carleton Online. "I'm going to cry. It's a little bit of normalcy."
---