WC Online's top stories of the pandemic
OPINION – While it's not quite as visual or graphic as Hollywood had made us believe, the global pandemic has absolutely changed the world and everyone on it.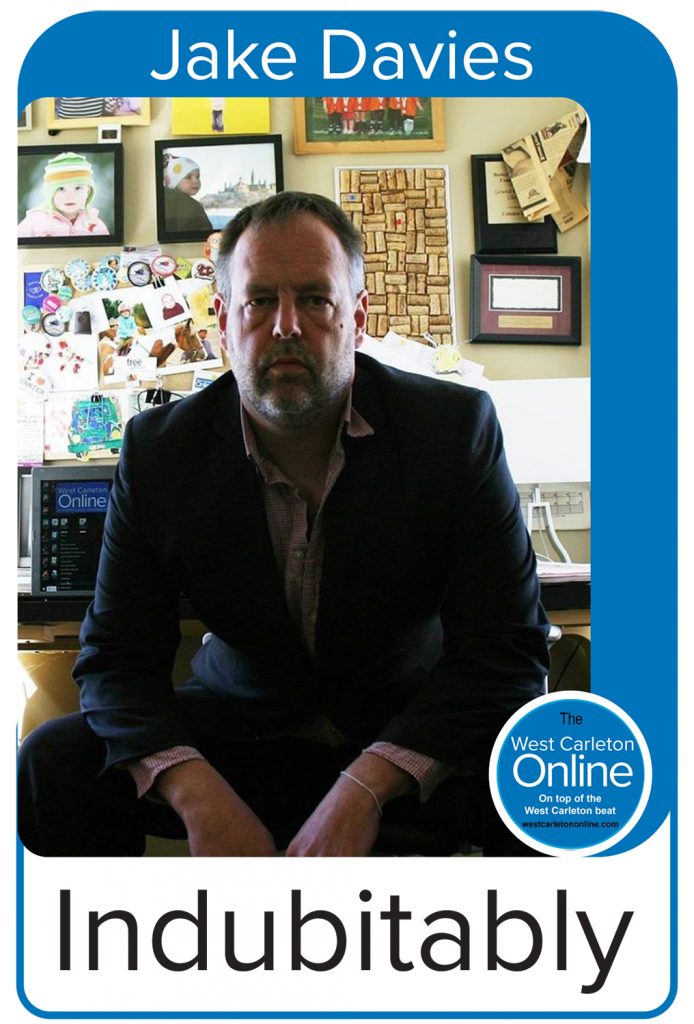 I'm not going to waste too much time talking about it – we're all living it every day and have been since March. The pandemic has killed hundreds of thousands of people and has changed they way everyone else lives. It has touched every corner of the globe yet is impossible to see. It's destroyed the economy and the health system and has taken many of our family, friends, community members and loved ones.
Like almost all businesses, the pandemic has changed the way we do business here at West Carleton Online. For one, we really, really miss covering West Carleton events. We now do Zoom meetings. More importantly, while we are subscriber-based, our heart is in our community. We have a Community Service policy, unwritten but unfortunately used too often in our less than two years of operation. Basically, in time of community crisis, we provide free access to our news. We've already enacted it three times in two years. In 2018 we provided free coverage of a fall tornado that tore through West Carleton from west of Antrim to east of Dunrobin. In 2019, we enacted the policy again during the extreme flooding that decimated West Carleton's many waterfront communities. And now, since March, we've enacted the policy a third time for our continuing coverage of the COVID-19 pandemic.
While the policy does not win us many new subscribers (but we must thank all those subscribers who have renewed or purchased their first annual subscription for their support) it does allow us to get out critical information on the pandemic to our community, as it happens.
We can tell from the clicks our Community Service policy has been an important one. In April, May and June we've had 23,662 unique visitors and 61,813 pageview. We had a record 25,773 pageviews in June and nearly 12,000 visitors.
We often provide a monthly Top Five stories list to promote a small fraction of the type of news we cover here at West Carleton Online. We've been so busy the last four months, we haven't done that for a while. So, we are rolling the last three months in to one column – a Top Five for each month. From our point of view, as the publisher of every single story we publish every single day, the one surprise that stuck out for me is, despite all this tragedy surrounding us, how many of out monthly Top Five stories were good news stories:
April
WC nurse asks for homemade scrub caps (April 6, 564 pageviews): Kinburn's Tracey Zoobkoff is a nurse in the Queensway Carleton Hospital's mother-baby unit. She and all her colleagues needed scrub caps made for them. The community responded. On April 21 Zoobkoff and her colleagues said thanks.
WC restaurants riding out pandemic (April 17, 564 pageviews): Restaurants are hit especially hard by the pandemic and the forced closure. We spoke to three owners in three different West Carleton communities about their challenges.
The Point opens doors for WCFAC (April 14, 419 pageviews): The Point did not immediately return to business when restaurants were able to open again and provide take-out. But they did open for one day when the West Carleton Food Access Centre needed help.
FB group brings WC businesses together (April 20, 344 pageviews): Restaurants weren't the only business hurt by the pandemic. Four West Carleton women wanted to help create a network for business owners and the customers of West Carleton looking to shop local. So, they did.
MVCA issues flood watch for lower Ottawa River, city drops sandbags at key WC locations (April 9, 326 pageviews): A story about water levels and sandbags in spring in West Carleton? Of course, it was popular.
May
Brush fire threatens Carp-area homes (May 7, 1,152 pageviews): A brush fire caused no damage but lots of worry for Carp homes in May. The Huntley Community Association has identified fire as the greatest threat to the community and we'll have more on that story later this week.
Tripps celebrate 73 years amid COVID-19 (May 20, 898 pageviews): It sounds like a modern uptake on Colombian Nobel Prize winning author Gabriel Garcia Marquez's Love in the Time of Cholera. It certainly was one heck of a local love story.
Woman hurt at Carp, March roads t-bone (May 29, 717 pageviews): Emergency news is always popular. Our stats back that up. But to come third in the month with only two days to qualify is still pretty clicky.
COVID-19 map shows virus everywhere (May 21, 435 pageviews): Proof positive the coronavirus can be found in West Carleton.
Bird business battles through COVID-19 (May 1, 424 pageviews): A rare occasion during the pandemic – a new business story.
June
Mid-air crash sinks plane in Ottawa River (June 15, 2,181 pageviews): Our most read story during the pandemic so far. Sunday afternoon, we travelled to the site, we spoke to the incident commander, on scene firefighters and two eyewitnesses and had a story posted on the incident just hours after it happened.
Chinese valley victim of COVID-19 (June 8, 2,120): Not far behind a story of the first West Carleton restaurant to close during the pandemic, although it's still unsure if the pandemic was the cause.
Carp Fair president talks tough decision (June 17, 711 pageviews): Earlier in the day (June 17) we were the first media outlet to break the story the Carp Fair was cancelled. Later that same day we spoke to the President of Homecraft about the devastating decision.
WCSS honours Class of COVID-19 (June 25, 570 pageviews): In these strange times, West Carleton Secondary School does its best to honour the Class of 2020.
Large weekend crowds worry Constance Bay resident (June 26, 539 pageviews): A heatwave brought people to the beach. Some Constance Bay residents worried they were bringing the coronavirus with them.
Those are just 15 of the hundreds of stories we published over three of the strangest months of our times. Many of them great and many of them exclusive to us. West Carleton Online continues to bring the most coverage a media outlet has ever published on the community of West Carleton in its history – and not even a pandemic has slowed the news. We know you think its important, we see it in our analytics. We hope you will consider supporting this locally owned, innovative media outlet providing news no other outlet is. West Carleton Online: Available everywhere, all the time.
---