WC Online Kanata-Carleton election survey: Scott Miller
The following are Kanata-Carleton People's Party of Canada candidate Scott Miller's responses to the West Carleton Online election survey. To read West Carleton Online's original profile on Miller, click here:
Question 1
In order of importance, list your Top 3 priorities and what your plan is to address each priority (Each priority has a 150-word limit):
1. Continue to support the day-to-day government issues of the people of Kanata-Carleton.  Karen McCrimmon has been a good MP. It's not her fault that her boss is an idiot.
2. Investigate what barriers exist to rural high-speed Internet and use the CRTC to try to eliminate those barriers. The technology is not particularly expensive. If alternative or start-up ISP carriers need to be able to string new fibers on existing poles, they will be able to do so. If a bunch of residents want to start a co-op and needs to connect upstream, they will be allowed.
3. Find out if I'd have to wear a damn suit. I am not a suit person. Suits are for weddings and funerals.
Question 2
Please provide us with a favourite photo from your campaign so far. A photo that sparks a fond memory of the rare experience of being a candidate in a federal election. Share with us in words a bit of info about the photo and the memory (100-word limit and a photo):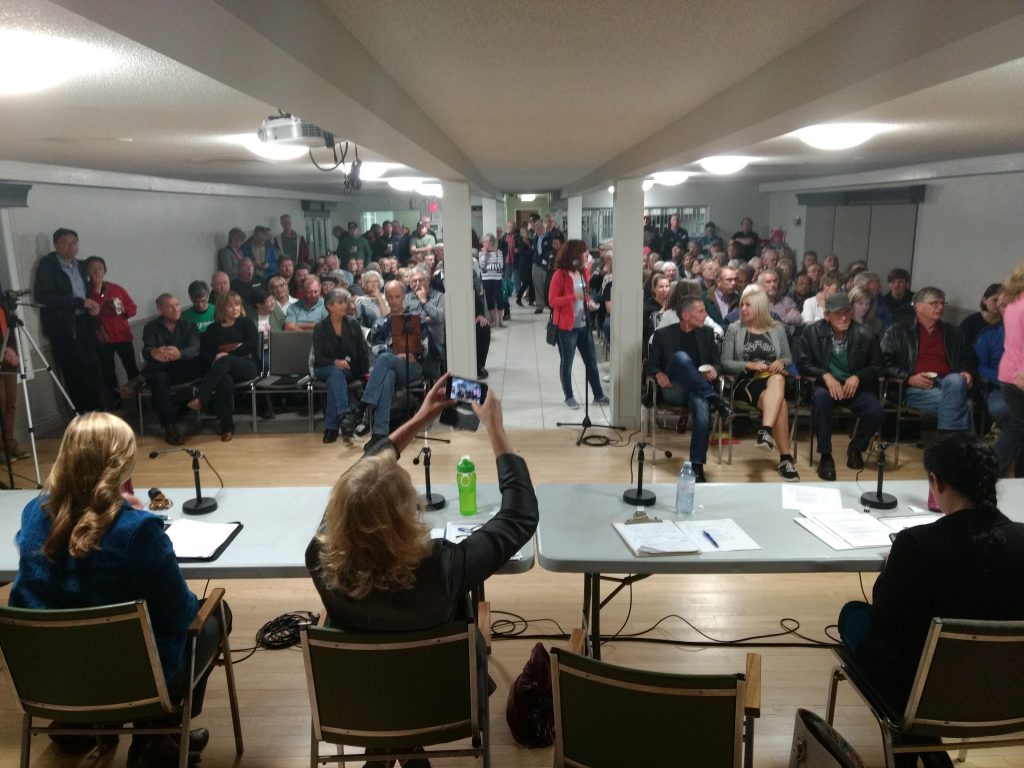 I found I didn't take many photos during this adventure. Normally I have a camera in my hand all the time. My only excuse is that I was pretty busy at these events. This photo was one of the few, showing the packed house at Carp for the debate with my three opponents. This was an eye-opening Fake News experience for me as the big local newspaper completely ignored me, while talking up the Conservative candidate who wasn't even there.
Question 3
West Carleton Online will list three local concerns. Please provide your thoughts on current barriers and your plan for the path forward
(150-word limit per subject):
The agriculture industry
Seniors
Infrastructure
On agriculture:
The agriculture industry needs a secure supply of abundant energy. Canadian oil and gas should be available in all Canadian markets. I'd like to see more freedom for farmers to sell raw milk at the farm gate. I will fight for fair treatment of our farms. Quotas might need to go, but if we are opening up and reducing subsidies, our trading partners need to as well.
On seniors:
My parents are in their 80s, and one of these days they'll be getting old. Beyond ensuring seniors have safe, clean accommodation in every price range, I don't know what needs to be done. But I will speak from the Commons to encourage that children and grandchildren call and visit frequently. 
On infrastructure:
See above on Internet.  With telework, encouraging remote work means many jobs can be done without driving hours a week (or day) to go to an office.  Education can eventually move to the online world as well, meaning the best teachers are available to all students, with no more snow days, ever! But high-speed connectivity is a must for these to happen.
---