WC Online Kanata-Carleton election survey: Melissa Coenraad
The following are New Democratic Party candidate Melissa Coenraad's responses to the West Carleton Online election survey. To read West Carleton Online's original profile on Coenraad, click here:
Question 1
In order of importance, list your Top 3 priorities and what your plan is to address each priority (Each priority has a 150-word limit):
Pharmacare and Dentacare: we will implement both of these starting in 2020, so that all Canadians have access to the medications they need, and the dental care they need.
New Deal for Climate: We will tackle climate change with science-based targets to ensure we keep warming to 1.5 degrees Celsius. We will stop all oil subsidies and invest in clean technology research and implementation. 
Affordable housing: We will start assessing the areas that have a need for affordable housing immediately and working with municipalities to have units built. I would be advocating for affordable housing in Kanata-Carleton from co-ops to rental units to new builds.  We will build 500,000 units across Canada.
Question 2
Please provide us with a favourite photo from your campaign so far. A photo that sparks a fond memory of the rare experience of being a candidate in a federal election. Share with us in words a bit of info about the photo and the memory (100-word limit and a photo):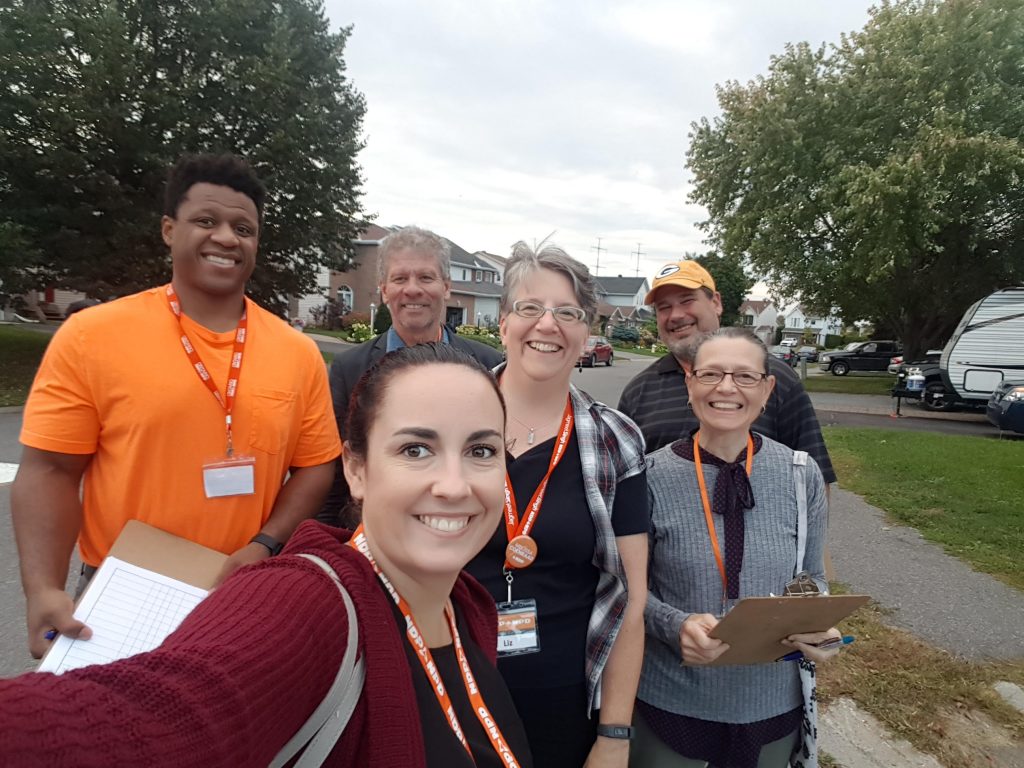 My favourite moments have been with my team out canvassing. Getting to know my team and the constituents at the same time. I have the most dedicated team of volunteers, canvassing in the rain, heat and early in the morning at bus stops, this team is second to none! I wish I could submit more photos to show my whole team. Spending time listening to constituents on a weekly basis has been a fantastic journey, with much insight into the successes and failures of previous governments and excitement for what the NDP can do to fix the issues.
Question 3
West Carleton Online will list three local concerns. Please provide your thoughts on current barriers and your plan for the path forward (150-word limit per subject):
The agriculture industry
Seniors
Infrastructure
The agriculture industry: We need to support the agriculture industry, so the NDP will create a Canadian Food Strategy that will take a whole-of-government approach to address regional need and priorities by investing in our communities.  We are committed to fully supporting supply management. We know that Internet infrastructure is a must for rural areas to thrive in business, so we will invest in high speed infrastructure.
Seniors: To deliver these results all across the country, we will lead a National Seniors Strategy that will work with the provinces, territories, and Indigenous governments to make seniors' health care a priority, reduce isolation, and tackle seniors' poverty. This will include a funded national dementia strategy and an elder abuse prevention plan developed with seniors to put an end to abuse and neglect in our communities.
Infrastructure: An NDP government will change that by delivering high-speed rural broadband to all communities in Canada without delay and ensuring reliable cell phone service is expanded to every area of Canada, while keeping rates affordable for families and businesses. The NDP will work with provinces to put in place a new deal for rural infrastructure programs that provide long-term predictable funding for communities and we'll increase the amount of help the federal government provides to communities to adapt to climate change and rebuild when disasters happen. We'll make sure affordable housing investments go to rural communities too, and that federal infrastructure dollars flow now to create good local jobs that stay in the community. 
---