WC Online Kanata-Carleton election survey: Karen McCrimmon
The following are Liberal party candidate Karen McCrimmon's responses to the West Carleton Online election survey. To read West Carleton Online's original profile on McCrimmon, click here:
Question 1
In order of importance, list your Top 3 priorities and what your plan is to address each priority (Each priority has a 150-word limit):
Improving digital infrastructure: My top priority is improving digital infrastructure for residents in West Carleton. Access to the Internet is a must have in today's economy. In our first mandate, our government launched numerous pilot programs looking at how to connect rural and remote communities and I met several times with service providers and encouraged them to participate in the Connect to Innovate program. My priority in a second Liberal mandate would be to continue to push for implementation in West Carleton. In addition, a Liberal government would reduce cell phone bills by 25 per cent and ensure that telecom providers offer affordable unlimited data packages for families.
Better preparing for climate change impacts: We have seen first-hand the impacts of climate change in West Carleton with serious flooding in two of the past three years, as well as the tornado strike in Dunrobin. Although the province has primary responsibility for disaster relief, the federal government can and should play a supporting role. As such, a re-elected Liberal government would create national, low cost flood insurance; we would work with provinces and municipalities to update flood maps; we would develop a national strategy to relocate residents in areas at high risk of flooding; and we would design new EI benefit for people who miss work due to climate-related disasters. These are all concrete steps that will help people. As MP, I will push for speedy adoption of these measures.
Supporting our agricultural sector: Our government has been very successful in securing free trade agreements. we are the only G7 country to have free trade agreements with all other G7 partners. We need to take advantage of the opportunities created by these agreements by expanding our exports, including our agricultural products. Trade commissioners can play an important role in this. Canada has one of the best brands in the world when it comes to the safety and quality of our food. We need to fully exploit this advantage with more effective marketing campaigns. This is something I will advocate as your MP.
Question 2
Please provide us with a favourite photo from your campaign so far. A photo that sparks a fond memory of the rare experience of being a candidate in a federal election. Share with us in words a bit of info about the photo and the memory (100-word limit and a photo):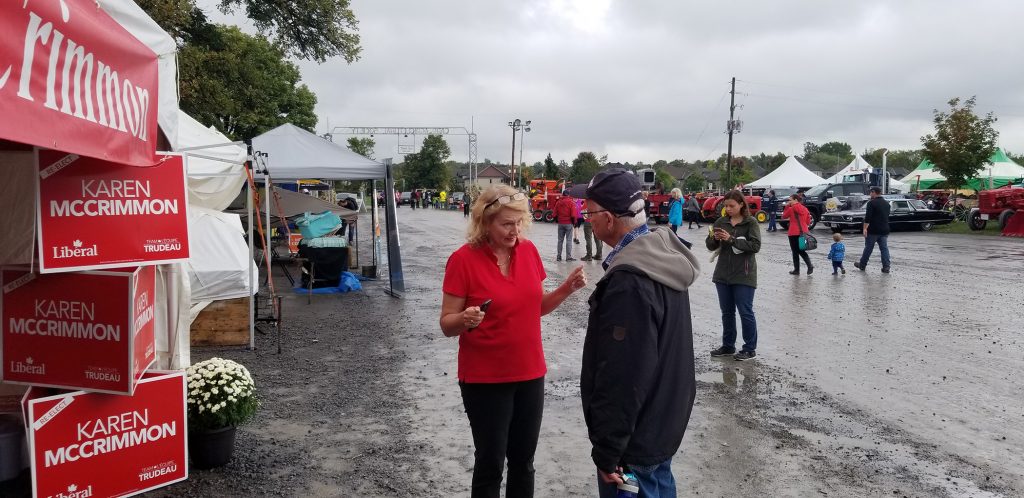 It is a privilege to represent the constituents of Kanata-Carleton. I've made it a priority to be at as many community events as possible, rain or shine, to meet and speak with community members. One of my all-time favourite events is Carp Fair where I get to talk with West Carleton constituents, hear what's on their mind, and celebrate the amazing agriculture heritage of the region. These are memorable moments for me.
Question 3
West Carleton Online will list three local concerns. Please provide your thoughts on current barriers and your plan for the path forward (150-word limit per subject):
The agriculture industry
Seniors
Infrastructure
The agriculture industry: As mentioned above, our party has secured international markets for Canadian agricultural products with all major trading partners and, moving forward, will ensure that we maintain these relationships. Our record also includes programs to promote local agriculture, land stewardship and innovative farming practices. For many farmers, risk management is a real issue, with them unable to manage the serious losses that can happen when commodity prices fall, when floods or droughts strike, or when a major market downturn occurs. We will move forward with a collaborative review of Canada's business risk management programs, with a special focus on Agri-Stability, and are prepared to increase federal support to farmers to help them manage risks beyond their control.  We will also continue to work on tax measures, making it easier for farmers to transfer or sell family farms to family members or others.
Seniors: I think the cost of living and affordability are key issues for seniors. In our first mandate we increased the Guaranteed Income Supplement, by $947, giving 900,000 seniors greater financial security. In addition, we invested $20 million in helping people suffering from dementia and their caregivers. In our community, I secured funding for the Western Ontario Community Resource Centre through the New Horizons for seniors programs. A re-elected Liberal government will build on this progress. After 75, you'll be able to count on a stronger Old Age Security— we're going to increase it by 10 per cent. On top of that, we're going to increase the Canada Pension Plan (CPP) survivor's benefit by 25 per cent for an increase in the maximum benefits of more than $2,000 a year to help people who have lost a spouse. All of these measures are designed to help make life easier for our seniors.
Infrastructure: The biggest barrier to infrastructure development in West Carleton is also its biggest advantage – the rural countryside and landscape.  As mentioned above, the Liberal plan has introduced programs to connect rural communities affected by the digital divide, developed a Canadian rural economic strategy and introduced programs to help smaller communities address their infrastructure challenges.  Moving forward we want to build on this progress through continuing and expanding these programs and ensuring ongoing investment to transportation initiatives that connect our rural communities.
---