WC blood clinic in honour of a Warrior
DUNROBIN – It has been an impossible week for West Carleton residents battling the Ottawa River flood 24-hours-a-day, every day. But the need for blood is also 24-hours-a-day, every day.
Tomorrow (May 4) is your most convenient opportunity to be a donor as a blood donor clinic will be set up at West Carleton Secondary School (3088 Dunrobin Rd.) Saturday from 10 a.m. to 2 p.m.
The clinic is dedicated to Constance Bay's Lincoln Stoate. Lincoln, 7, suffers immunity deficiency from a disease known as Card 11 Benta Disease.
Because of this disease, Lincoln receives a weekly blood product that gives him the ability to fight infections.
"A lot of immunity deficiency diseases are rare," his mom Amy told West Carleton Online from the Heart and Soul Café in Dunrobin yesterday (May 2). "This one is really rare."
They are also really hard to diagnose.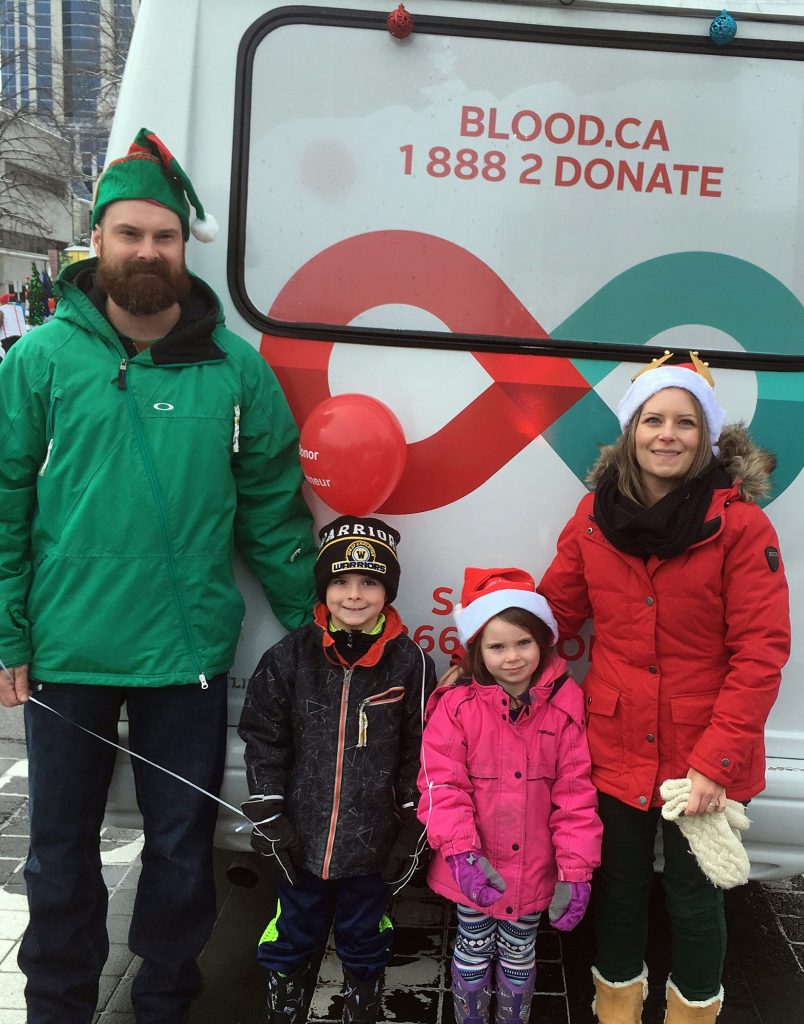 "We started noticing something at six months," Amy said. "He would get constant infections. Sometimes multiple infections at the same time."
Doctors knew something was wrong but were unable to diagnose the issue. That took about six months. It took almost two years to narrow it down.
At three-years-old Lincoln was able to start a treatment plan referred to as immunoglobulin replacement therapy. Every week Lincoln receives a blood product through two needles in his belly attached to a syringe that slowly released the plasma product. It's a process that takes about an hour each time.
His younger sister Harper, 5, sits by his side every time.
"It keeps him fully protected," Amy said. "If he gets sick, he can fight it on his own. He doesn't respond to vaccinations, so this helps with that."
Two years ago, Lincoln had to battle through four back-to-back cases of pneumonia.
But now Lincoln is a very active young man. He is a West Carleton Warrior hockey player but loves "any sport really."
He golfs, swims and plays baseball as well.
This clinic is the fourth in Lincoln's honour, although not all were held in West Carleton. While the blood collected obviously goes in to the pool for everyone's use, it is a way to raise awareness of the need for blood and the many uses a blood donation contributes to those who need it.
"We're just wanting to create more of an awareness," Amy said. "A lot of people aren't aware of how much a donation can stretch."
Amy is also aware the flooding emergency may make it difficult for some to attend and even discussed that with Canadian Blood Services. But they said, even if only 10 show up, it is better than no blood donations.
"Our goal is to collect 58 donations on Saturday," Amy said. "Collecting blood during the current state of emergency in the Ottawa-area can be challenging but the need for blood is constant. For anyone who is able to help our community but isn't a part of the volunteer and emergency response teams, we would love to see you at our event."
Amy recommends anyone able to come out drink lots of water, eat a healthy meal and get a good night's sleep the day before.
You can visit blood.ca or call 1-888-2DONATE to book an appointment and drop-ins are welcome.
---