Warriors plant commemorative trees
DUNROBIN – The trees will grow bigger and stronger each and every year, much like the community they were planted in as Dunrobin continues to recover from the devastating tornado that came through town a little over a year ago.
It was a cold Sunday morning (Nov. 10), but we all know the West Carleton Warriors peewee team doesn't let much slow them down. So, the team, players from last year and this year's squad, coaches and parents gathered to plant four trees as part of a lasting recognition of the team's charitable work – raising more than $100,000 for tornado relief efforts last winter. The trees will accompany a plaque commemorating the team's accomplishments.
"A perfect day to plant before the snow flies," mom Shelley Welsh said.
Welsh's son Blake Voelker was a Warrior during the team's fundraising efforts and also made the A team this year.
"The boys took turns with the shovels and the adults did some heavy lifting too," Welsh said. "We are definitely all a well-oiled machine now. Thank you, Chevrolet, Good Deeds Cup, Dunrobin and Area Women's Institute, Dunrobin Community Association, Karen McCrimmon, West Carleton Disaster Relief, West Carleton Online, Todd Nicholson, Sophie-Lise, and we were grateful to have three of our sponsors also in attendance – Bijkerkville Trees, Reporting Central and Huawei."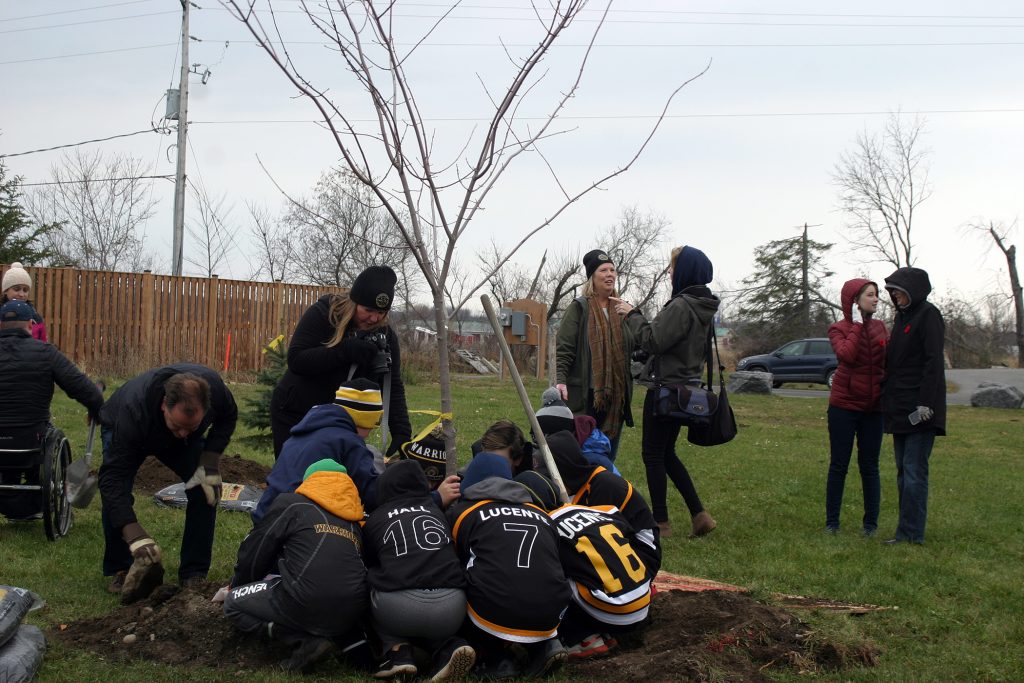 The trees, donated in part by Kinburn's BijkerkVille Trees, consisted of three Colorado Blue Spruces and one Canadian Red Maple.
BijkerkVille Trees' Denise Bijkerk said the three blue spruce are beautiful trees and the red maple, another looker, will provide a large canopy and can offer shade for those visiting the greenspace.
West Carleton's most decorated athlete and Dunrobin resident Todd Nicholson was also on hand to take in the event and even shovel some dirt.
Nicholson says his family is still a couple of months away from moving back in to their Porcupine Trail home destroyed by the Sept. 21 tornado saying he expects that will happen some time in January. Not the ideal time of year to move but "at least we won't have that much stuff to move," he said jokingly.
Much of their "stuff" was destroyed by the tornado.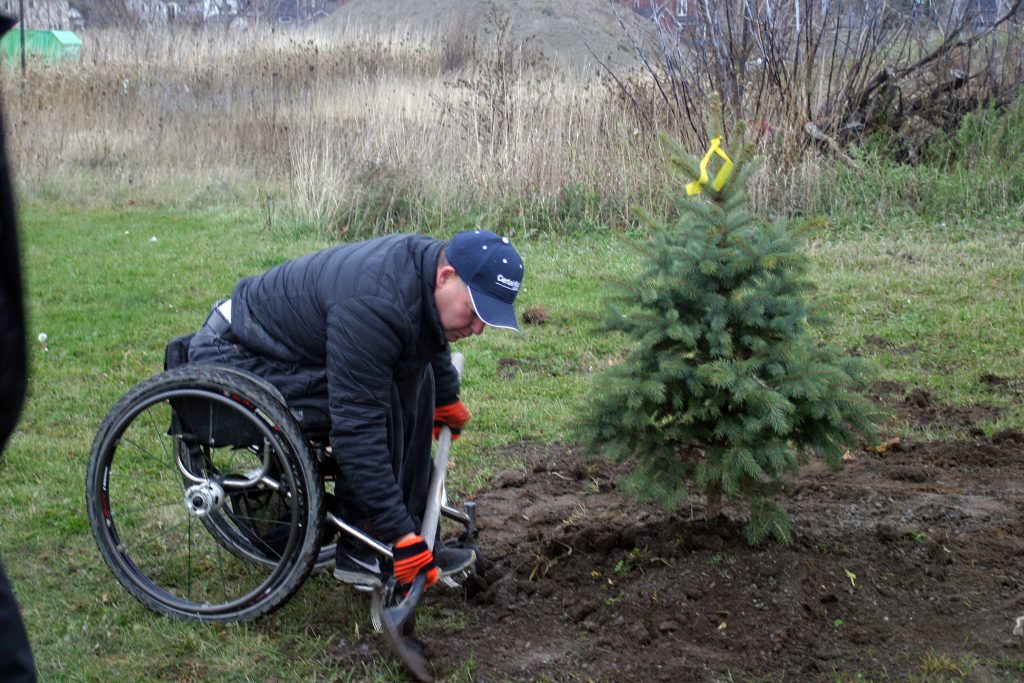 ---