Warrior plaque installed in Dunrobin
DUNROBIN – The final piece in the tribute to local fundraising has been installed in the green space at the four corners in Dunrobin.
On Saturday, (Oct. 31) a final commemorative tree and the official Chevrolet Good Deeds Cup plaque was installed at the greenspace found directly beside the new, still under construction, strip mall being build in Dunrobin. It's a fitting location marking the re-birth of a community devastated by a tornado in 2018.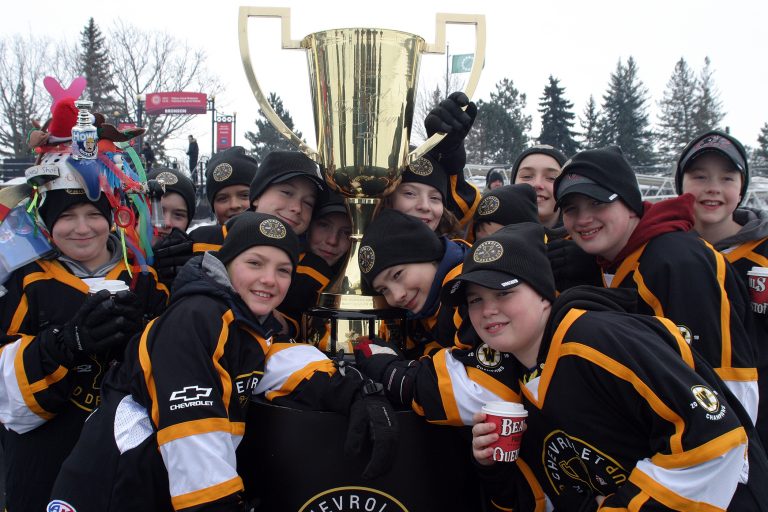 The new tree and plaque join four other trees as part of a commemoration of a West Carleton Warriors hockey team that went to work fundraising less than 24-hours after a tornado tore a swath through the West Carleton community (link contains sensitive imagery).
That Sunday (Sept. 22, 2018) members from the pee wee A Warriors headed to the Carp Fair to start fundraising for tornado relief. Their efforts garnered national recognition and the team eventually won the Chevrolet Good Deeds Cup helping the team raise more than $105,000 for tornado relief in West Carleton.
Last Saturday Nicole and Eric Bijkerk of BijkerkVille Trees along with two Good Deeds Cup players Blake Voelker and Zack Hall, who are now bantam-aged players, and their parents planted a final commemorative tree and the official Chevrolet Good Deeds Cup plaque, installed by Matt From.
"The placement of the plaque and the four trees will offer, over time, a beautiful setting to come and enjoy for many years and to remember the events of September, 2018," Blake's mom Shelley Welsh told West Carleton Online yesterday (Nov. 5). "It will mark the work done by the West Carleton Warriors pee wee A team of 2018/2019 and their parents in cooperation with Chevrolet for our community as a way to give back during such a tragic and historic time. In the future there is also talk of a bench or benches at the site as well to make it even more enjoyable one day."
Meanwhile, right next door, work continues on the Dunrobin plaza – one of the last remaining reminders of the destruction and hardship Sept. 21, 2018 brought to the community.
The plaque reads: Dedicated to the West Carleton Warriors Pee Wee A Team 2018-2019. In recognition of their inspirational fundraising efforts following the tornadoes on Sept. 21, 2018. And winning the Chevrolet Good Deeds Cup grand prize of $100,000 towards West Carleton Disaster Relief.
---