Wanted 22-year-old man to locate
OTTAWA – Police are on the trail of a man who has repeatedly threatened Ottawa organizations with mayhem and murder.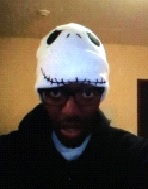 "The Ottawa Police is looking for public assistance to locate wanted Jovonn Daniels, 22-years-old of no fixed address," the Ottawa Police Services (OPS) released in a statement at noon (May 27). "In January 2019, Daniels sent text messages to two local organizations threatening that someone was on the way to shoot employees. He also sent repeated and unwanted emails to one of the two organizations. In May, he emailed a corporation in Montreal stating he would be attending the building with a bomb and a gun to murder the employees."
He is wanted for four counts of criminal harassment and two counts of public mischief. Daniels is described as a black male, thin build, with short brown hair.  He is known to frequent the downtown core and west end of Ottawa.
Anyone with information on the current whereabouts of Daniels is asked to contact the Ottawa Police Central Criminal Investigations at 613-236-1222, ext. 5166. Anonymous tips can be submitted by calling Crime Stoppers toll-free at 1-800-222-8477, or crimestoppers.ca.
---