Volunteer lifesavers at Pinhey's Point
PINHEY'S POINT – West Carleton's unique landscape and proximity to a major waterway made it the perfect location for more than120 non-government organization members to practice a huge emergency response action last Saturday (Oct. 5).
On Saturday, Oct. 5 hundreds of volunteer emergency responders sprung into action responding to a mock earthquake spanning two provinces and the Ottawa River.
The Salvation Army, The Red Cross, St. John Ambulance, Ottawa Search and Rescue Volunteer Association, the Civil Air Search and Rescue Association, Team Rubicon, the Canadian Coast Guard Auxiliary and The Radio Amateurs of Canada all took part in the massive mock emergency on the Ontario side of the river as a way to get practice in responding to an emergency that would require several organizations working together to create successful outcomes.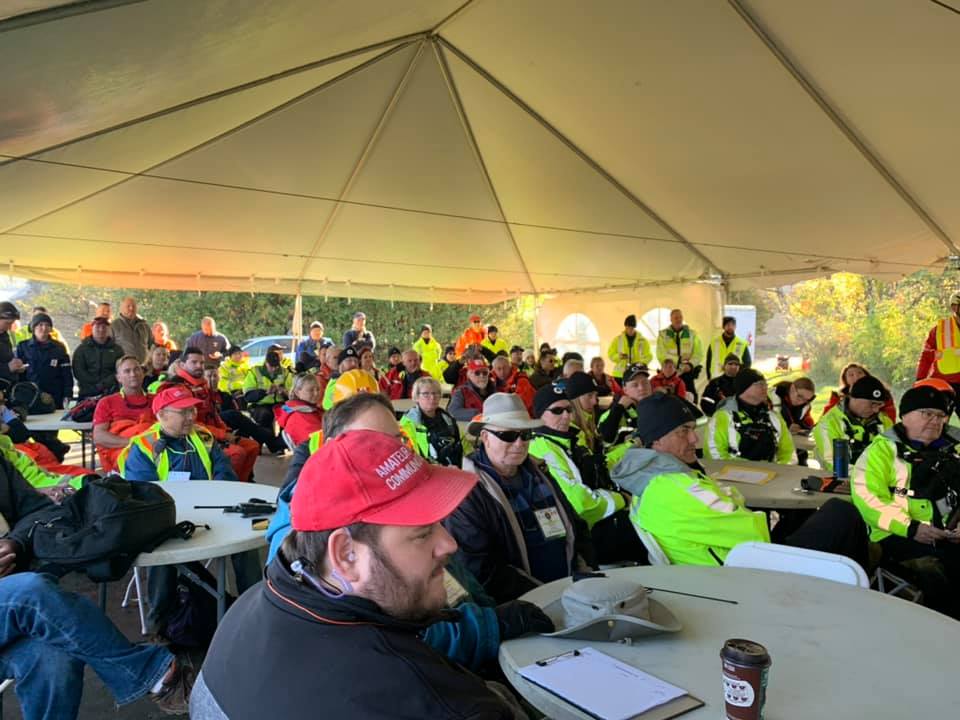 The drill was part of the Ontario Association of Emergency Management Rendez-Vous program which fosters partnerships among the emergency management/search and rescue volunteer groups and hosts various training activities and full-scale exercises throughout the year.
The Quebec volunteer emergency responders have been participating in Rendez-Vous in the Ottawa region since 2016. This is the first time Ontario-based volunteers participated in the event. Both the cities of Gatineau and Ottawa supported the exercise.
This year's premise was an earthquake response and volunteers worked together to rescue a number of patients from various scenarios on land and in the water. Teams of search and rescue volunteers from as far away as London, ON participated in the event.
Teams were involved in search and rescue as well as triage for the victims recovered. One scenario had the Canadian Coast Guard Auxiliary rescuing two injured people from a damaged boat, stabilizing them, bringing the victims to shore where there were treated for hypothermia and then launching a new search for a third boater.
Volunteers also coordinated ground and air search missions to locate possible victims in thickly wooded and rural areas, stabilizing injured parties and safely transporting them to triage for further treatment.
---