Two transports involved in highway crash near Panmure
CORKERY – Two trucks collided early this morning (Dec. 1) on Highway 417 near the Panmure Road exit bringing Carp's extrication team and Kanata's hazardous material technicians to the resuce.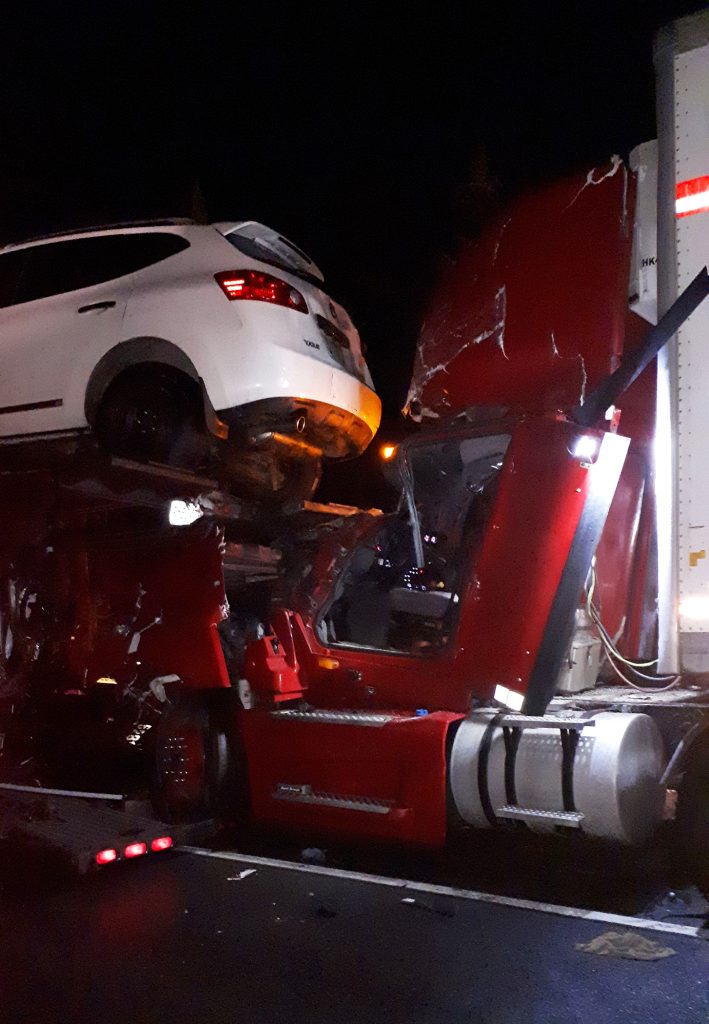 "Ottawa Fire Services (OFS) was contacted by the Ottawa Paramedic Service reporting a collision on highway 417 at 1:54 a.m. reporting a collision on Highway 417 at Panmure Road," OFS public information officer Carson Tharris released in a statement today (Dec. 1). "The caller had reported one driver was trapped after two trucks had collided on the highway."
Firefighters arrived on scene at 2:08 a.m. and reported a tractor trailer had collided with the trailer of another truck carrying a load of vehicles.
"The driver of one of the trucks was trapped after the impact of the collision had crushed one of the cars on the trailer into the cap of their truck," Tharris said. "Firefighters used specialized extrication tools to remove the door and pry the dash of the truck off the driver's legs. The patient was transferred to the care of the Ottawa Paramedic Service."
Firefighters proceeded to identify the contents of the tractor trailer and discovered multiple jugs of chemical solvents and adhesives were leaking the trailer of the truck.
"The OFS Hazardous Materials team was dispatched to contain the spill.
"Haz-Mat Technicians were able to identify the solvents using the documentation in the vehicle," Tharris said. "The chemicals were isolated and leaks contained before the vehicle was towed to reopen the highway shortly before 5 a.m."
The Ontario Provincial Police are leading the investigation in to the collision.
---