Two Constance Bay firefighters promoted
CONSTANCE BAY – The firefighters of Station 63 had the dress blues on Wednesday (May 29) for an evening of ceremony and celebration.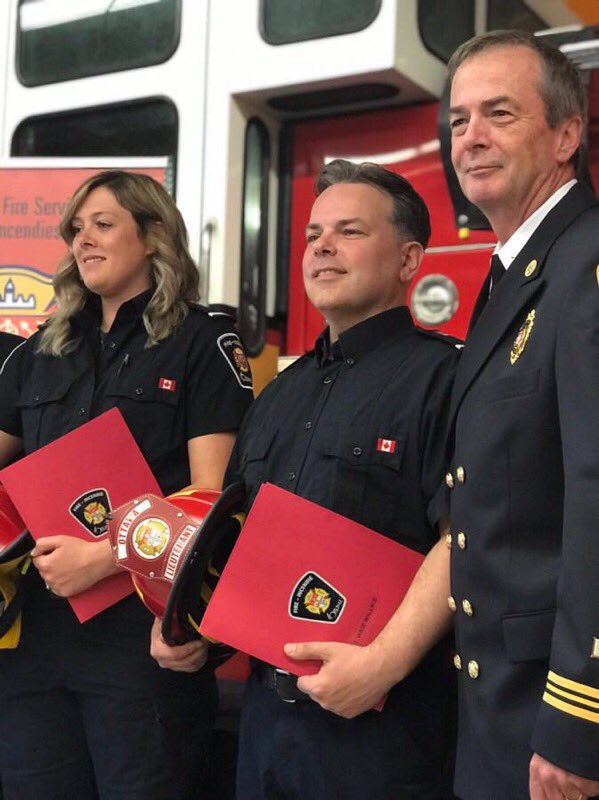 Two volunteer firefighters were promoted to officers during a ceremony held at the Constance Bay fire hall. Firefighters Stephanie Clarke and Wade Wallace were promoted to lieutenant.
The top brass were on hand including Ottawa Fire Services (OFS) fire Chief Kim Ayotte,  rural deputy Chief Todd Horricks, himself promoted last fall, District 6 Chief Bill Bell, Chief Jim Andrews and Councillor Eli El-Chantiry.
"This is a great day for OFS promoting two new officers in our rural division," Horricks released in a statement. "My sincerest congratulations to Lieut. Steph Clarke and Wade Wallace. Wishing much success in your new roles."
The second ceremony was more of a celebration for two firefighters who are marrying into the business.
District Chief Bell presented fiancés Alyssa Johnston and Brandon Greening with little firefighter figurines. The two are engaged, going through recruit school and aim to become firefighters at Station 63 in the near future.
---