Tripps celebrate 73 years amid COVID-19
ALMONTE – After 72 years of marriage, beating COVID-19 in time to celebrate year number 73 was just another challenge to overcome in the name of love.
Fitzroy Harbour's Mervyn and Emily Tripp are set to celebrate their 73rd wedding anniversary this Sunday (May 24) in Almonte under unusual circumstances.
Mervyn, a Fitzroy Harbour boy, married Emily Davis, a Woodlawn girl, in 1947. The two never left West Carleton and never left each other, now living in Almonte, both residents at Almonte's Country Haven.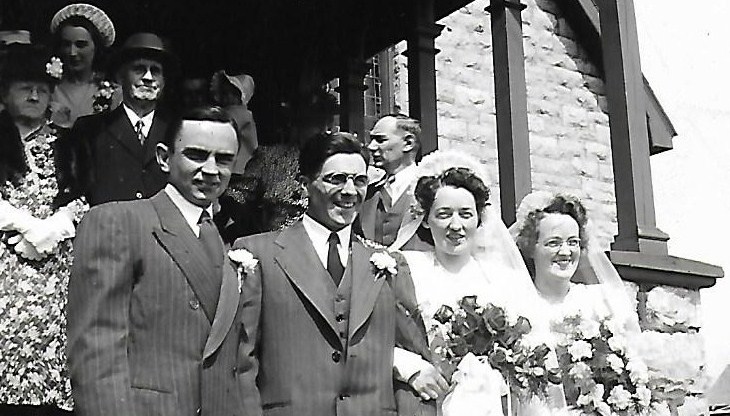 Mervyn is now 101 and his wife Emily is 97. Through thick and thin, they've stayed together. Only recently being separated for a few weeks. If the name Country Haven rings a bell, it's because its been in the news a lot lately. The long-term care facility was hit incredibly hard by the COVID-19 pandemic. Thirty residents have succumbed to the deadly coronavirus with many more than half of the 82 residents being confirmed with having the disease.
Emily and Mervyn shared a semi-private room at the Country Haven for the last three years. When Emily contracted COVID-19, she was put in isolation for two weeks. Following that Emily tested negative and was isolated for another two weeks until her case was considered resolved. Mervyn was tested four times during this time – each time testing negative. Neither Emily or Mervyn displayed and symptoms of the horrible disease. Emily and Mervyn were reunited on May 14, 10 days before their upcoming 73rd anniversary.
West Carleton Online was able to speak to Mervyn through his daughter Janice Tripp. Like any good long-running anniversary story, we asked what is the secret to his and Emily's longevity.
"It's hard to say," Mervyn told his daughter over the weekend. "I think the main thing is we respect each other. Also, we have always shared jokes a lot of the time."
After marriage, the two moved to Fitzroy Harbour and spent their working life as farmers – well known to much of the West Carleton community.
"It was the very best," Mervyn said of life in Fitzroy Harbour. "We enjoyed farming and being part of a small community, meeting people and knowing most of our neighbours."
Janice says the staff at the Country Haven have been incredible to her and her parents. It's been an incredible ordeal for the Country Haven residents, staff and family of those living at the long-term care centre. After 101 years, the pandemic is like nothing Mervyn has ever seen before.
"I have never seen anything like this pandemic," he said. "Everything is different for sure, including celebrations. We're just both very happy to be together."
Family are organizing a small celebration for the couple this Sunday (May 24) at 2 p.m. at the Country Haven.
"It will be pretty basic, given the current circumstances, but we're having a little parade for them and some music," Janice said.
---