Tripp anniversary a family parade
ALMONTE – It's not the celebration of a major milestone one would hope for, but in the age of COVID-19 it was a spectacular display of love for a couple celebrating 73 years of marriage.
More than two dozen vehicles paraded more than 50 family members, friends and neighbours past Mervyn and Emily Tripp Sunday (May 24) afternoon as the couple waved and smiled back to the well-wishers honouring their incredible accomplishment of love.
All four of their children, Bob, Bill, Dave and Janice, were present, in fact, four generations of Tripps made it to Almonte's Country Haven where Mervyn and Emily have called home for the last four years. While many in attendance were from West Carleton, others travelled from as far away as Sunderland and Orleans to attend.
"Oh, it was wonderful," Mervyn, 101, told West Carleton Online shortly after the parade. "I never expected anything like this. I must have done something right. I'm sorry it took until I was 101 to get everyone together."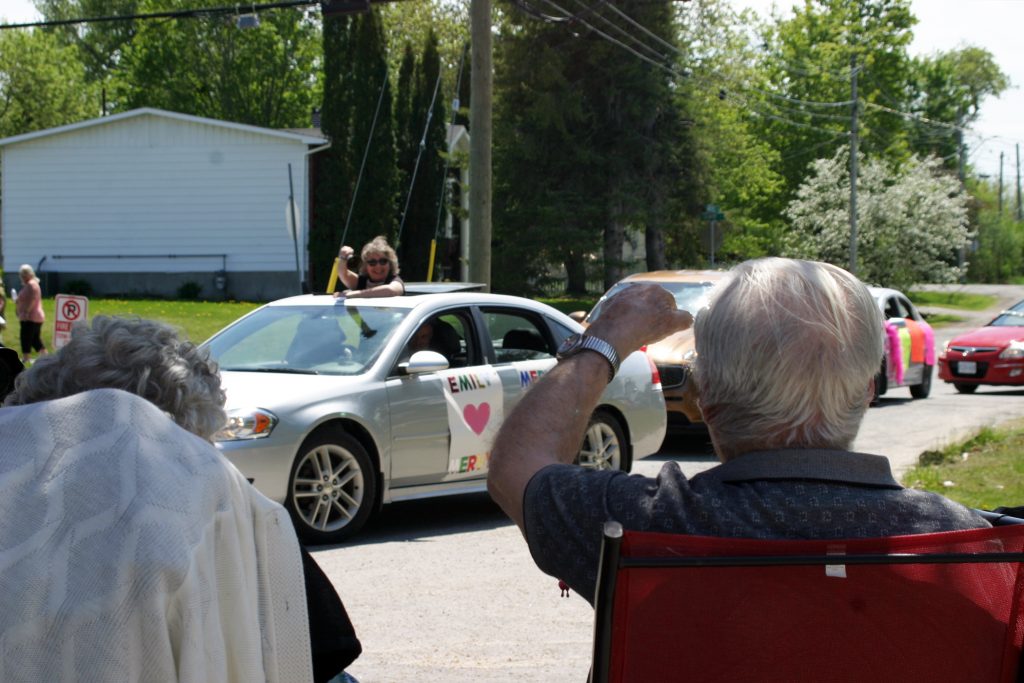 Mervyn admits he did miss the hugs that often come with a celebration of this magnitude, but he couldn't imagine a better gathering under the circumstances.
With the world struggling to claim victory over the COVID-19 pandemic, strict guidelines were in place to protect everyone at the anniversary. Country Haven itself was hit incredibly hard by the coronavirus with 30 residents succumbing to the dangerous disease. In fact, Mervyn's wife, as reported last week, tested positive for COVID-19 and spent two weeks in isolation following her recovery. Emily, 97, was asymptomatic, but amazingly, Mervyn did not catch the coronavirus. It was the longest the two had ever spent apart during their marriage.
"I was quite concerned how it was going to turn out," Mervyn said. "It was quite the challenge."
Mervyn said he and Emily have done everything as a team their entire lives.
"We never criticized each other," he said. "We went out together, we did everything together."
That included playing softball together, attending Ottawa Roughrider football games together, gardening together, even doing the groceries and chores together.
Following the parade, musician nephews Kevin Davis and Billy and Wendel Wilson performed a few songs for the guests of honour including the couple's favourite, Stompin' Tom's Good Old Hockey Game, to much applause.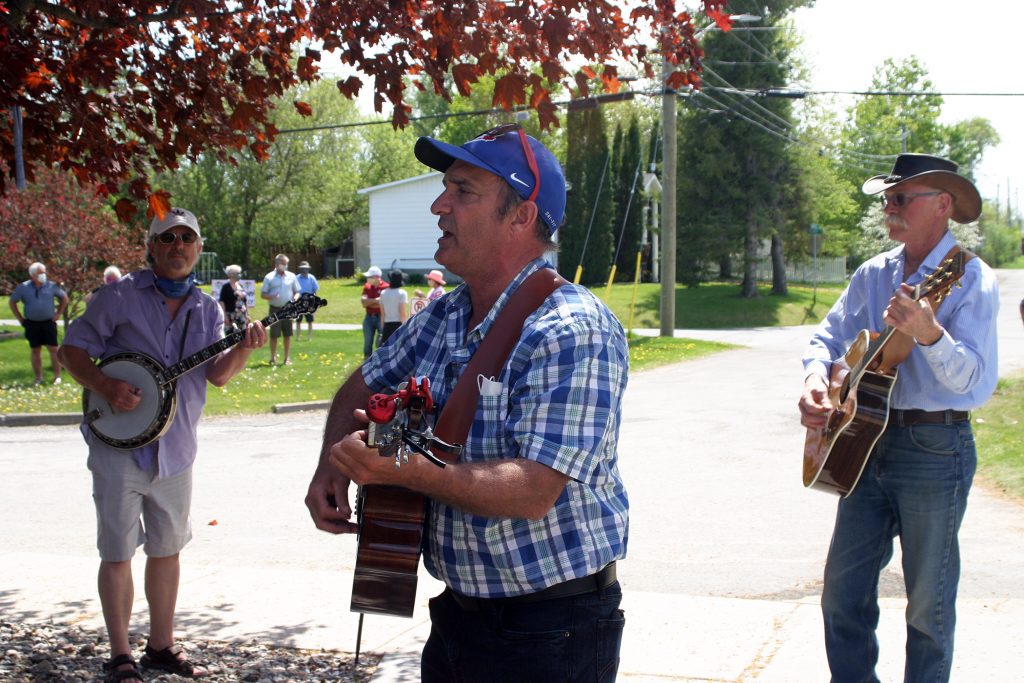 The Tripps were well-known farmers off the Kinburn Side Road near Stonecrest Road. Davis still farms there to this day. Mervyn is a 101-year member of the St. George's Anglican Church in Fitzroy Harbour since the day he was baptized there. Emily is a 73-year member joining the congregation after marrying in 1947.
"They really have done everything together, even bringing us up," Janice told West Carleton Online. "Even as we got bigger there was always room at the house for everybody."
Janice said the couple was popular in their community because they cared so much about their community.
"Dad thinks a lot of people who take the time to say hello," Janice said. "That's important to him. He was always interested in other people's lives. It's genuine."
---