Trillium tour an art, garden lover's must
WEST CARLETON – It's an art gallery, it's a clothing studio and design shop, it's a beautiful garden, it's four artists on the tour and it's all at just one stop on this weekend's Red Trillium Studio Tour.
It's the 20th year and the 40th edition of the Red Trillium Studio and Garden Tour (organizers have a spring and fall edition) and it's on all weekend (June 1 and 2) from 10 a.m. to 5 p.m.
This year there are 13 stops on the tour dotted all over West Carleton. The signage is already out and you can see the map at www.redtrilliumst.com.
West Carleton Online visited one of this year's stops yesterday (May 28) and spoke with Dunrobin's Megan Duffield and Jeffery Sugarman. Duffield is a clothing designer and Sugarman is an artist. Their studio tour stop, at 3445 Torwood Dr., features Duffield Design's sustainable fashion studio.  Above that is the Dunrobin Art Gallery curated by Sugarman. And behind their unique space is the beautiful Garden of Earthly Delights where the couple will also host glasswork artist Chris Van Zanten and felt garment artist Carolyn M. Barnett.
You could spend the whole day at this one stop (but you won't want to miss any of the others).
"It's so much fun," MacLaren's Landing native, Duffield said. "It's so nice to connect with everyone. It's a community event, but we get lots of new visitors each year too."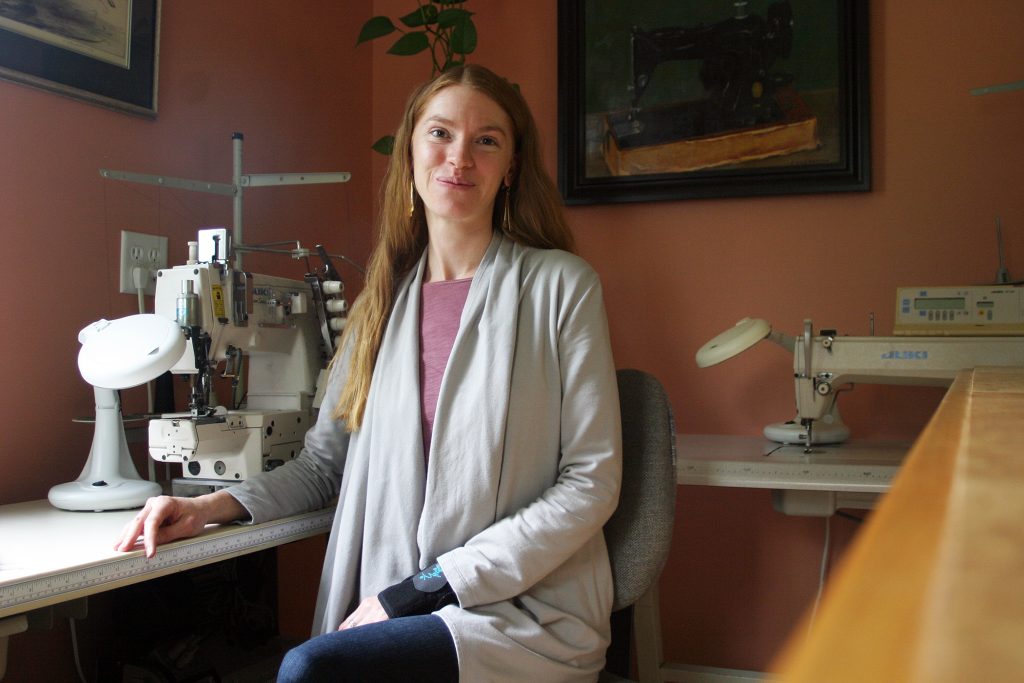 The couple moved to their Torwood Drive location in 2011 and have been a mainstay on the Red Trillium Studio Tour since 2012.
Their beautiful building is placed neatly in the forest. It is a two story, rustic building with Duffield's clothing design studio and shop on the bottom floor and Sugarman's art gallery and studio above.
Behind their studio is a large garden and orchard Sugarman started from scratch including clearing the trees that previously occupied the space.
"it's been seven years in the making," he said.
In the garden Van Zanten and Barnett will share their work.
"That will be great," Duffield said. "Really unique. We haven't done that before. It should be a lot of fun and their art is perfectly suited for a garden."
The two have really enjoyed being a part of the tour for close to a decade.
"The nice thing is we get our annual visitors." Sugarman said. "Megan has a real strong following in Ottawa. She now has her clothes in seven stores in Ottawa as well as Carleton Place and Arnprior. We've got a real strong community following."
In fact, Duffield Design clothing is sold across the country.
"We've got a lot of clothing for every body type," Duffield said. "It's all natural, it's soft, comfortable and women look great in it."
Duffield will have her spring and summer line on display in sizes from extra small to extra large.
"We can cut and sew right on premise," she said.
Duffield says she gets a lot of her inspiration "from where we live."
The new line features sand, soft rock and sea foam colours she says was inspired by her time on the nearby beach.
Up a short flight of stairs is the Dunrobin Art Gallery where Sugarman paints and displays his work as well as hosting 14 other Ottawa-area artists' work in several different mediums.
"There's different styles, different varieties but some of the top artists in the Ottawa area are showing here, I can say that with no hesitation at all," Sugarman said.
The gallery used to just be Sugarman's workspace and was "all full of junk."
"I didn't do anything up here but paint for the first few years," he said.
About a year ago he cleaned it out and cleaned it up to make it a wide-open space to display all kinds of art.
"We want to promote local artists," Sugarman said. "I will call myself a gallery, why not, but it is not a money-making venture."
Being off the beaten track hasn't hurt business though.
"This is a destination place," Sugarman said. "We're open by chance or by appointment. We've sold paintings, that's for sure."
For more information on Duffield Design, click here. For more information on the Dunrobin Art Gallery, click here.
---