Tornado anniversary honours community
DUNROBIN – The day started out as a somber reminder of a dark day in West Carleton history and ended as a celebration of community spirit with live music and fundraising to help support, not only tornado victims, but flood victims as well.
The one year anniversary of a tornado that tore through West Carleton (click here for pages and pages of West Carleton Online tornado coverage) was Saturday, Sept. 21, and the Dunrobin, and greater West Carleton community, marked the date with three different events.
The day started at a building that withstood the tornado, protected young children and their caregiver from the devastating wind, and still heavily scarred by the storm – the Dunrobin Community Centre. Around 250 people attended a commemoration of the anniversary including Mayor Jim Watson, District Chief Bill Bell and several Kinburn and Dunrobin volunteer firefighters, members of the Dunrobin and District Women's Institute (WI), Coun. Eli El-Chantiry, MP Karen MCrimmon, MPP Dr. Merrilee Fullerton, the West Carleton Warriors hockey team that raised more than $100,000 for disaster relief, board members of West Carleton Disaster Relief (WCDR) , Dunrobin Community Association President Greg Patacairk, Father Matthew Keshway and many others who had leadership thrust upon them following the disaster.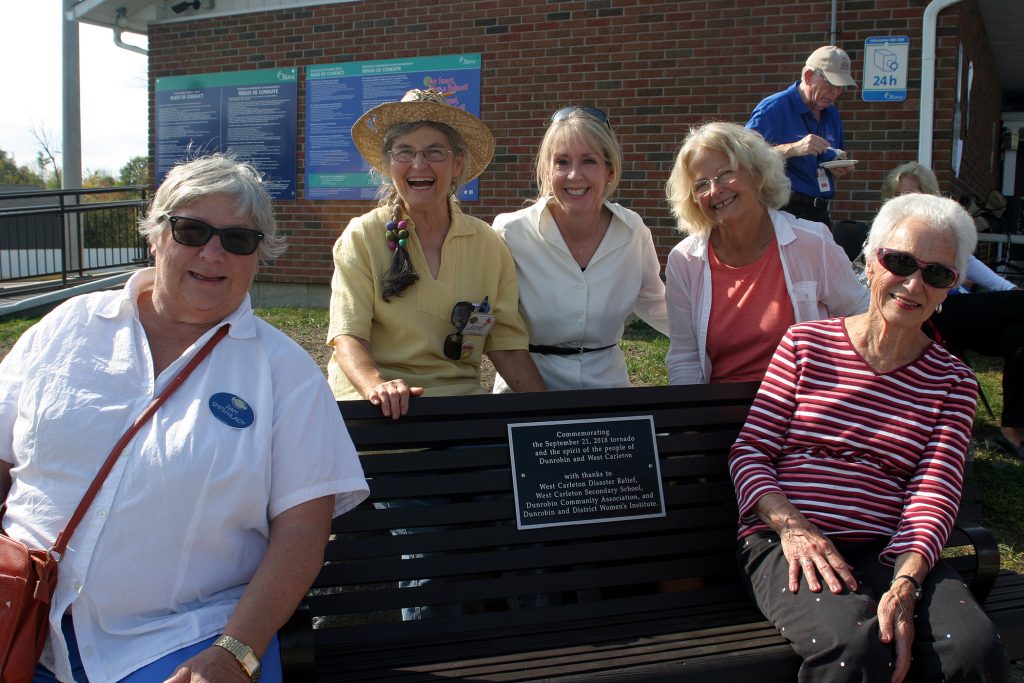 Patacairk, who is also co-chair of WCDR, acted as emcee and also spoke about the incident that changed a community forever, the damage from the storm still very visibly present all over Dunrobin.
"It brought a community down at the time," he told the gathered crowd. "It turns out we were blessed. No one was killed. But every time a thunderstorm comes through, it gets people worried."
Patacairk read a poem he wrote called Courage.
"People around here have been filled with courage every day," he said. "The courage to overcome. I'm proud to say I'm a part of that."
Father Ketchway stated what many in the community are still living.
"We are a long way from recovery in terms of emotionally and in terms of property," he said.
Ketchway then led the community in a prayer.
Mayor Watson took his opportunity to speak to thank the community.
"This community has been tested," he said. "Thank you, Greg. Thank you, Eli for your leadership."
The Warriors, young pee wee aged hockey players that brought more than $100,000 to disaster relief, were brought to the front to be thanked.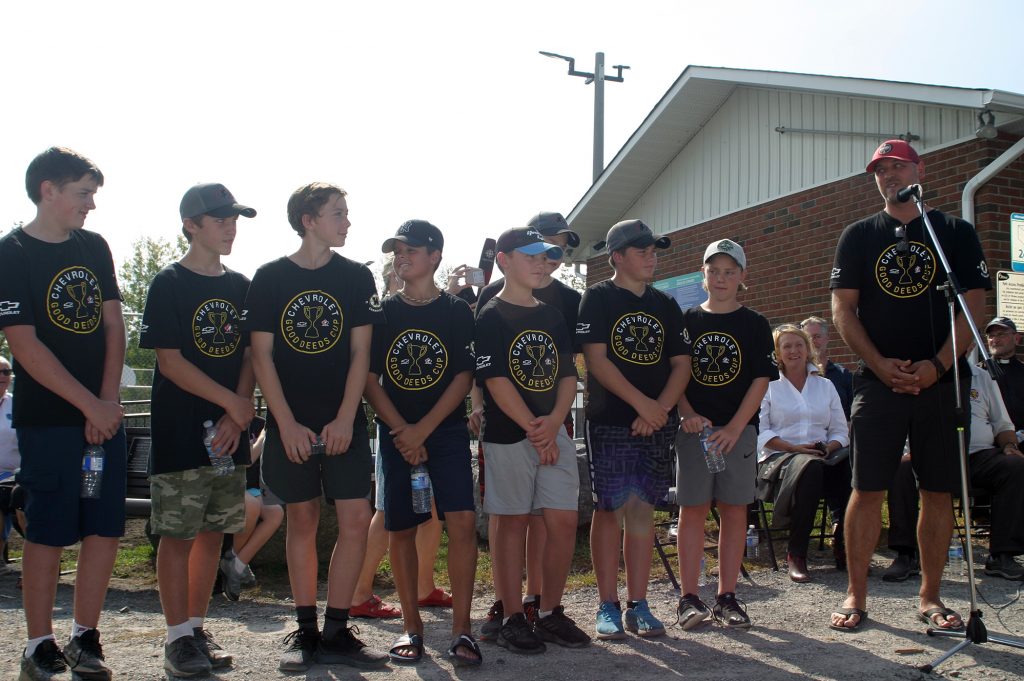 "What a beautiful, beautiful story," Patacairk said. "They're future and current leaders."
Warriors coach Sean Lecuyer was on hand to speak on behalf of the team.
"I'm pretty humbled to be here," he said. "I'm a father who coaches hockey. This idea came from one of the kids. You guys overachieved – big time. I'm just the coach, these guys did everything. They didn't stop and they haven't stopped. They helped with the flood. They're no one-hit wonders."
Ottawa Fire Services District 6 Chief Bill Bell who was a captain of Station 66 at the time, was one of the first people on scene after the tornado.
"We were the first boots on the ground," he said. "We live here, our families live here, our friends live here. When I arrived, it was overwhelming what I saw. Working together, serving together, standing together. All of those attributes are with you. We have a lot of re-building to do. We will move on. Dunrobin strong."
Patacairk then introduced the councillor.
"We were hooked at the hip for days on end," Patacairk said.
"My community, your community, West Carleton people are the most resilient people," El-Chantiry said.
A Bells Corner resident was also thanked for her tireless efforts to scour the hardest to reach areas for lost items and to clean up debris.
"Ruth Sirman picked our memories out of the trees and the swamps," Patacairk said.
"Clean up starts again in two weeks," Sirman told the crowd to chuckles formed in the knowledge she was serious.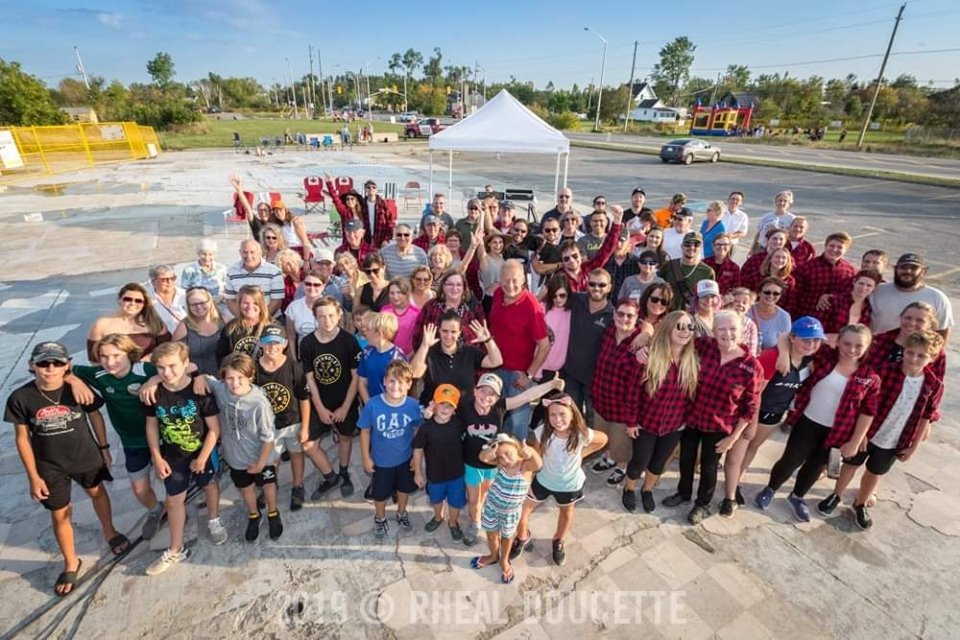 MP MCrimmon talked about the honour to serve.
"It is such a privilege to represent you," she said. "What I saw was a community that represents the best of Canada. An open mind, an open heart and hands ready to help. We are always stronger together. You make me so proud."
Dr. Fullerton was only a few months in to her new job as MPP when the tornado hit.
"We learned about ourselves and our strength and resiliency," she said. "Every time I drive by, it's a reminder of the challenges ahead of us, but we can get through this. After the storm, the sun will come out."
Following the speeches, the items that will visually commemorate the tornado, now a symbol of community, strength and resiliency, were unveiled to the gathered attendees.
Two benches were presented to the community, one for the Dunrobin Community Centre and the other destined for the Kinburn Community Centre, donated by the WI, WCDR, Dunrobin Community Centre and refurbished by the students of West Carleton Secondary School.
On the bench was a plaque that read 'Commemorating the September 21, 2018 tornado and the spirit of the people of Dunrobin and West Carleton.'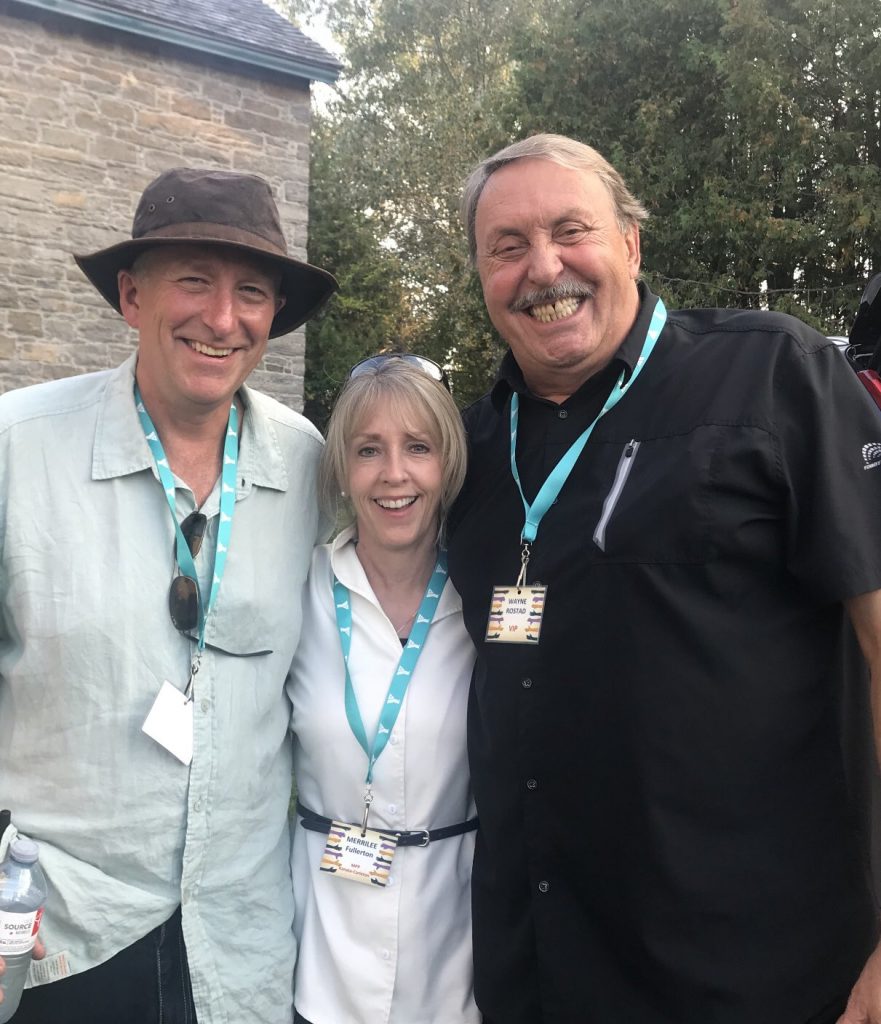 A shade tent will also be erected near one of the DCA ball diamonds – Patacairk said he hadn't quite found the time to get it up before the anniversary event.
Following the official speeches two fine cakes were cut and served and the mood lightened considerably. It was a time for friends to share memories and update each other on personal progress as many in the area are still hard at work recovering from the tornado.
Following the commemoration, many headed to the Heart and Soul Café for a barbecue and fundraising concert that started soon after the commemoration. The event was billed as Rising from the Ruins and was a fundraiser for WCDR.
Closer to the Ottawa River another fundraising concert was getting underway. This one, in partnership with United Way was called Victims for Victims and was a fundraiser based on the idea of tornado victims fundraising for flood victims from last spring's flooding. Our previous story on those events can be found here.
---