WEST CARLETON – The strangest, most trying year in modern history shows no sign of letting up.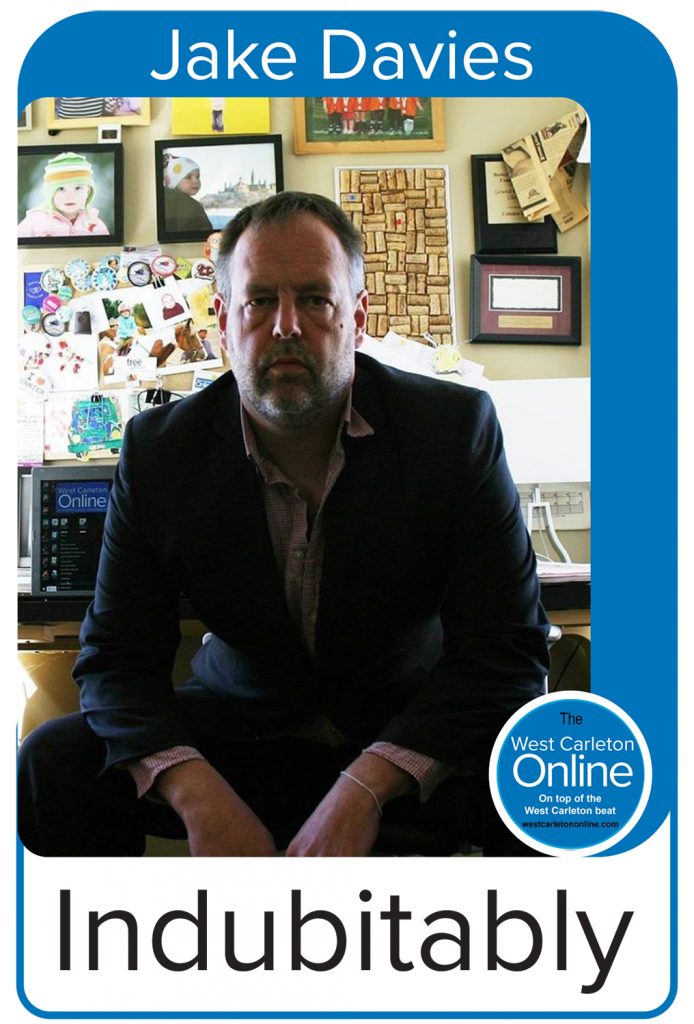 West Carleton Online's coverage of COVID-19 continues to dominate our front page. Without the use of a calculator, I guesstimate around 85 per cent of our stories during this time relate to the pandemic and the disease.
We continue to make access to our COVID-19 coverage (no matter how spurious the connection is) free to the West Carleton community and beyond. We thank our subscribers and our advertisers for being able to do this – because they are the ones footing the bill, along with myself.
The month of July was another huge month for West Carleton Online. We had 19,898 pageviews. I mean, with everything cancelled and everything else closed, what else are you going to do besides read the Internet? It was a great way to start West Carleton Online's second year of operation.
So, let's cut this month's preamble short (he says to great applause) and get right in to our top stories of July, 2020.
This month, with a shorter preamble, we will extend our story count from five to 10. We posted 151 stories in July, here are your favourites.
Lightening strike causes 25-acre crop fire (793 pageviews): Publication date July 31. What was a unique circumstance for a fire call, I was right there when this one happened. I was next door playing golf at the Madawaska Golf Club. I heard a thump (which I assume was the lightening strike) immediately followed by a deafening crack of thunder. Moments later, my foursome and I saw the smoke billowing over the tree line. Minutes after that we could see the huge flames whipping across the wheat field. Ironically, my photos were lame, but luckily my friend and Arnprior volunteer firefighter Chad Reitsma had some much better photos to lend me. Coincidentally, he is a brother-in-law to one of the guys in our foursome. As usual, I missed my putt.
Firefighters douse Kinburn hay blaze (628 pageviews): Publication date, July 6. Another fire, another crop and another friendly firefighter. We were on scene for this one and spoke (mostly off the record) to another lifelong friend, volunteer firefighter Mike Brennan. These are the advantages of being a reporter in the community you grew up in, base your business in and spend most of your time in.
Carp ball diamonds get extreme makeover (553 pageviews): Publication date July 23. A story about making lemonade out of lemons. This was the summer Carp was to host a fastball national championship for the first time. A showcase for the community. COVID-19 cancelled that. So, the organizing committee has spent their time turning the Carp Fairgrounds ball diamonds in to an elite facility for hosting tournaments.
Spinks pivot from pools to produce (428 pageviews): Publication date July 21. While 'COVID-19' is the frontrunner for word of the year in 2020, 'pivot' must be number two by less than a hair. And what might be the strangest pivot we've heard of this year, the Spinks family shifted from swimming pool service to produce production.
Hudson corn is here (425 pageviews): Publication date July 30. This story had a day-and-a-half to crack the Top 10 before the end of the month. People love their Hudson's corn. 'Nuff said.
Police seek Corkery woman gone missing again (337 pageviews): Publication date July 16. A young teenager clearly going through challenging times. We don't pry in to personal matters, the goal is simply to get the teenager back in the arms of her family. Mission accomplished.
Younghusband General Store history by George Kennedy (330 pageviews): Publication date July 7. George Kennedy second kick at the can as a West Carleton Online history columnist. We are (gently) pressuring him for more because we love his stories as much as you do.
One WC Canada Day tradition continues (268 pageview): Publication date July 2. One West Carleton Canada Day tradition would not be stopped by COVID-19. Ironically enough, this story was also our first opportunity to interview a pair of West Carleton residents who battled the deadly disease.
Clark's history dates to Huntley founder (257 pageviews): Publication date July 16. Well known realtor Wanda Clark sat down with West Carleton Online to tell us about her fascinating family history that dates back to the origins of Huntley Township. After that, she interviewed us.
Two survive small plane crash near Hwy. 29 (238 pageviews): Publication date July 29. In only two years of operation, West Carleton Online has covered five plane crashes in the community including two mid-air collisions (one just outside near Carleton Place). That seems high. Amazingly, of those five plane crashes, there hasn't been one fatality.
That's our Top 10 for July. There are 141 more stories we published this month – far, far more than any other media outlet claiming to cover the West Carleton community. In two years, we have created something unique in community journalism – daily coverage of a rural community, produced by an award-winning journalist who is from West Carleton. No longer do the residents of West Carleton have to wait a week (or currently, every two weeks) to read about their community. They can do it every day on West Carleton Online with daily coverage of breaking news, politics, education, sports, community and emergency news coverage. Please consider supporting West Carleton Online.  
---