Tim Hortons supporting Almonte's hospital this week
ALMONTE – Last year, Tim Hortons restaurant owners and guests across the country raised a record $9.8 million to support local charities through their annual Smile Cookie campaign.
Back again for its 24th year, Tim Hortons Smile Cookie week will support charities in communities across the country, including Almonte General Hospital Fairview Manor Foundation (AGHFVMF) – one of 550 Canadian charities, hospitals and community programs supported through the annual campaign.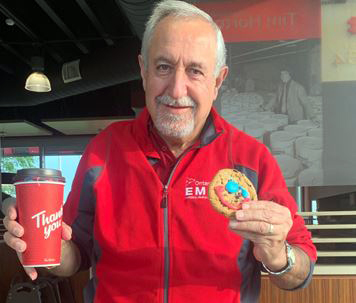 For one week, from Sept. 14 – 20, restaurant owners will donate the full $1 from every freshly baked chocolate chunk Smile Cookie purchased to support charities in their community. Guests can complete a form to pre-order Smile Cookies through their restaurant in Almonte.
"We are so fortunate to have great business owners like Debbie and Brian Quarrington here in Almonte," AGHFVMF managing director Al Roberts said.  "The Smile Cookie campaign proceeds last year were $8,201. These funds helped us fund either replacement or new equipment at the Hospital and Manor. Buy a Smile Cookie, help a patient or resident.  It's like Smile Cookies are good for your health."
"Communities coming together during these difficult times are more important than ever," Almonte Tim Hortons owner Brian Quarrington said. "Our restaurant team members and I are excited to continue working with our Hospital and Manor Foundation to raise as much as possible to support the purchase of clinical equipment. We encourage all of our guests throughout our annual Smile Cookie week to support quality health care close to home by purchasing a freshly baked Smile Cookie at Tim Hortons for just $1."
The Almonte Tim Horton's has contributed more than $40,000 to the AGH FVM Foundation through Smile Cookie campaigns.
In 2019, the Smile Cookie campaign raised a record $9.8 million across Canada
For over 24 years, Tim Hortons restaurant owners and guests have been spreading smiles. The Smile Cookie campaign began in 1996 to help raise funds for the Hamilton Children's Hospital in Ontario
Nationally, Tim Hortons restaurant owners support over 550 local charities, hospitals and community programs through the Smile Cookie campaign.
---