The West Lake Porch Project
WEST LAKE – Aimee Edgcumbe wanted to do something for her West Carleton community during these strange times. So, she volunteered her time and skills to take family portraits. With a very long lens.
The idea is something sprouting around the globe during a very strange time often referred to as The Porch Project. The Porch Project has been growing nationally during the COVID-19 pandemic and a time of physical distancing. Photographers are visiting their neighbourhood, going door-to-door and taking family photos. They are donating their time and skills and providing their neighbours with a lasting memory during a strange time.
 Edgcumbe, owner of Aimee Caroline Photography, moved to West Lake roughly a year ago last October.
Her husband Adam had a new job with General Dynamics and the couple moved to the West Lake community, just off Carp Road.
"When we first moved here our realtor left us an email from the community association," Edgcumbe told West Carleton Online yesterday (April 6). "It was about their annual Hallowe'en event. It was such a fun community event. A couple of months ago, I broke my ankle. My husband was at work. I put one text out and I had six people at my doorstep helping. They're always there when you need them, no matter what. This community is amazing."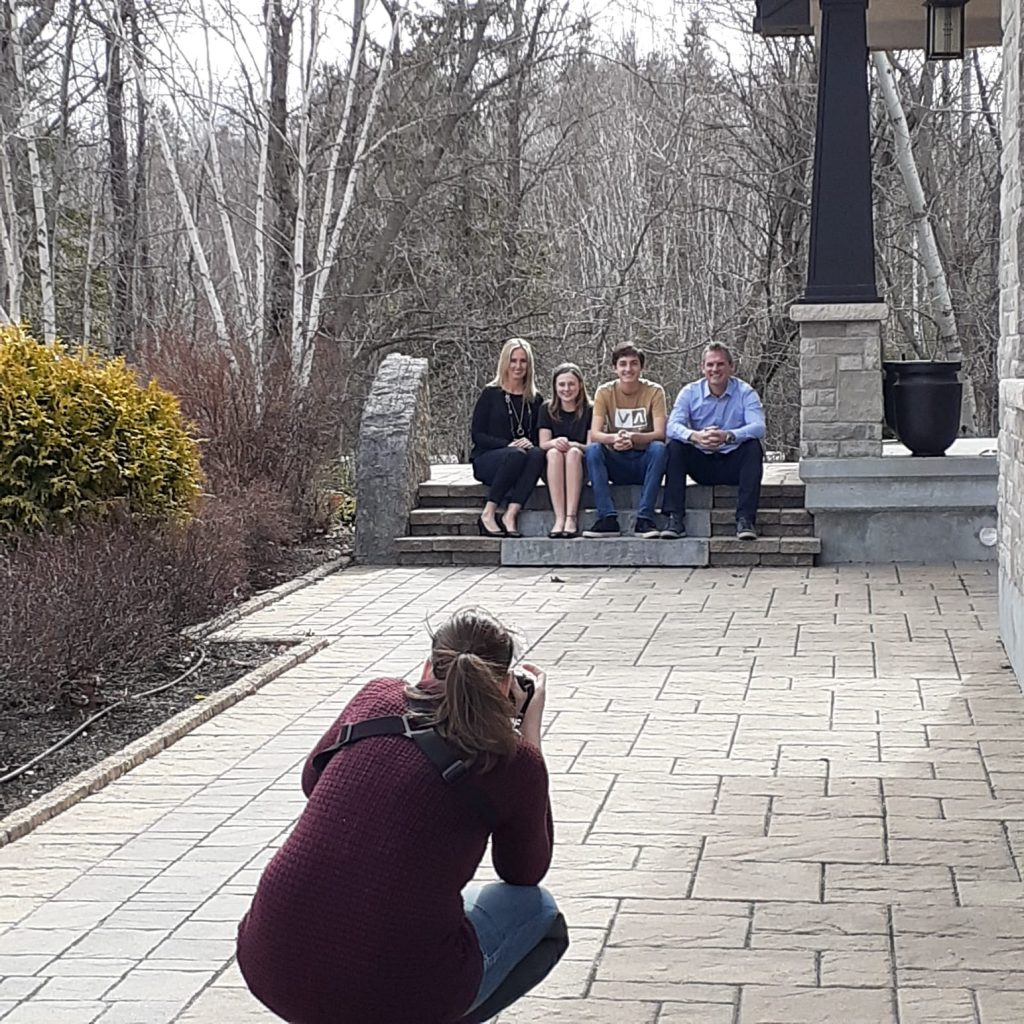 So Edgcumbe wanted to give back. Knowing everyone would be locked in their homes last weekend, Edgcumbe sent out an email to see who would be interested in taking part in her West Lake Porch Project.
"Like everyone else, I'm trapped in my house," Edgcumbe said. "I'm a raging extrovert. Our neighbourhood is so amazing and we're so social here in West Lake, I said I can take a walk, keep my physical distancing, and do my small part to keep the community going. Luckily, I have a really nice, long lens. It's important we still maintain our distance. The quicker we do this, the sooner we'll be back out doing our thing."
Edgcumbe grew up in Hanover, ON, where she knew photography was "always something I wanted to do, even as a kid."
Edgcumbe has been working professionally since 2001 through her business Aimee Caroline Photography.
"My dad was the town historian," Edgcumbe said. "He instilled in me the want to preserve history and this is how I do it through my art."
Edgcumbe said 13 families took advantage of the free photo shoot.
"It was so fun for me," Edgcumbe said. "A little bit selfish for me because I got to visit all of my neighbours. It was a great way f or us to feel we're all together in this. We're not alone."
---