The Ottawan a daily look at city life
BUCKHAM'S BAY – A return to Ottawa, an insatiable curiosity about their city and vast publishing experience has led Buckham's Bay residents Darren Atwater and Martha Gall to launch The Ottawan, a daily newsletter highlighting the top news of the city as well as some if its best-kept secrets.
The Ottawan is a daily email newsletter (and website) containing the curated highlights of Ottawa's top news, stories and events as well as some of the lesser-known stories breaking in the city.
The couple moved to the area last year to help support Gall's mother. Gall is originally from Ottawa, while her partner Atwater is a Vancouver native. Nine months ago, they launched The Ottawan.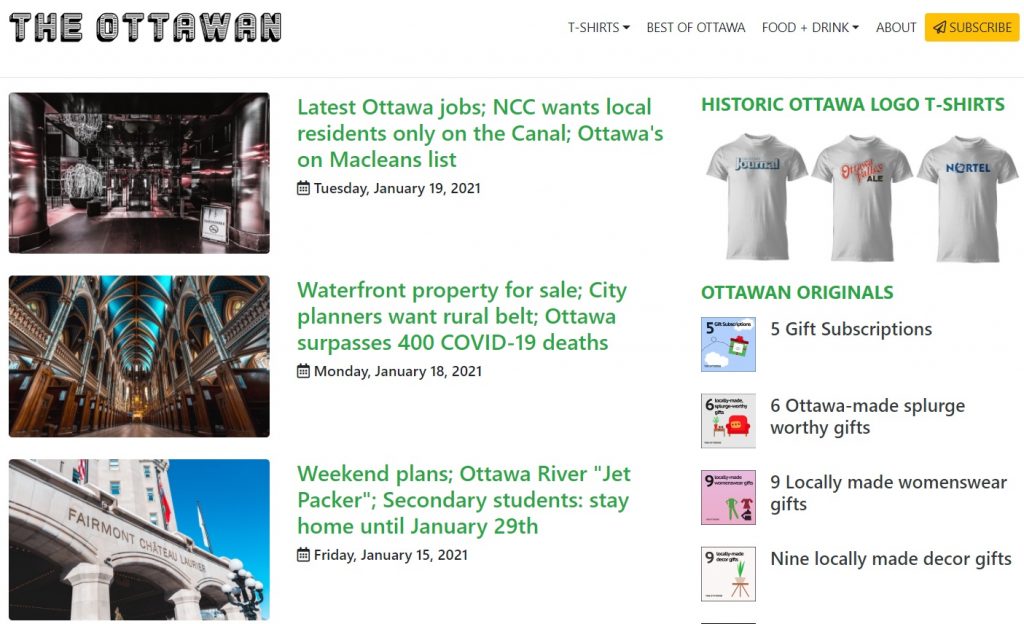 West Carleton Online met with the Buckham's Bay couple to discuss their Ottawa-based daily newsletter, ironically, in Arnprior last week (Jan. 13).
"Its glorious nine-month history," Atwater joked of The Ottawan. "We knew we were coming back to Ottawa and we've been involved in publishing before."
The pair used to publish an alternative weekly in London, UK. They also published Terminal City, a "substantial" weekly alternative newspaper in Vancouver (1992 to 2005).
While the two know Ottawa, they had been away for a while, and The Ottawan was a great way for them to get reunited with the city.
"I'm a newbie," Atwater said. "The inspiration for The Ottawan is the best way to know an area is to report on it. I'm discovering the city, and Martha is re-discovering it. What we write about is what we know about now."
Both publishers were familiar with the now defunct Ottawa X-Press (a weekly alternative paper focused on local music – published in Ottawa from 1993 to 2012) and used it as a bit of a model for their publication. The Ottawan often uses its pages to focus on Ottawa's food scene.
"We're contemporaries of the X-Press," Gall said. "Food is the common denominator now. Good food is what matters now."
Over the nine-month run of The Ottawan, the pair has seen steady growth in subscriber numbers as more and more people learn of the newsletter.
"We're starting to build through social media," Gall said. "Our Best of Ottawa awards (of which West Carleton Online was nominated for best website) was great for raising awareness. One of the reasons we did that was to find out about Ottawa. It was all reader-nominated. The shawarma category was unbelievable. We can't wait to get out and visit all the shawarma places."
Word of mouth has also been helpful, even in the age of the Internet.
"Getting readers is hard," Atwater said. "It's kind of the old-time community newspaper style. You try to get as many names in The Ottawan as possible. When it's two people, it's a challenge to keep up. I have a lot more respect for The Citizen now. There's a lot of good journalism out there, you just have to find it."
The pandemic has also provided a learning opportunity for the publishers. It has challenged them to work harder to find news and stories, but it has also taught them even more about their city.
"There's an incredible beer scene," Atwater said, who added creating an interactive beer map was one of the first things The Ottawan did. "We also have learned how resilient Ottawa is. The restaurant and beer business was hurt badly at the outset of the pandemic. They said, 'let's pivot.' A lot of people have figured out how to survive."
Keeping in contact with its readers is also a learning experience – teaching the publishers how to best shape the voice of The Ottawan to ensure it offers what its readers want.
"We are always asking readers questions," Atwater said. "There's a question when you subscribe – what's your favourite restaurant in Ottawa? We ask our reader are we delivering what you though you'd be getting when you signed up? That's how the COVID-19 information came in to our newsletter. By request. It's not sensational, it's just the numbers."
The pair added the Ottawa wastewater dashboard which tracks the amount of COVID-19 waste city officials are finding in the city's wastewater.
"That's something that's really getting the clicks," Atwater said.
At only nine months old, The Ottawan has some plans moving forward.
"For us, the plan going forward, is we've started writing," Gall said. "We're focusing on local businesses. That's endlessly fascinating. We know the challenges. The Internet is a great thing, but once the pandemic is over, we can't wait to get out and visit all these places we're writing about."
If you are interested in learning more about The Ottawan, or would like to subscribe to its newsletter, click here.
---