Stonecrest's platinum anniversary
KINBURN – It was a huge celebration for a turn-of-the-century school in the centre of West Carleton.
Stonecrest Elementary School celebrated its 20th anniversary with a gala assembly and classroom tour Thursday, May 9.
Hundreds of students, staff, parents and dignitaries came to celebrate the school built in 1998.
There were speeches, music, murals and cupcakes – it was a proper celebration.
Stonecrest's first principal, Tim McIntyre was the first guest speaker and talked about the design and early days of the school.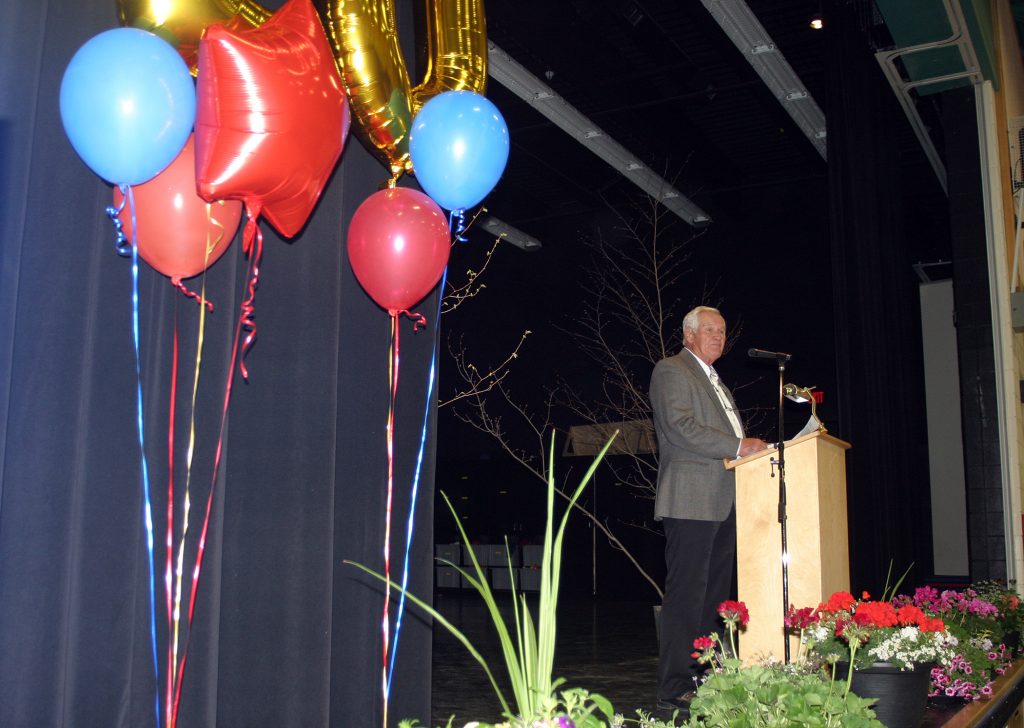 McIntyre said the school was delayed for two years after a provincial funding freeze, but that delay allowed he and his team to ensure they could build the best school possible. McIntyre had time to travel around and visit schools in Canada and the U.S.
"We got the best ideas from a school in Indiana," McIntyre told the audience.
He said Stonecrest was one of the first elementary schools in the area with a double gym. It has foam under its wood floor to make gym activities gentler on the knees. It also has big windows, a bathroom accessible to those outside the school, a security window for office staff to monitor the front, and an underground water tank for fighting fires as the school is a designated emergency shelter location as well.
McIntyre also shared the story of why the school's mascot is a fox.
"When we built the school, we protected a natural area on the west side," McIntyre said. "One day while doing an environmental and safety assessment, we came across a fox den with a mom and two cubs. Foxes are very family-oriented creatures. What a great parallel between students, teachers and parents."
While he enjoyed sharing memories of the school, he was sure to remind the student body "this is your school. It doesn't belong to the principal or the teachers, it belongs to you and I hope you are as proud of this school as I am."
Board trustee Lynn Scott and Coun. Eli El-Chantiry also spoke.
"What makes a school is its students," Scott said.
"When things are tough, we come together," El-Chantiry said. "A school helps with that. This is a school with heart."
Music and art teacher, and event co-organizer Nicole Vaillancourt-Hass spoke of a special mural of a fox painted on the gym wall to commemorate the 20th anniversary.
Vallancourt-Hass, who went to Renfrew Collegiate Institute in Renfrew, remembers the mural of a large Thor-like Raider mural painted on the wall there, greeting all who came in the gymnasium. Stonecrest's new mural was painted by Dave Lafrenière of Mural Magic and took about two weeks to complete.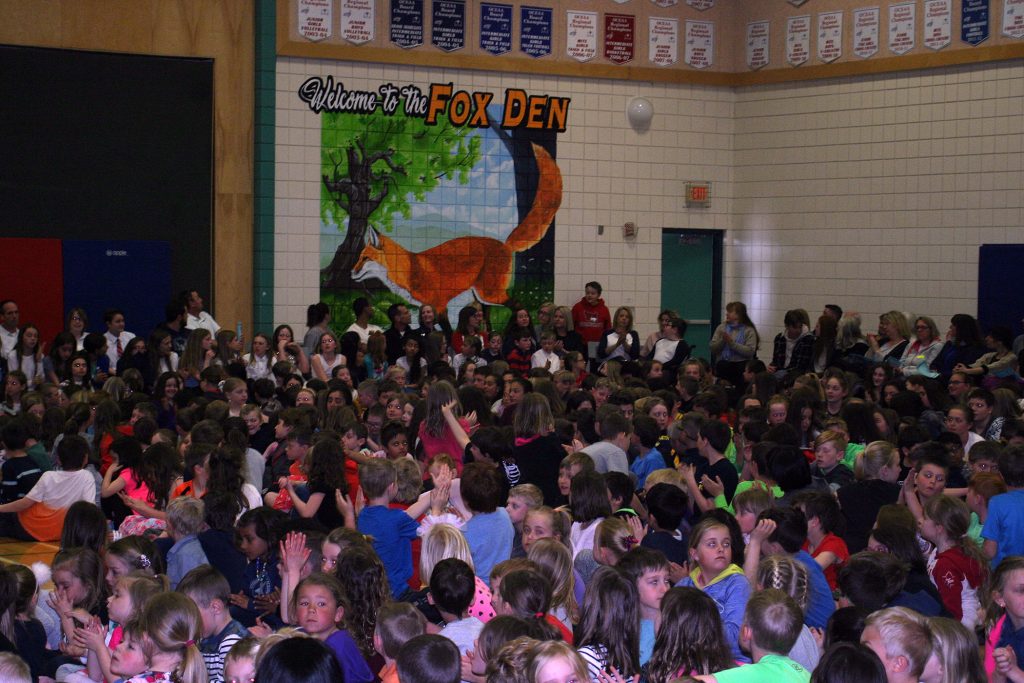 Popular teacher Paul Côté received a chant in anticipation of his video production created for the 20th anniversary. In the video we learned the school has had nine principals, 75 banners on the gym walls and three massive renovations. A wing was added in 2005, another wing in 2008 and in 2014 the school was able to add a stage to the gym.
Some of the school's famous alumni, in the athletic arena anyway, include 2017 silver World Cup winning triathlete Joanna Brown, Olympic canoe/kayaker Cameron Smedley and his brother national team canoe/kayaker Liam Smedley, U18 Team Canada basketball and Harvard Crimson player Corey Johnson, professional and 2018 Commonwealth Games team squash player Sam Cornett and Vegas Golden Knights strength and conditioning coach Doug Davidson.
Another highlight of the anniversary party was the One Voice Children's Choir, a choir made up of Stonecrest students and organized by Vaillancourt-Hass and Tammy Almeida, performing Glorious for the audience.
After the assembly, parents were invited to visit classrooms, meet with teachers and enjoy cupcakes.
---