Spinks pivot from pools to produce
with files from West Carleton Secondary School graduate and 2020 Carleton University journalism student Catriona Koenig
DUNROBIN – In what can only be described as a hard pivot, Dunrobin's Spinks family is moving from the pool services business to the produce growing business. And they did it all in one spring.
Earl and Amy Spinks are the owners of Impressions Group Ottawa Inc. – a business providing swimming pool services located on March Road across from St. Isidore Catholic School.
When the economy was shut down due to COVID-19 last March, the Spinks had to make some quick decisions about the direction to take their company in order to keep staff employed and a revenue stream flowing. The landscaping and pool construction division of the business was put on hold and Impressions Group Ottawa Inc. made a pivot into food production to remain an essential business and keep staff and equipment working.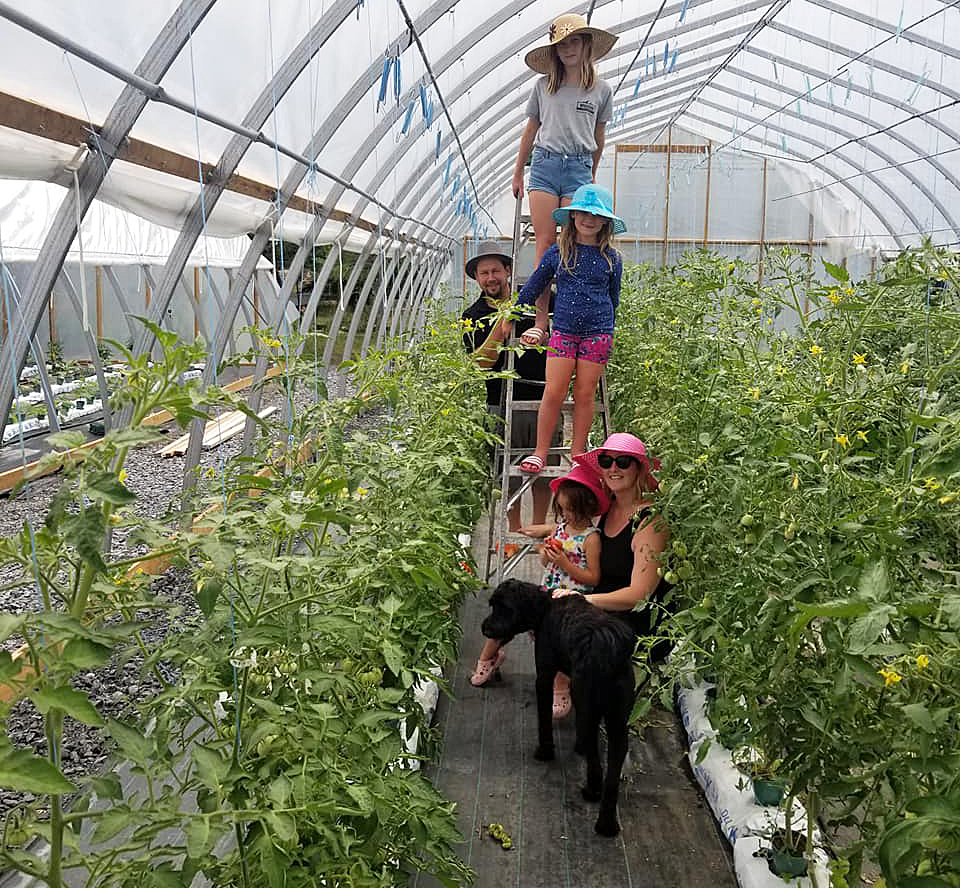 "My wife grew up farming," Earl told West Carleton Online today (July 21). "So, it's kind of in her blood. In spring we often have 80 to 90 staff. We didn't want to lay them all off."
In the parlance of the times, It was an immediate and hard pivot.
The Spinks were able to purchase two large greenhouses totalling 12,000 square feet from a former food producer who sold produce in the Byward Market for 45 years before retiring. They built the greenhouses at their Dunrobin Road home.
"We started building the greenhouses on April 4," Earl said. "Might as well go big or go home. It allowed us to keep a lot of our staff. The pandemic was going on during our busiest time of year. The though of having all that staff siting at home didn't sit well."
Earl said their pool service company also does landscaping, so he and Amy already had a lot of the equipment as well as some knowledge experience in the produce industry.
By the time Ontario began to enter Phase One of re-opening the economy, the greenhouse crops were already underway and thriving, including peppers, tomatoes, eggplants, cucumbers and more.
"I know it seems weird," Earl said. "Impressions Group went from a company known for pool services, to deciding to grow and sell produce as well. Amy and I couldn't wait around during a pandemic while there were so many unknowns. We had to do something. Food production seemed to be the perfect idea, because we were thinking it would help our employees by providing them with work and help out people in the community."
By branching out and further diversifying their services and product offerings, Impressions Group was able to help their company survive, support their staff and address a growing need for a safe and reliable food chain. From the pandemic, Impressions Group emerged with a new path forward.
Named after Earl and Amy's three daughters, Gabriella, 10, Ariel, 7, and Layla, 3, GALS Produce was born.
"We've been using the process as an opportunity for their homeschooling," Earl said. "From seeding, germinating and growing, they've been a part of the process all the way along."
And they've already started harvesting.
"They're small quantities, but the yield is getting bigger and bigger," Earl said.
In the early going, GALS Produce will be supplementing some of their own produce with other local farmers' products. They are already planning on donating produce to the Ottawa Food Bank, local soup kitchens and farmers' markets in the near future.
In the meantime, the GALS Produce roadside stand will open this Thursday, (July 23) at 1148 March Rd.
You can expect COVID-19 protocols to be in place at the stand. Meanwhile, Impressions Group Ottawa Inc.'s showroom and store continues to keep the doors closed but is providing curb-side pick-up and other services.
"We are remaining contactless as much as possible," Earl said.
You can follow more on Facebook at GALS in the Greenhouse or visit their Impressions Group website here.
---