RVCA hosts invasive species workshop
MANOTICK – The Rideau Valley Conservation Authority (RVCA) is hosting a free workshop designed to help you identify invasive species.
"Did you know your beautiful backyard garden could be harbouring dangerous enemy invaders? Sneaky, ruthless agents of destruction, ready to launch a coup at any opportunity," RVCA staff released in a statement yesterday (Aug. 14). "We're talking, of course, about invasive species. They can be hard to spot – sometimes distracting you with their gorgeous blooms or glittery shells – but a workshop this weekend can help you identify these interlopers and keep them under control."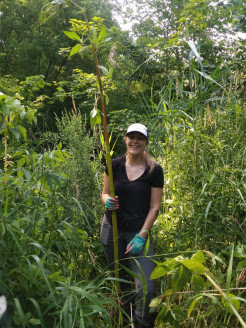 From 9 a.m. to 12 p.m. on Saturday, Aug. 17, Rideau Valley staff will lead a free, public workshop at the conservation authority's headquarters in Manotick. Participants can get up close and personal with several live displays while learning about the types of invasive species found in Eastern Ontario, how they spread and how to identify them.
Famous examples in Ottawa include the emerald ash borer, purple loosestrife and the round goby – to name just a few.
"Invasive species aren't native to the local ecosystem, so they have few natural predators and can out-compete their native counterparts for food and habitat," RVCA staff said. "They spread quickly along walking trails by way of shoes and strollers, in the water by boats and other vehicles, and by gardeners who don't realize the beautiful Himalayan Balsam they just planted could quickly hop the fence and take over a nearby shoreline."
On top of their environmental damage, invasive species can also cause problems for humans. Invasive wild parsnip and giant hogweed can cause severe burns and rashes, for example, while zebra mussels have clogged equipment all along the Rideau Canal.
To participate, RSVP to citystreamwatch@rvca.ca. Light refreshments will be served.
---