ROMA voice of rurals El-Chantiry says
TORONTO – Irony aside, the Rural Ontario Municipal Association (ROMA) annual conference, held in Canada's largest city from Jan. 19 to Jan. 21, was an opportunity for rural communities to shine the spotlight on rural issues, ROMA vice chair Eli El-Chantiry told West Carleton Online.
This year's theme for the 2020 ROMA Conference was moving forward. Conference sessions covered key issues facing rural municipal governments including rural broadband, health care modernization, land use planning and changes to the province's waste diversion regime.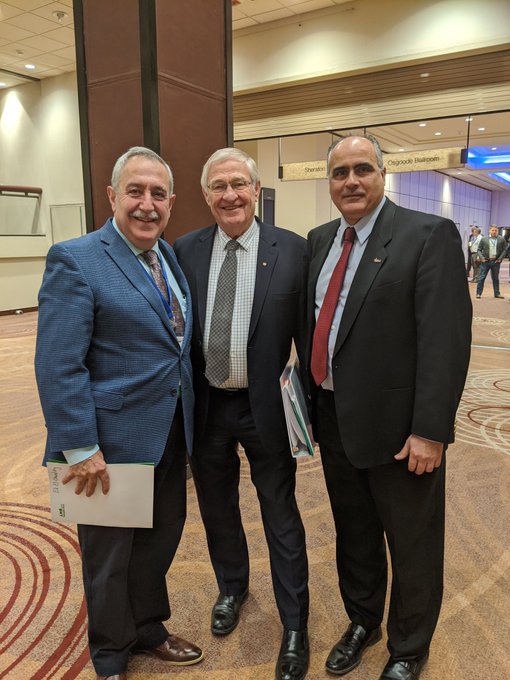 The conference featured keynote speeches by well-known media personalities Terry O'Reilly and Andrew Coyne. A host of politicians also spoke at the conference including Doug Ford, Premier of Ontario; Steve Clark, Ontario's Minister of Municipal Affairs and Housing; Ernie Hardeman, Ontario's Minister of Agriculture, Food, and Rural Affairs; Christine Elliott, Ontario's Minister of Health; Andrea Horwath, Leader of the Ontario NDP; John Fraser, Interim Leader, Ontario Liberal Party; Mike Schreiner, Leader of the Green Party of Ontario; and Jamie McGarvey, Association of Municipalities of Ontario (AMO) president.
There were 444 Ontario municipalities represented and more than 1,400 delegates.
"One of the best turnouts we've ever had," Coun. El-Chantiry, who represents the City of Ottawa at ROMA as well as being ROMA's vice chair, told West Carleton Online Thursday, Jan. 23. "In my humble opinion it was a very successful conference."
El-Chantiry says the ROMA conference focused on three important rural issues including public health reform, improved broadband access and Ontario infrastructure.
Part of the discussion on public health, presented in a workshop titled Challenges in Rural Health Care: Public Health and Emergency Health Services Modernization, focused on municipalities working together to improve services and save money.
"We're ahead of the pack," El-Chantiry said. "Ottawa is already in dialogue with Renfrew County."
Renfrew County Chief paramedic Mike Nolan was one of the speakers at ROMA. One of the services that could be shared in an effort to find costing services is dispatch, El-Chantiry said.
"I imagine Ottawa would take over that element with our neighbours," he said.
The top concern at the conference seemed to be on improving rural broadband service.
"Number One on the list is rural broadband," El-Chantiry said. "Even the premier said it needs investment. We need to work with the feds on that so there's no details on the funding but it is a priority. The benefits are huge."
From economic development to improved eHealth, El-Chantiry says there is a big advantage for rural residents with better broadband service.
"Delegates want broadband considered as a utility like gas, electricity and the phone," El-Chantiry said. "It was a great announcement, but we need the details."
Infrastructure is also a concern for rural residents and Hydro One's announcement at the ROMA conference the electricity provider would be investing $1.3 billion in infrastructure was well received. El-Chantiry said he also lobbied hard for the roughly $4 million needed to repair West Carleton roads damaged by last spring's flood.
"When I brought this item up the province agreed we need to work together to make that investment," El-Chantiry said. "I was pushing for our area, but Ottawa is not unique. There was a lot of flooding damage all over Ontario."
While those were the top three issues on the agenda ROMA, by it's nature, is an opportunity for rural municipal politicians to lobby provincial leaders.
"There's a lot of side issues," El-Chantiry said. "When you have 1,400 politicians, the wish list is long."
El-Chantiry said this is why he was disappointed local ministers like Kanata-Carleton MPP Dr. Merrilee Fullerton and Nepean MPP Lisa MacLeod were absent from the conference.
El-Chantiry said Premier Ford was well received at ROMA but did not receive the "standing ovation" he got at the AMO conference.
Ford also spoke about the importance of improved broadband in rural Ontario.
"I believe the province and feds need to work together with the smaller companies and Hydro One to bring fibre optic to rural Ontario," El-Chantiry said.
El-Chantiry feels the $150 million over five years the province invested in broadband a couple of years ago "is not really a lot of money."
"We need some regulation and some infrastructure," he said. "Why aren't we having Hydro One putting fibre optic? I'm speaking with a bit of frustration. Why don't we make it easier?"
Overall, El-Chantiry said the conference was important.
"IN a nutshell it was a great conference," he said. "It's really become the official voice of the rural community. The province said a lot, but is there a dollar attached?"
---