Rivermen win big in home debut
KINBURN – It was a night of goals as the West Carleton Rivermen debuted in their home rink, and took the W.
More than 150 fans took in the Rivermen's historic inaugural home game at the Cavanaugh Sensplex in Kinburn Friday night (Oct. 11) and they headed home happy as the home team won big, 8-3 over the Deseronto Bulldogs.
"The atmosphere was electric," team owner-player Adrian Moyes told West Carleton Online Sunday (Oct. 13). "We were unsure of what to expect for our first game. However, we ended up with more fans then we expected. We had quite a few minor hockey kids out and that's always great to see."
The Friday night game was the second leg of a home and away series against Deseronto to kick off the inaugural Eastern Ontario Senior A Hockey League (EOSHL) season. West Carleton won both games.
Moyes, who grew up playing West Carleton minor hockey and now calls Galetta home, said it was a bit tricky to focus on the game with all the excitement of the Rivermen's home debut.
"It was overwhelming," Moyes who had an assist during the game said. "We've been working so hard to put a good product on the ice for the fans. It was such a joy to look into the crowd and see all our hard work paying off."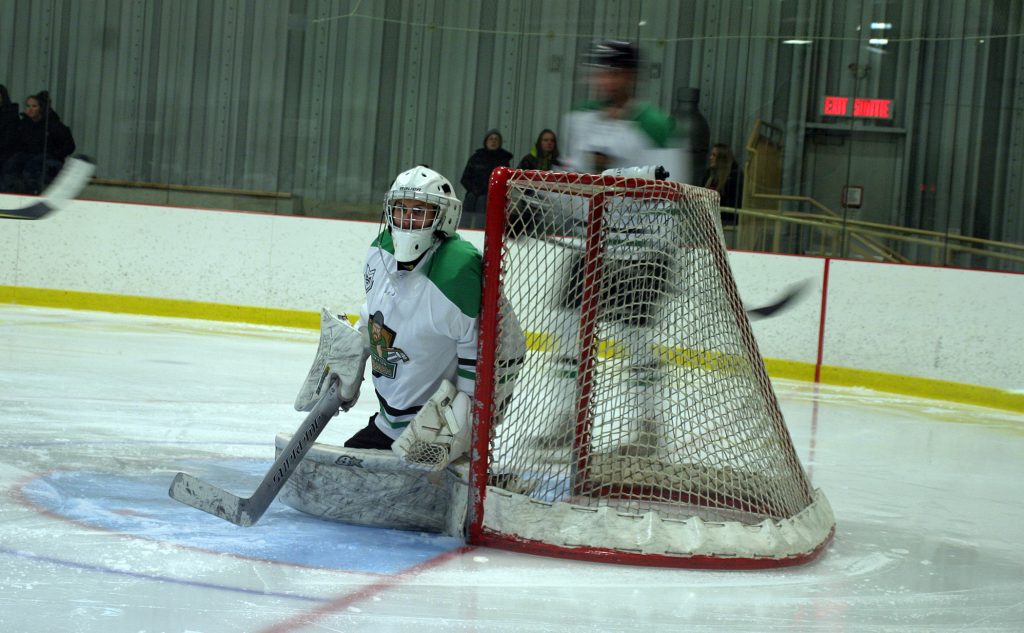 It paid off on the ice as well as the Rivermen soundly thumped the Bulldogs 8-3. It was a four-point (2G-2A) night for Alex Hulford who was named the games' first star. Ryley Egan had a goal and two assists and was named the games' second star. Carp native Nick Duhn also had two goals.
The Rivermen now have a 2-0-0-1 record after losing 8-9 in overtime Saturday evening (Oct. 12) in Cornwall. The team has scored eight goals in each of its first three games.
"Our roster is unbelievable," Moyes said. "We have such an amazing group of guys on and off the ice. We have instant chemistry and it's scary to think we haven't had a game yet where we have had all our top players dressed. It's really a credit to our general manager and coach Mike Byrne as to what he's put together."
Another highlight of the Rivermen's home opener had to do with the team's opposition – their back-up goalie is represented in the Hockey Hall of Fame. Midway through the second period, the Bulldogs pulled their starting goalie Hayden Ford and sent in the back-up Kira Hurley. Hurley, 34-years-old, is credited with being the first female goalie to register a point in a men's professional game. Hurley played NCAA Division III hockey at Clarkson University. She then played semi-professional hockey in the Mid-Atlantic Hockey League and All-American Hockey League. In 2009 she assisted on a goal while with the Evansville IceMen. Her goalie stick and game sweater from that game is now in the Hockey Hall of Fame. She can stop the puck too.
She stopped all 12 shots she faced in the game against the Rivermen.
"Kira is unbelievable," Moyes said. "We faced her in our opener in Deseronto as well and she's quite good. In my opinion she should have started the game."
Moyes said he had never played against a woman before but has practiced with another amazing female goalie.
"One of our practice goalies when I played In Germany was Rhadka Lhotska who is the Czech national team goalie," he said. "So, I'm no stranger to incredibly talented female goalies."
The Rivermen finished Thanksgiving Weekend in second place in the four-team EOSHL. The Rivermen are two points behind the Corwall Prowlers, who have a 3-1-1-1 record.
Early in the season the Rivermen are led by Egan who now has nine points (5G, 4A) in three games and is third in league scoring. Hulford is not far behind with 3G, 5A for eight points.
The Rivermen are back home this Friday, Oct. 18 at 8:30 p.m. hosting the Maxville Millionaires (0-3-0-0).
---