CONSTANCE BAY – Volunteer firefighter Ryan Littler battled the flood in 2017 and won. In 2019, the flood brought reinforcements in the form of a fire and won round two. Now it's 2020 and thanks to friends, family and community, Littler and his family's home will stand again.
Friday, Feb. 7 was Day Two of a two-day project to get Littler's new home framed, walled and floored in a feat that would impress even Chinese hospital builders – after all, Morduch and Taetz Construction, along with Carp's Deka Pro Panels, have a fraction of the manpower, are working in sub-zero temperatures and are dealing with one of the biggest snowstorms of the year. After all the Constance Bay firefighter and his family have been through, Littler and the small crew of about nine hardworking construction workers aren't going to let 20 centimetres of snow stop them now.
"That didn't slow them down at all," Littler told West Carleton Online this morning (Feb. 7) from the construction site in Constance Bay. "We got snow all day yesterday. Started off with snow today, you can hear the leaf blower going right now clearing the snow with that, but it hasn't slowed them down at all and everyone is cracking jokes and having a fun time on site. So, spirits are high, it's great."
Littler was home at the time of the fire with his wife Noelle and their young son Cassius battling the flood. Waters eventually reached the electric panels and the fire was sparked.
Tom Taetz is the co-owner of the construction company helping re-build Littler's home and also a volunteer firefighter out of South March. He attended the fire that finished off Littler's house on May 1, 2019.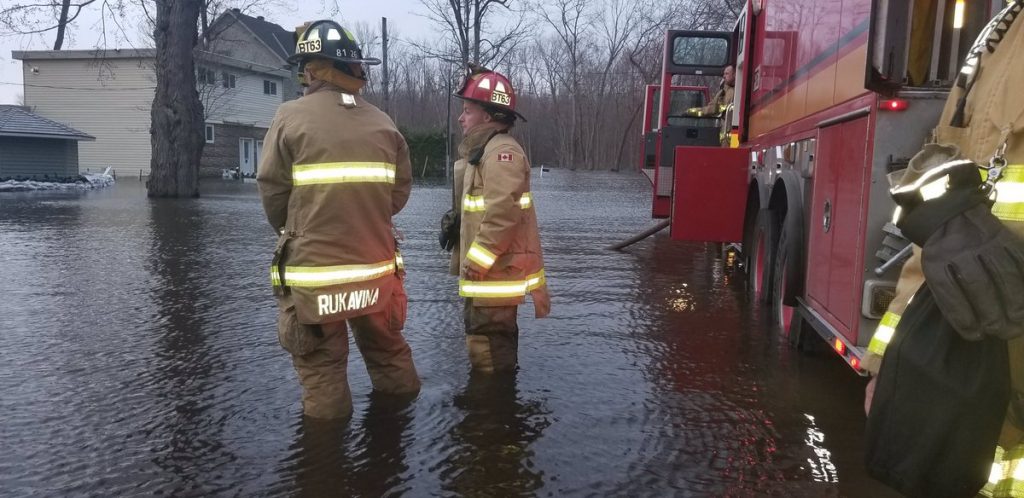 ""It was a tough battle for the firefighters for sure," Littler said. "This area here (the road and driveway), there was two-plus feet of water they were trying to run hoses through. It was challenging for sure. I had two gas pumps going so I broke a window and put the vast majority of the fire out. Then they came in. It rekindled and started going again and the firefighters were able to come in and put the fire out."
Littler had spent the day before, battling another flood-related house fire in Constance Bay.
"I responded to the other call on Bayview and helped put that one out," Littler said.
While the actual work of building has been going at lightening pace, getting to this point has been exhausting. It's been a little more than nine months between the time he lost his house and construction on his new home began.
 "Very much so, very much so," Littler said when asked if it's been a tiring journey. "The funding process, the design, all the engineering, everything involved with trying to build a house. Trying to come up with the money to do so as well. That's been challenging all in itself."
Taetz offered his team's time and labour for free when he heard about the delays Littler has faced.
"They're doing what they can," Littler said. "There are costs that have to be covered. I'm certainly grateful for all the work they have been doing."
It was event Taetz's suggestion to do the bulk of the work in two day.
"That wasn't even my goal," Littler said. "That was Tom. Dylan Sliter from the paneling company (Deka) had built all of this off site (the walls, floor etc.). They got together and said, 'look we have this window, let's see what we can do in these two days.' So, they delivered these panels today. Tom and his crew have been going like gangbusters trying to get all the flooring built, they've got the crane here, so they're going for it."
Littler says getting here has been a community effort.
"It's amazing," Littler said. "This whole thing has been an extremely humbling experience. This is something else. You are watching my front door go in right now, and it's amazing. Tom has never built using this process before either. It's a complete team effort between Deka and Morduch and Taetz Construction. I'm trying to do what I can. My skill level isn't anywhere near theirs'. I'm just trying to be a grunt moving lumber here and there. Whatever I can do to help."
And getting pizza. Which was what Littler was about to do just before West Carleton Online arrived. Littler and his family have been able to stay nearby throughout the process.
"A member of the community offered up their house, so I have a place to rent, just down the street," he said. "Literally 10 doors down. It's great, I can stay in the community as a volunteer firefighter, respond to calls and most importantly my son can be around his buddies for the summer and I don't have to disrupt his life at all."
Littler says the community has always been there for him, much like he has for them as a volunteer member of Ottawa Fire Station 63.
"one hundred per cent," he said. "In 2017 the firefighters saved my house. They came in and all my friends from the station built these walls that kept the water out and (in 2019) they were there for me around the clock, trying to save the last house. I mean we lost that fight to Mother Nature, but we're better prepared for the next one."
Right now, his son Mason is also on site, helping out with the build. Along with Littler's wife and young son, his mother-in-law Faye Rausch and the family dog lived in the home with them. Littler's older daughter Cecily and Mason spent a lot of time at the home as well. All of them and more working to help get Littler back in his home.
"I've got a great support network of guys at the fire station," he said. "Everyone has been great to come in and help, run wires. My son Mason is here helping, and my other son Cassius was here earlier delivering coffees with the wife, so everyone is trying. Cassius is a little young so it's not a safe environment for him here with the construction, but he'll be working hard once the roof is on."
While a lot of work is getting done today and yesterday, Littler still has a long way to go before he and his family can move back home.
"I still have months and months ahead of me," he said. "I'll be doing the bulk of the work myself. So, all the insulation, plumbing, electrical, all that. Still quite a lot of work to do. If we can get all the walls up, the floors in today, that's a big win."
---