Ridge Rock earns bronze at provincial brewing awards
CARP – Barely a year old and the Ridge Rock Brewing Company already has a major award to put up on the mantle.
Ridge Rock was awarded a bronze medal in the recently held 2019 Ontario Brewing Awards (OBA) held in Toronto.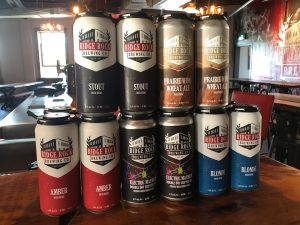 Ontario brewers gathered at The Berkeley Church in the provincial capital on Thursday, Sept. 12 to celebrate the best of Ontario beer. The evening recognized beer from breweries across the province. Medal winners in each of the 30 categories were evaluated by a team of Beer Judge Certification Program (BJCP) judges.
Ridge Rock won a bronze in the American Porter and Stout competition for its brew Ridge Rock Stout. Little Beasts Brewing Company was awarded silver and the Walkerville Brewery gold.
the OBAs have been sanctioned by the BJCP and entries are assessed by BJCP judges of varying rank designations. The judges are drawn from the same pool as those used by the Canadian Brewing Awards. Judges were organized into tables of two or three judges and each table focused on specific styles and flights. Judging of each beer is based on the OBA style guideline.
The Best of Show Award, the top award at the OBAs, went to Ides of February out of Henderson Brewery.
---