Rev. Ransom closes loop in the Harbour
FITZROY HARBOUR – Rev. Bryan Ransom was ordained at Bethel-St. Andrew's United Church in 1984. Last Sunday (Oct. 20), 35 years later, he led his first sermon at the Fitzroy Harbour church.
It will be his last.
Rev. Ransom retired from the clergy this past summer but wanted to visit Bethel-St. Andrew's and to lead his final service.
"You made a difference in my life," Ransom told the roughly 30 members of the congregation on hand for Sunday's service. "We're all called to be activists in our community. To set people free from the systems that oppress them. We have been invited by the Spirit of God. What you do and what you say makes a difference in people's lives. I'm an example of that."
Ransom received fond applause from the congregation and then led the church in one more hymn and one more prayer.
"Every day we hear about the world around us," Ransom prayed. "It's a small world we live in. We hear about the tragedies of civil war, protests from people who want rights and freedoms. We await in our own country our election. We ask you shoulder some of that weight and to offer what is needed in a broken world. We give thanks for the opportunity to make a difference in another person's life. And now, I'm fully retired."
Rev. Ransom spoke with West Carleton Online during a small reception for the retired minister following his final service.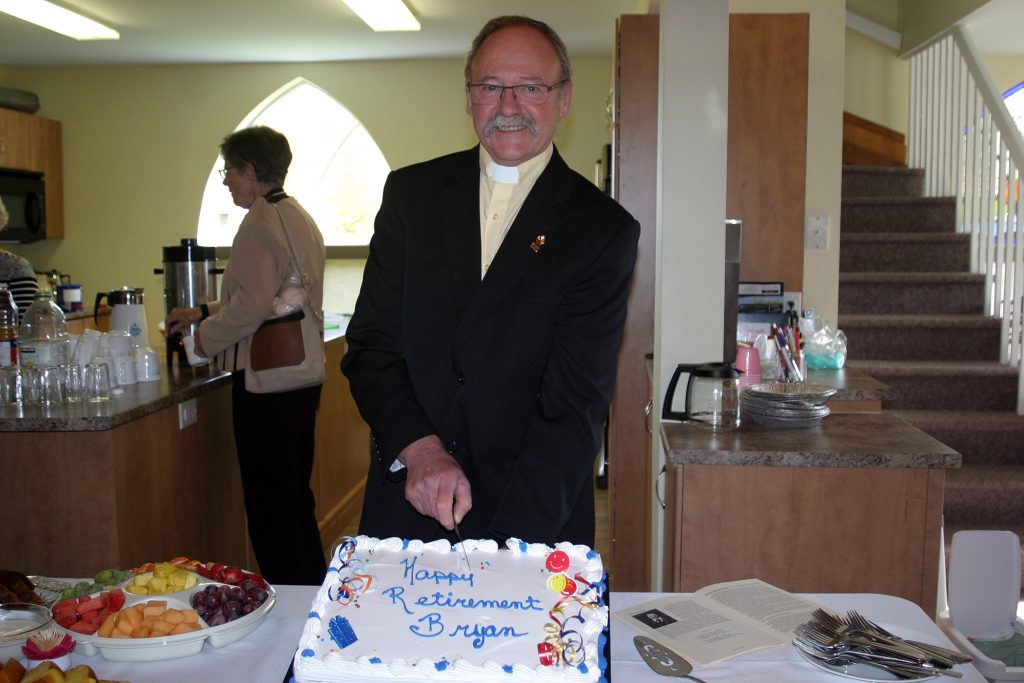 "I wanted to close the loop," he said. "I was ordained here, I wanted to finish here. I wanted to tell the people how important this place was to me."
When Ransom means "ordained here" he doesn't just mean nearby – he means at Bethel-St. Andrew's. That's rare. Almost all ministers are ordained in Montreal. Ransom might be the only minister to ever be ordained at the Fitzroy Harbour church.
"I was here on a student internship," Ransom said. "I completed that in 1983. They told me they would ordain me, but I had missed the May session. They asked me to do another year. I said, 'no, ordain me or I'm out of here.' So, they did."
Ransom started with a three-point pastoral charge in Strasbourg, SK. He ended in Beaumanville, ON and served three other pastoral charges as well including in Newtonville, Kendal-Shilough and in the Curtis area.
It was important to Ransom to make the three-and-a-half hour drive from Beaumanville and come back to Fitzroy Harbour one more time. So, Rev. Dr. Christine Johnson graciously stepped aside to let Rev. Rowsom lead the service.
"They needed to know the people here made a difference in my life," Ransom said. "There were my roots."
And now he can focus on retirement.
"I'm going to catch up on the things not done around the house the last 36 years," Ransom said. "Community work of my choosing and spend time with my grandchildren with my wife Roberta."
---