Purdy's clinic feeling pain of pandemic
DUNROBIN – While doctors across the region, and the country, have left their practices to join the frontline in the fight against COVID-19, some are starting to question whether they will go back to their clinic after the war is eventually won.
Many doctors are also business owners, and the reality is, like all businesses, the pandemic has put an incredible strain on revenue generation.
Dunrobin's Dr. Jennifer Purdy owns Ottawa Lifestyle Medicine in Kanata North, on March Road. Like many businesses, the pandemic has been bad for business.
"It totally has," Dr. Purdy told West Carleton Online today (June 1). "I see maybe five or six patients a week now. Virtually."
That's down from 30 to 40 ("that might be an understatement") a week pre-pandemic. Purdy, like all doctors, is paid through a "fee for service" arrangement through the Ontario Health Insurance Program. Purdy is paid per patient visit.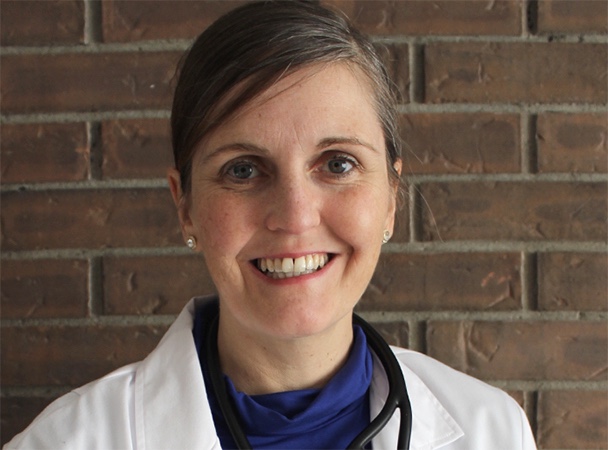 Purdy, who has called Dunrobin home for the last five years, has a long and varied history in medicine. Purdy served in the Canadian Forces for 23 years retiring in 2018. It was just after that she opened her own practice. She attended the Royal Military College of Canada and got her medical degree from the University of Ottawa. She is a Member of the College of Family Physicians of Canada and a Member of College of Physicians and Surgeons of Ontario as well as holding several other certifications and diplomas.
Many in the Kanata-Carleton Riding may remember Purdy as the Green Candidate in the last federal election. Purdy's practice works primarily with patients suffering from chronic health issues such as heart disease, type II diabetes, osteoarthritis, rheumatoid arthritis, obesity, chronic pain, multiples sclerosis, depression/anxiety and Alcohol Use Disorder (AUD). Because of that specialized work, Purdy is able to do her job, in part, through video conference. She knows several doctors are not that lucky.
"Any doctor that has to see patients in person, personal protection equipment (PPE) instantly becomes an issue," Purdy said. "It's expensive and it's hard to get."
But five to six patients a week is not enough to cover the bills. Purdy estimates her Kanata clinic rent and utilities is just under $3,000 a month not including licensing fees. She also has a part-time receptionist.
"That's been a bit of an issue," Purdy said. "Because at first, I didn't qualify for the government's small business loan. You needed a payroll of $50,000. Then they lowered it to $15,000. I still didn't meet that requirement. Now I think they've changed it again, and I do qualify, but I haven't applied."
She also hasn't taken a salary since opening the clinic in 2018. Purdy says she has received money from the provincial government during the pandemic, but it wasn't money she wanted to take.
"All doctors were sort of forced to take a loan from the government," Purdy said of the government's program to assist doctors. "They looked at our billing over the same period last year and they gave us all money. It's not a gift, it's a loan that's going to come out of future billing. There's no forgiveness of that loan. They imposed that on us even though the Ontario Medical Association were highly opposed to it. It hurts us in the short and long term."
Purdy says she has a second source of income which has helped her pay the bills during the pandemic. She does "file review" for National Defence.
"without that I would already be in the red and closing up shop," Purdy said.
Purdy also has a side hustle. The doctor has volunteered to work at the Queensway-Carleton Hospital's COVID-19 Assessment Centre in Bells Corners. While physicians volunteer to work at the clinic, they are paid for their time there. Purdy says several doctors who are in a better financial position are not volunteering so those doctors, like those who run their own clinics, can potentially pick-up extra shifts.
She is impressed with the quality of the 'pop-up' clinic she has spent time working at since early April.
"It's an excellent set up," Purdy said. "It's impressive. It's like nothing I've ever seen before."
And that's coming from a doctor who served as a health care administration officer in the armed forces. She was trained to set up medical services and hospitals in places that didn't previously serve as medical services.
"The first day they took us on a tour," Purdy said. "It was highly impressive. It blew me away."
As the province's emergency orders enter their 10th week, Purdy says the assessment centre is becoming well used, especially recently.
With all the work she is doing now, Purdy says her budgeting tells her, if things don't change, she can afford to keep her clinic open for around two more years.
"I will continue to do that (work at the assessment centre) as long as possible," Purdy said. "But it will be a fantastic news story when the clinic is able to close."
Although when the clinics do close, the pandemic subsides and people are able to return to some semblance of normal, Purdy doesn't know what that normal will look like. She is in year two of a five-year lease for her clinic and doesn't know if she should re-new.
"It depends if people do go back to clinics after the pandemic," Purdy said. "But if they don't come, I'll be working to cover overhead. I have to wonder if I should continue to pay $2,400 a month when I'm getting significantly less income? It may not mean closing the clinic, it may mean just seeing patients virtually."
Purdy says there is "much less risk" without operating a clinic and that includes "medical legal issues."
Purdy says, if too many doctors feel the same way, are too crunched by the numbers, several clinics may close, creating to the already growing pre-pandemic problem of the challenge of the Canadian population finding a family doctor.
"There's a significant risk if the Government of Ontario doesn't look at income stabilization," Purdy said. "I've heard many colleagues say there are less family doctors. Patients don't have anywhere to get prescriptions. That would just transfer that pressure on to the emergency departments. This is where the second wave could come in to effect. There's a significant risk."
Rural communities have been challenged with a lack of family doctors for years. In Renfrew County many municipalities have Doctor Recruitment committees. They host recent graduates, offer incentives and try their best to entice new doctors to set up practices in their communities. Some municipalities are so desperate to reduce the family doctor wait list in their communities they offer clinical space for free or even pay off student loans if a doctor will agree to serve a specified term in the community.
"Somebody has to pay for that overhead," Purdy said. "That's not fair because it all comes out of the same pot."
Residents are paying for doctors out of their municipal taxes to attract them, and out of their provincial taxes to pay for OHIP.
"Some revisions have to occur," Purdy said. "When we got national healthcare, our society wasn't as sick as it is now. Roughly one in 10 Canadians have diabetes. Alzheimer's is a growing issue. These are expensive to treat. People need to be healthy without burning out all our doctors, nurses and other health care professionals. There needs to be a reckoning."
---