Police seek witnesses to fatal Manotick collision
MANOTICK – The Ottawa Police Service (OPS) Collision Investigation Unit is seeking witnesses and dash-cam video of the fatal motor vehicle collision that occurred near Mitch Owens and Ramsayville roads this morning (Feb. 25), involving a van and a dump truck.
 The collision, which occurred around 8:43 a.m., required service from all three Ottawa emergency responder organizations.
Volunteer firefighters from Station 93 in Osgoode were required to extricate the passengers of the mini-van.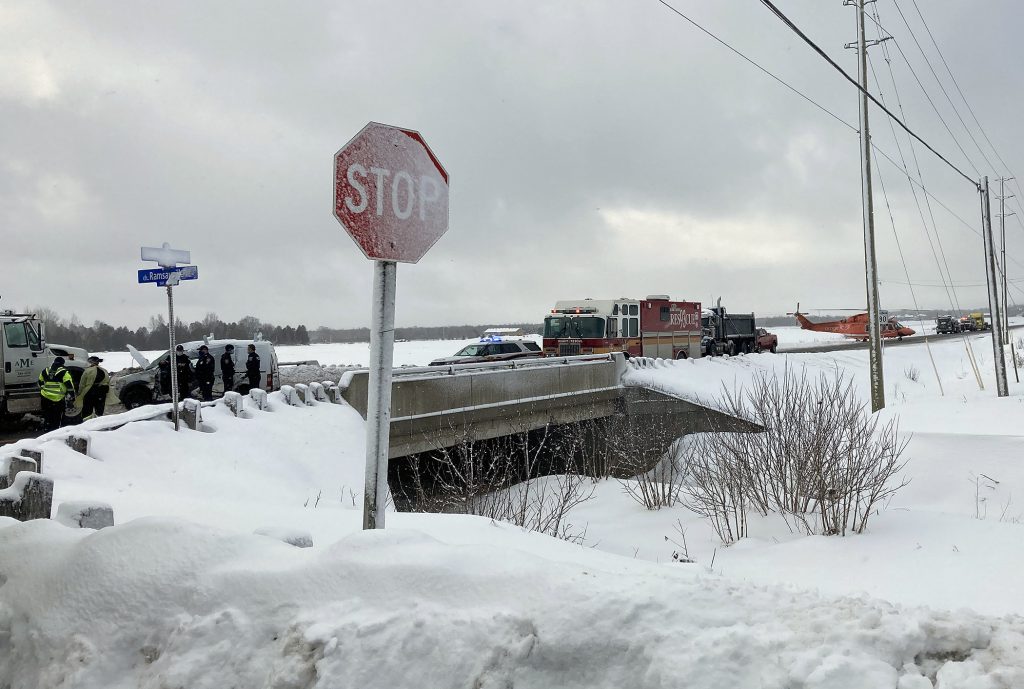 "Ottawa Fire Services (OFS) was contacted by Ottawa police at 8:43 a.m. reporting a collision on Mitch Owens Road near Ramsayville Road," OFS public information officer Carson harris released in  statement today. "Subsequent callers advised someone was possibly trapped in the vehicle."
Firefighters arrived on location at 8:4 6.a.m and confirmed a collision between a truck and a van with the occupants of the van trapped.
"Firefighters freed one person from the vehicle at 8:51 a.m. and began providing care for the injuries of the other occupant who remained trapped in the van," Tharris said. "Firefighters used specialized tools to remove the occupant from the heavily damaged van."
The occupant was freed at 9:01 a.m. and transferred to the care of the Ottawa Paramedic Service.
"Firefighters worked with Paramedics to prepare a landing site for an ORNGE air ambulance," Tharris said.
The Ottawa Paramedic Service provided ambulatory care on the scene.
"Once on scene, one male in his 30s was found with life threatening injuries," the paramedic service released in a statement, "He was treated on-scene before being airlifted by an ORNGE Air ambulance undergoing advanced life support measures to the trauma hospital. Another male in his 20s was transported with serious injuries by land ambulance on a 'trauma bypass to the trauma hospital. In addition, a male in his 60s, with non-life-threatening injuries, deemed to be in stable condition, was treated by paramedics at scene."
Unfortunately, the driver of the van did not survive his injuries.
"The driver of the van, a 35-year-old man, succumbed to his injuries in hospital and the passenger was transported to a nearby hospital with serious but non-life threatening injuries," the OPS said. "The dump truck driver did not suffer any injuries."
In the course of the investigation Ottawa police are now looking for eye-witnesses or video footage.
"Anyone who witnessed the collision is asked to call the Ottawa Police Collision Investigation Unit at 613-236-1222 ext. 2481," the OPS said. "Anonymous tips can be submitted by calling Crime Stoppers toll-free at 1-800-222-8477 (TIPS), or crimestoppers.ca."
---