Police seek suspect in West Carleton-Arnprior border beating
ARNPRIOR – A severe beating on the West Carleton side of the Arnprior border has Ottawa police seeking an "extremely dangerous" Ottawa Valley man.
The Ottawa Police Service (OPS) West General Investigation Section is asking for public assistance to locate a suspect involved in an aggravated assault incident.
On Jan. 4, a man was assaulted by another man at the intersection of Ottawa Road 29 and Keatley Road. The victim suffered extensive injuries and was subsequently hospitalized.
Media Relations Section Const. Martin Dompierre said the incident which occurred at roughly 2 a.m. was the culmination of earlier events.
"It is still under investigation," Dompierre told West Carleton Online this afternoon (March 10). "Something happened previous to the event. It started somewhere, and the two vehicles followed each other."
The assailant's vehicle had several passengers while the victim was driving along. The two vehicles pulled over and an altercation began.
"Some of the occupants of the assailant vehicle knew the victim, but not the person charged," Dompierre said.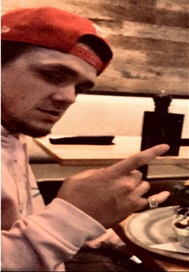 Owen Jones, 21-years-old of no fixed address, has been charged with aggravated assault and a first instance warrant has been obtained for his arrest. Jones is 6'2" (188 cm), 194 lbs (88 kg), has brown hair and dark-coloured eyes.
"We're trying to locate that man," Dompierre said. "He's extremely dangerous. The victim received a beating. Broken ribs. He's going to be affected for the rest of his life."
Dompierre says the OPS may be working with the Ontario Provincial Police (OPP) on this case.
"There are a lot of elements that still need to be investigated and multiple jurisdictions," he said.
It is believed the initial incident that may have sparked the altercation occurred in Arnprior. Dompierre says Jones is "known to be from the Ottawa Valley area."
"We made several attempts to locate him but we're unsuccessful," he said. "With the warrant, we can now arrest him on site. He knows we're looking for him."
Dompierre said more charges related to the incident may be coming from both the OPS and the OPP as the investigation continues.
If you have information that could assist investigators please contact the West General Investigation Section at 613-236-1222, ext. 2666. Anonymous tips can be submitted by calling Crime Stoppers toll free at 1-800-222-8477 or at crimestoppers.ca.
---