Police seek dangerous man wanted in Bells Corners shooting
BELLS CORNERS – The Ottawa Police Service's (OPS) Guns and Gangs Unit is asking for the public's assistance to locate a man wanted in relation to a shooting that occurred on Robertson Road near Moodie Drive, on March 15.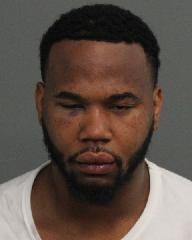 He is described as a Black male, 6'2" (188 cm) and his hair is styled in cornrows.
"Goodman is considered armed and dangerous, please do not approach him," the OPS released in a statement. "Call 911 immediately if you see him."
Dwayne Goodman, 25-years-old of Ottawa is wanted for the following offences:
Utter Threats of Bodily Harm
Careless Use of Firearm
Possess Weapon Dangerous to public
Discharge Firearm with Intent
Discharge Firearm into a place
Occupy Motor Vehicle with a Firearm
Pointing a Firearm
Carry Concealed Weapon
Unlicensed Person Possess Restricted Firearm
Possess Restricted Firearm knowing no authority
Possess loaded regulated firearm
Possess Firearm obtained by crime
Aggravated Assault
Anyone with information regarding the current whereabouts of GOODMAN is asked to call the Ottawa Police Guns and Gangs Unit at 613-236-1222, ext. 5050. Anonymous tips can be submitted by calling Crime Stoppers toll-free at 1-800-222-8477 or at crimestoppers.ca.
---