Police on the hunt for suspected fatal hit-and-run driver
OTTAWA – Ottawa police are on the hunt for a suspect in yesterday's (May 16) fatal hit-and-run on Laurier Avenue.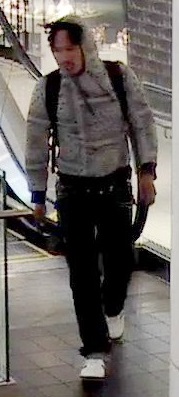 Ottawa Police Service (OPS) collision investigators are investigating a hit and run collision that occurred this at 7:20 a.m. on Laurier Avenue West. The collision left a male cyclist with life-threatening injuries, who later succumbed to his injuries.
The vehicle and the cyclist were both travelling west on Laurier Avenue West near Elgin Street when the cyclist was struck. The driver then fled the scene of the collision. The driver abandoned the vehicle which was located by police on the MacKenzie King Bridge.
The suspect is described as an Aboriginal male, 5'10" (178cm) , skinny with long black hair. He was seen after the incident on a surveillance camera at the Rideau Centre, wearing a light coloured jacket over a hoodie, blue jeans and white sneakers with two stripes on the side. He was carrying a blue backpack.
Anyone with information regarding this incident is asked to call the OPS Collision Investigation Unit at 613-236-1222, ext. 2481. Anonymous tips can be submitted by calling Crime Stoppers toll-free at 1-800-222-8477 or at crimestoppers.ca.
---