Police cruiser rear-ended during routine traffic stop
OTTAWA – An Ottawa police officer suffered minor injuries after being struck from behind by a five-ton delivery truck yesterday while in his cruiser following a routine traffic stop.
An Ottawa Police Service Traffic Unit officer was performing a traffic stop when the cruiser was struck from behind at approximately 10 a.m.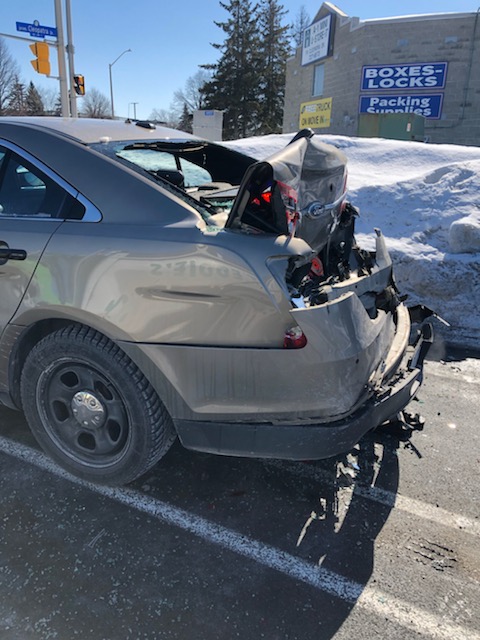 The cruiser was stopped in the right turning lane of West Hunt Club Road at Cleopatra Drive with emergency lights on after pulling someone over for a traffic violation. The officer had just returned to the cruiser and was writing a document.
Meanwhile, the operator of a five-ton delivery truck changed lanes to turn right onto Cleopatra Drive and rear-ended the cruiser.
The driver of the delivery truck was charged under the Highway Traffic Act. The officer suffered minor injuries.
Although speed appeared to be a factor in this instance, it is a good reminder to slow down and move over when you see emergency vehicles or tow trucks. Where there are vehicles pulled over, there are also people who want to go home safely.
---