Police: C Bay sign vandalized
CONSTANCE BAY – About a week ago residents noticed the Constance Bay welcome sign at the triangle of Dunrobin and Constance Bay roads was missing. Ottawa police are now investigating the incident as an act of vandalism.
Constance Buckham's Bay Community Association (CBBCA) garden director Jo-Ann Campbell, who maintains the garden surrounding the sign and has done so for the last 14 years, saw the damage firsthand last Saturday (Oct. 24) afternoon.
"I contacted (Coun.) Eli (El-Chantiry) right away," Campbell told West Carleton Online today (Oct. 27). "When I noticed it missing, some people said it had been missing for a bit."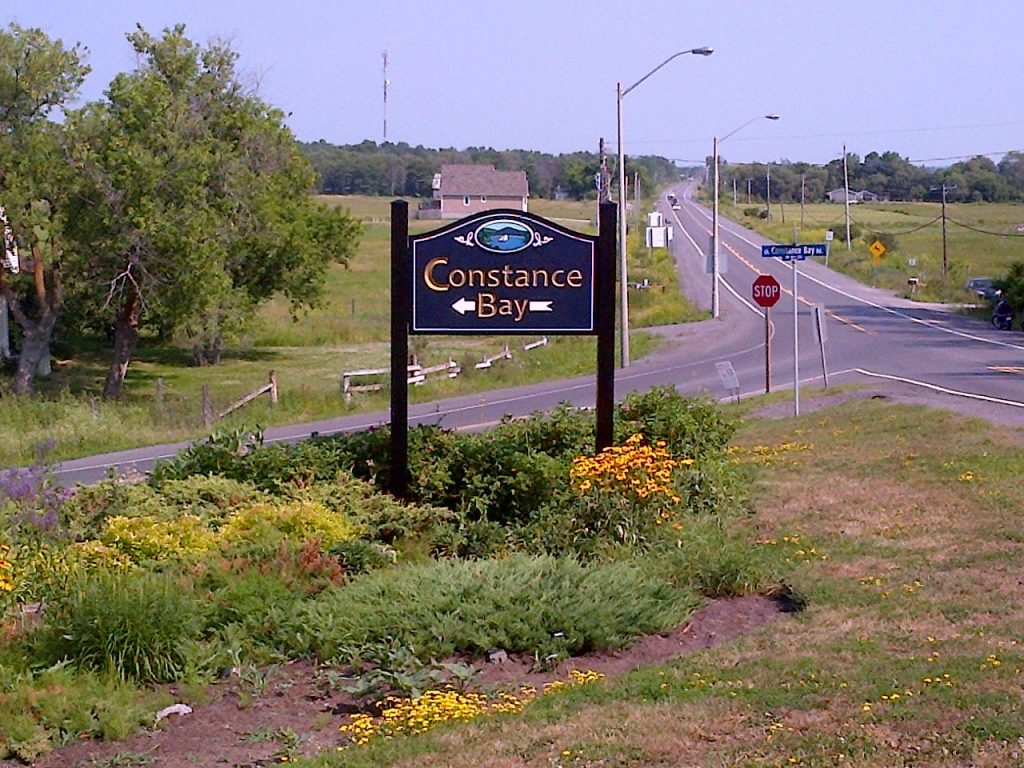 Campbell says she was at the site today and took a much closer look at the scene. She witnessed different sets of tire tracks, some that looked like all terrain vehicle tracks and another set that looked like large truck tracks.
Campbell says the sign looks like it was intentionally toppled, and then damaged more after the fact.
"It's very apparent," Campbell said. "It looks like someone took a sledgehammer to it."
Campbell said Coun. El-Chantiry was able to get Ottawa Police Service's (OPS) rural west community policing officer Const. Jeff Kotsuch on the case who visited the scene Sunday (Oct. 25).
Campbell says El-Chantiry contacted her Sunday as well and said the "police confirmed it looked like the sign was pulled down with chains or a winch and vandalized."
"It's a very sturdy sign," Campbell said. "When we erected it, we put the posts in deep below the frost line. It almost looks like a vendetta. Why would someone do this?"
Campbell, who is a member of the CBBCA and a roughly 25-year Constance Bay resident, was a part of the team that brought the sign to the triangle entrance to the community five years ago. It would replace a fragile sign in need of tender loving care.
The sign, paid for by the CBBCA and fundraising, cost $3,500 and was installed by volunteers.
"There's so many questions unanswered and someone out there somewhere knows something," Campbell said. "It will come out eventually. Hopefully, someone will come out sometime with some information."
Campbell says the outpouring of support since the damage has been strong.
"I have been contacted privately by people wanting to donate or organize fundraising," she said. "There's a silver lining in everything."
Campbell says she is expecting a call from the OPS with a follow-up to the investigation, but there is no clear timeline on that. She has been pegged as the community liaison with the OPS during its investigation. Anyone who would like to provide information, can contact the Ottawa police here.
---