Pickleball back in the Bay
CONSTANCE BAY – As restrictions loosen up around the province in Phase 1 of recovery from the COVID-19 pandemic, pickleball players across the community are happy to finally be back on the court.
On May 19, the Ontario government started Phase 1 of the province's recovery plan from the COVID-19 pandemic. Part of that plan allowed for some recreational activities to be enjoyed including some racquet sports.
Four days later, pickleball was back on in Constance Bay.
But not without some changes to policy to make it as safe as possible for participants.
"We're adamant about it," volunteer organizer Suzanne Monnon told West Carleton Online from the courts behind the NorthWind Wireless Fibre Centre today (June 3).
The club is new, entering its third year. There's been so many challenges though, they haven't been able to establish consistency. Last year the outdoor season was delayed due to extreme flooding which turned their courts in to a staging area for flood relief for several months.
This year, the pandemic. But it's great to finally be able to play again.
"We were all itching to get out," Suzanne said.
Suzanne's husband Bill helps run the club. The two had been practicing for weeks on their gravel driveway. Not ideal, as a pickleball is a hard, plastic ball that only needs a small pebble to make a hard, unnatural direction change.
Bill says the club has had at least 60 different people who have come out to play at least once. There's a core of about 25 who come out regularly.
"It's nice," Bill said. "It's a nice break from the dark cloud that's hanging over us right now."
Constance Bay pickleballers get together on Monday and Thursday evenings (starting at 6 p.m. and Wednesday mornings at 10:30 a.m. Today (June 3) there are about 12 playing the game.
"We're not really promoting it these days," Bill said. "We didn't want too many people standing around."
One of many new rules to protect pickleballers from COVID-19.
The five courts, are on the asphalt surface of the Constance Bay outdoor rink. The club now has an entrance and an exit to avoid close contact of players. Everyone signs in, just in case someone catches the coronavirus and they need to do some contact tracing. Club volunteers have painted small circles on the sidelines so people can place their equipment and personal stuff at a safe distance from one another's.
The pickleball is cleaned after every game in an area designated for one person only. Of the five courts, the club is only using three to maintain distance.
"We used to high five and paddle tap, but not anymore," Bill said.
Courts are 20 feet wide, which organizers hope is wide enough for teammates to keep their distance between each other. There's a net between them and their opponents.
"Everybody was really excited to get back to playing with Bill and I the most excited," Suzanne said. "When you play on the court you forget about everything else. It's a break from the current reality. We're a happy bunch. pickleball is a happy sport."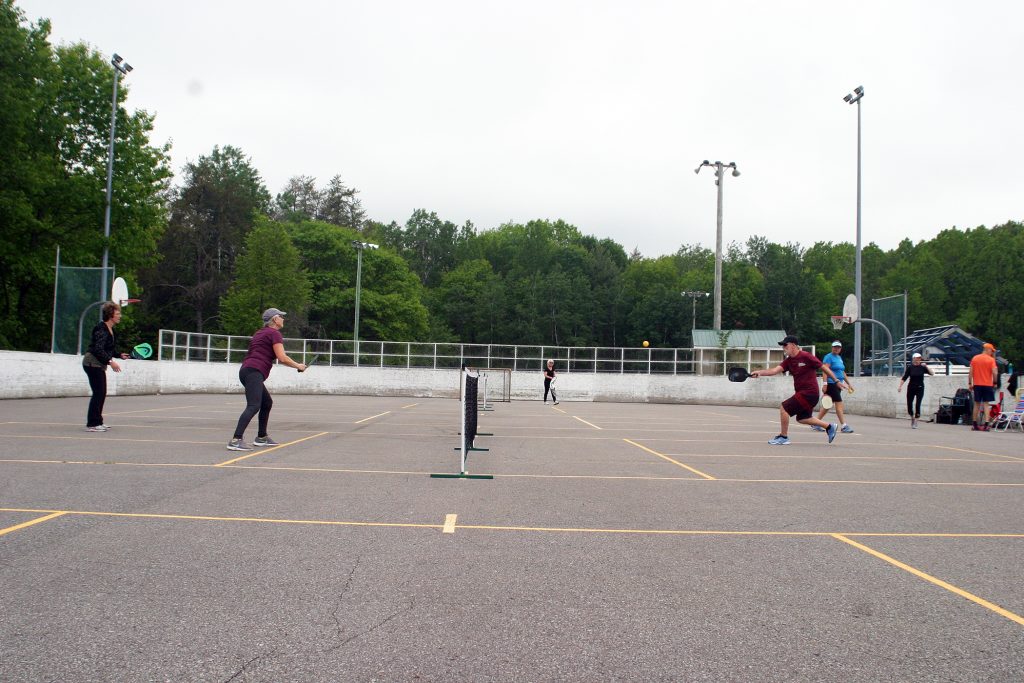 The Monnons have only been playing pickleball for the last four years, but they dove in with both feet.
"In ordinary times, Bill is the coach, does the line painting and blows the debris off the courts," Suzanne, who also donates her fair share of time promoting and organizing the club, said.
The Monnons are unsure when 'ordinary times' will return, but for now, they are happy there's something to do involving a pickleball. The goal is to make sure pickleball continues in these strange times.
"We didn't just make these rules up off the top of our head," Bill said. "We worked with the city to come up with a plan. We went over to the Carp pickleball club (also now operating) to have a look and make sure we're all doing the same thing."
---