Pickle Vixens a chip's best friend
KINBURN – While pickles have been their go-to, Kinburn's Pickle Vixens are taking over the chip lovers' world, one dip at a time.
Sisters Monica McGinnis and Melanie Matthews, Beachburg natives, have turned their love of pickles and passion for cooking, in to a growing dip business based out of the Kinburn Business Complex.
Why pickles, you might ask?
"I don't know," was McGinnis' answer when West Carleton Online put the question to them last week (Aug. 28) during a visit to the Pickle Vixens' commercial kitchen in Kinburn.
Their love affair with pickles began long before their Super Awesome Dilly Dip started taking over taste buds all over Ottawa and the Valley.
The sisters, who grew up on a farm outside of Beachburg, opened a food truck in 2011 that quickly became famous for the sisters' deep-fried pickles (called the Dilly Willy) and pickle poutine. The sisters toured the local fairs and festivals throughout the Ottawa and Pontiac valleys between 2011 and 2017.
McGinnis said the were visiting a cousin in Waterloo, ON at a ringette tournament who took them to a pub where they tried deep fried pickles for the first time.
"We just loved them," Matthews said. "We said, we can do these better."
And they did, travelling the valleys living the food truck life.
By 2017 the sisters had five kids between the two of them and made the difficult decision to retire the food truck so they could spend weekends with their family.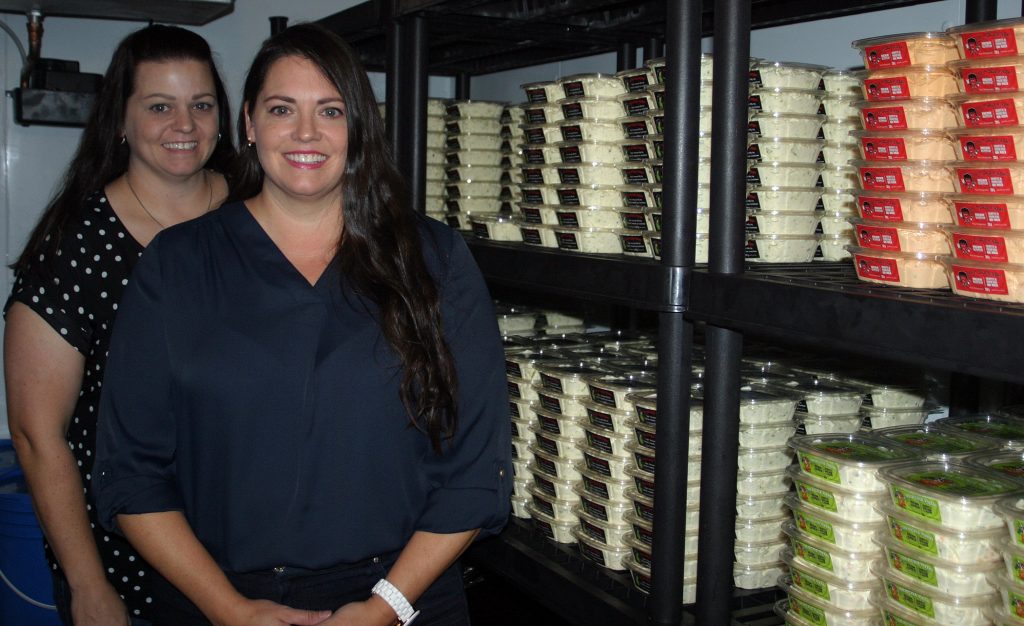 During that time, McGinnis decided to donate her hair and raise money for a cancer run. She raised $1,000. The next year she wanted to do the run again, but keep the hair. She made the Super Awesome Dilly Dip and those who donated to the fundraiser, were gifted a supply.
"We had no problem raising $1,000," McGinnis said. "Then, the orders just kept coming in."
The business was born and now stores and groceries in Deep River, Shawville, Manotick, Arnprior, White Lake, Pakenham to almost Kingston are stocking the Pickle Vixens' dips. The dip is also available in Kinburn, right next door at the Darvesh Gas and Grocery.
In Nov. 2019, the sisters moved in to their present location in Kinburn. Before that, the sisters had to rent space to make their dips.
"We'd be there until 2 a.m." McGinnis said of their rental spaces. "Because we were working our regular jobs, we'd come in and pound it out. There were some sleepless nights."
"To have a space, that's awesome," Matthews sad.
During a typical month, the Pickle Vixens go through 25 to 30 pails of pickles a month making their signature Super Awesome Dilly Dip. They can make three batches of dip per pail. There's about 150 servings of dip per batch.
"It seems like a lot of people like pickles," Matthews said. "There's a lot of pickles in that dip."
"If we're going to make a pickle dip, it's going to be a pickle dip," McGinnis said.
"I think we just love making food," Matthews said. "Everything we make is from scratch. We always say fresh is best. We even cut our dill pickles two ways for consistency."
"We just love food and dips," McGinnis said.
Their product has grown as well, as McGinnis and Matthews have added two more dips to their product line including Mucho Cheddar Jalapeño Dip and Rockin' Red Pepper Dip. West Carleton Online has tried all three, and while we generally avoid adding editorial comment to our stories, all three dips are incredible.
Both sisters come from the dental industry, but Matthews just resigned from her position in July to work as a Pickle Vixen full time.
The sisters have also recently hired their first two staff members and have purchased a refrigerated van to help with delivery.
"That van will be all decked out," McGinnis said. "It already has a name – the Pickle Express."
Growing your own business is always the goal of an entrepreneur and the Pickle Vixens are no different.
"It feels awesome and we hope to grow a lot more," Matthews said. "We're at the point where stores are contacting us looking to stock our product, which is amazing. People are requesting stores to carry us on social media and then those stores are carrying us. It's great."
And the Pickle Vixens continue to grow. They are moving their commercial kitchen to a larger space but are staying within the Kinburn Business Complex pointing out landlord Glen Lucas has "been amazing."
They might even make a return to the food truck game.
"Once the kids are old enough, we'll get a food truck again," Matthews said. "The kids can work it."
---