Pharmacy powers through pandemic
CONSTANCE BAY – Constance Bay Pharmacy owner Tamara Awada says she's prepared and determined to serve her community no matter what the COVID-19 pandemic throws at West Carleton.
Awada, pharmacist and owner, spoke with West Carleton Online yesterday (March 18) to talk about her efforts to remain open through unprecedented times and make sure her customers have the medication and care they need as the world deals with the novel coronavirus and an unknown future.
The first thing you notice when you walk in to the small pharmacy, something that wasn't there before, is a large plastic shield surrounding the counter and separating clients from the staff.
"I've been preparing for this moment since the first case was reported and way before, by making sure I'm very well stocked up and every patient has enough medication for at least three months," Awada said. "After the first case was reported I started a contingency plan, which first was protecting my staff by getting all the personal protection equipment (PPE). This is the next stage, from head covers to gowns to face shields and masks just to secure that, regardless of what's going to happen, the pharmacy will remain operational to serve the community."
Awada says the safety measures may look out of the ordinary, but not only provide physical security, but emotional security as well.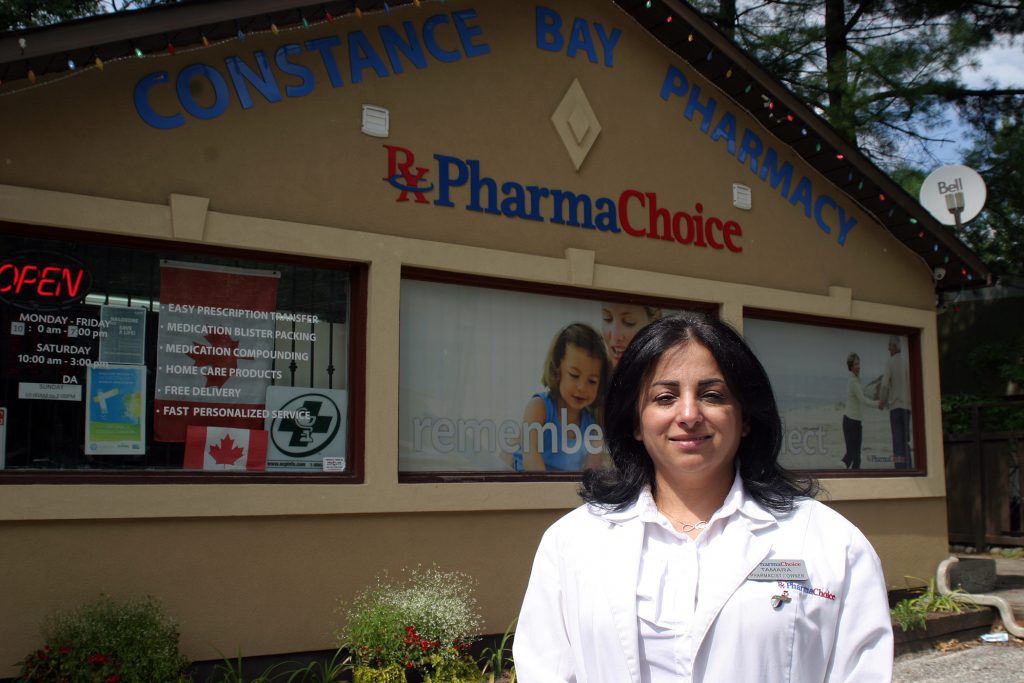 "As you might have seen, I did step up my staff safety by installing those plastic shields around the counter, because I found out this is the time that most people are coming back from their vacations and are not yet in safety mode thinking," Awada said. "So, they will come to the pharmacy with no symptoms, possibly exposing those around them in case there is infection. By doing this, not only am I protecting them physically, but emotionally as well. I think they feel they are taken care of, as part of the family. As you know, this is a family business."
Not only has Awada stocked up on prescription medicine for her customers, she's also stocked up on pharmacists.
"I did hire extra pharmacists," she said. "I am just praying that I am going to get out of this period okay (with a chuckle) even though financially, I might be in trouble. But the community and the professional service comes first. I have pharmacists on standby in case one of us, for whatever reason, can't make it in. No matter what, I am open, I am here, unless something out of my control takes effect."
Awada says the prescription drug business has not changed since the recommendation of social distancing and isolating came in to effect, but the rest of the business is suffering. But her focus is on ensuring the health of her community, and if there are more changes to the way we deal with the pandemic, she has that covered too.
"The next step of the pandemic planning that I am executing is having the patient dropping off the prescription instead of coming in to the store," Awada said. "I have a safety box with a lock, so they can just slip their prescription in there. Only the pharmacist will have the key. We'll get the prescription out, call the patient, deliver it to them, or to their car, while our staff are in their PPEs."
Awada says her customers currently are mostly seeking the common medications.
"Most of the people here are here for cold medication, fever medication, the regular day-to-day needs," she said. "As for PPEs, they are not available as I was informed. Everything has been diverted to hospitals and long-term care facilities, leaving pharmacists very vulnerable. We need to be protected."
Because of her advance preparations, Awada was able to secure PPEs for her staff.
"I called a bunch of wholesalers," she said. "I was able to collect them, one item at a time. I would be concerned for my other colleagues who work for the big chain pharmacies."
Since the first cases of COVID-19 hit Ontario, Awada has even seen a bit of growth in prescription patients. In fact, during the interview, one customer who knocked on the door to say hi, was a former Constance Bay resident who drove from Orleans to get her medication from the Constance Bay Pharmacy.
"The last couple of days, I've seen a few new customers from big chain pharmacies seeking better service, better care," she said. "In a shy way, I've notice they have been moving their files here. A lot of people are in a panic mode, which is understandable in this situation. There are mixed messages from the city and the government on medication creating an extra fear factor. We are facing a challenge. The wholesaler is putting a cap on how much we can order. The prescription part, we are okay somewhat. As I mentioned, I've been preparing for the last month or so in our stock level."
Awada, who opened her pharmacy in 2016, is one of the community's biggest volunteers. She is the director of the Constance Buckham's Bay Community Association 55-plus group. She is a regular volunteer at the West Carleton Legion and lends her support and time to many of the events hosted in Constance Bay. She says COVID-19 dominates almost every conversation she has.
 "Of course, everyone in the community is concerned, everyone in the country is concerned," Awada said. "There are a lot of unknowns. This is a resilient community. They are just as prepared as everyone else. They do understand what they have to do in order to help. They are offering their help to us, from delivery to anything, just to secure that we are open. This community is a reflection of our country is what I would say."
While tension runs high, Awada knows this community, which has been through two devastating floods and a tornado in only three years, knows how to battle.
"It's very hard right now, we are still at the very beginning and the shock stage I would say," Awada said. "It's only been two days. Whatever life will throw at us, we will fight back. We are known as a country, we are strong. So, we have each other's back, each other's compassion. I wish all the health for every single one on this planet. We are here as a small pharmacy team, for whoever needs our help."
---