Paramedic Memorial Bell arrives in Ottawa
OTTAWA – After a lengthy journey across the province, beginning in Essex-Windsor region on May 28, 2020, the Paramedic Memorial Bell has arrived in Ottawa to complete the last leg of its Ontario journey.
On Sunday, Jan. 3, the Memorial Bell was received from the United Counties of Prescott and Russell Paramedic Service near the border of both regions, in the Cumberland ward.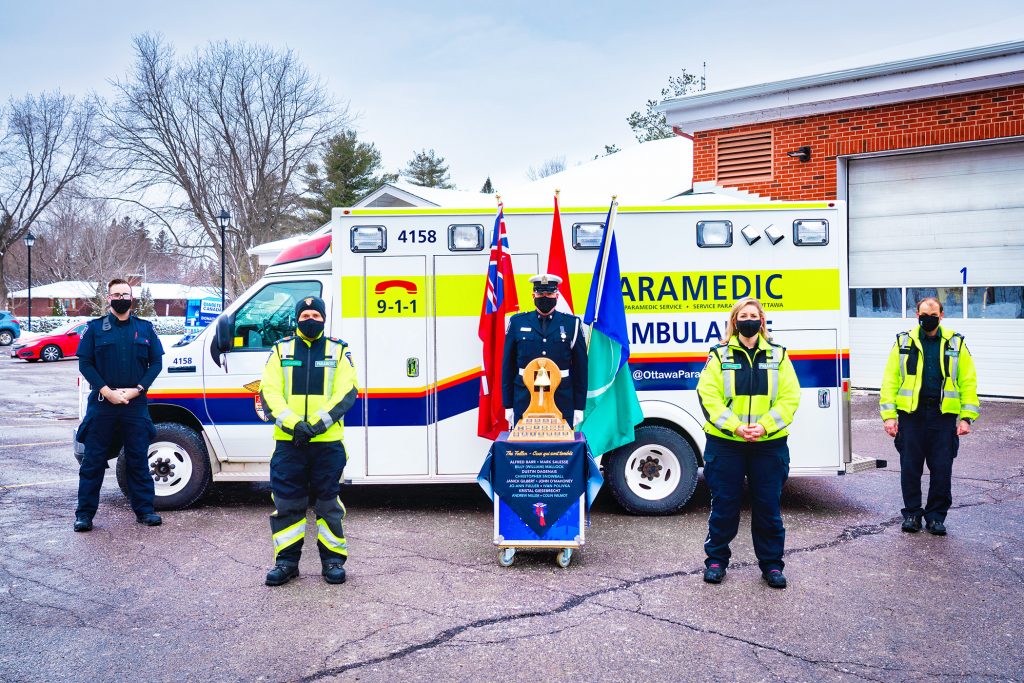 "The Ottawa Paramedic Service is honoured to receive the Bell which honours the memories of the 51 paramedics who lost their lives in the line of duty in Canada," the service released in a statement Jan. 5. "The Paramedic Memorial Bell is part of a larger initiative by the Canadian Paramedic Memorial Foundation whose mission is to build a National Memorial honouring the dedication and sacrifice of all Canadian civilian and military paramedics who lost their lives in the line of duty."
Since 2013, the Tour Paramedic Ride has taken place in several provinces with the goal of raising funds that would help towards the construction of a national memorial in Ottawa. Due to the COVID-19 pandemic the Tour Paramedic Ride was cancelled; paramedics were forced to adapt. Instead of the ride, a provincial journey was established thanks to the overwhelming support shown by paramedic services across Ontario, including all six First Nations services. The Paramedic Memorial Bell was hosted by approximately 70 land, air and First Nations paramedic services. At each location, a Remember the Fallen ceremony was held.
The Paramedic Memorial Bell used today was designed and built by Ottawa Paramedic Mike Dunlop in 2015. A name plate is placed on the tiers of the bell to honour each paramedic who has died in the line of duty in Canada. The memorial bell is mounted on a solid cherry wood pedestal which was built by Ottawa paramedic Steven Wilcox. At the memorial bell ceremonies, all 51 names are read aloud, accompanied by the tolling of the bell. A Last Toll follows to recognize paramedics, ambulance communications officers and other members of paramedic services who are suffering in silence with PTSD and other occupational stress injuries.
"The Last Toll also acknowledges our peers who have lost the battle leading to suicide," the Ottawa Paramedic Service said. "Throughout the week the Paramedic Memorial Bell will visit important landmarks in the City of Ottawa and visit each section within the Ottawa Paramedic Service."
If you would like more information about the Canadian Paramedic Memorial Foundation and how you can support this important initiative, please visit https://www.paramedicmemorial.org/.
"We wish to recognize the great work and contributions from Ottawa Paramedic Service staff members who've stepped up to organize the Paramedic Memorial Bell's visit in our Nation's Capital: Paramedics Normand Robillard, Jacynthe Picard, Andrew Lewis, Dan Kaplansky, Derek Davis and Ben Ripley," the service said.
---