OVGP mural a celebration of farming history
CARP – Ottawa Valley Grain Products (OVGP) unveiled a new mural on the wall of their Carp based business earlier this summer.
The huge mural depicts a family in a field posing in front of an OVGP work truck.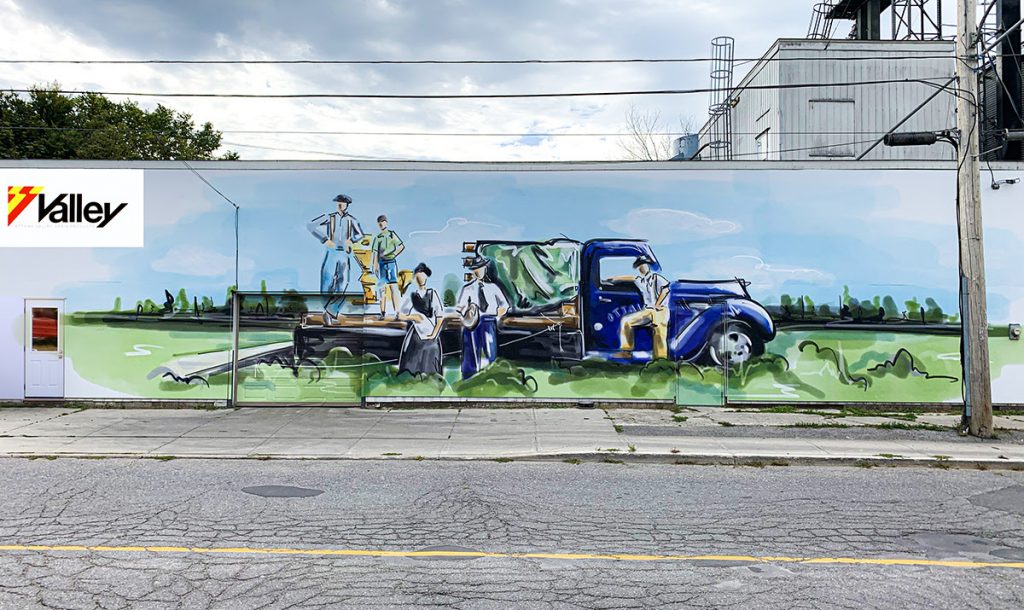 "In celebration of our deep-rooted farming history, OVGP recently unveiled a large-scale mural on the front exterior of the mill," the OVGP owner Kevin Stewart released in a statement. "Working with local Ottawa artist Candice Wei, the mural illustrates the founder of OVGP, Nat Lindsay, with his family and pays homage to the hard-working farmers of the Ottawa Valley. The artwork is a vivid depiction of the rich agricultural heritage within the community of Carp."
In 1929, Nat Lindsay, founder of OVGP purchased a small flour mill in Renfrew, ON. Within a few years, he turned to registered seed sales, split pea processing and feed manufacturing in response to the changing demands of local farmers.
It wasn't long before OVGP acquired a large flour mill from Renfrew Industries, which was then converted to processing pot barley and seed grain. In 1942, OVGP acquired another mill in Shawville, QC, followed by an outlet in Beachburg, ON in 1945. As part of the company's expansion in the 1960s and 1970s, OVGP acquired a feed mill in Cobden, as well as the current-day mill location in Carp, which was originally the site of a flour mill that dates back all the way to 1827.
Today, OVGP proudly remains a family-owned and operated business in its fourth generation, and continues to stone mill all-natural, high-quality whole grain products in the Ottawa Valley. OVGP is proud to have contributed to the local economy for nearly 90 years and remains committed to supporting the local agricultural ecosystem through the purchase of its products directly from farmers in the Ottawa Valley and surrounding area.
"The mural is our tribute to the hard-working farm families in the Ottawa Valley," Stewart said. "These farm families are the backbone of our community and our business. We proudly display our support for farmers who work the land and create nutritious food products."  
---