Ottawa COVID-19 assessment centres no loger accepting drop-ins
WEST CARLETON – Yesterday (Oct. 5) was the last day COVID-19 assessment centres were taking drop-ins as the province moves to a 'by appointment only' model.
"On Oct. 2, the Government of Ontario announced new measures for testing across the province, including transitioning to appointment-based testing beginning Tuesday, Oct. 6 and discontinuing walk-in service," Coun. Eli El-Chantiry released in a statement today (Oct. 6). 
To get more detailed information on the assessment centres and to book an appointment click here: www.ottawapublichealth.ca/en/shared-content/assessment-centres.aspx.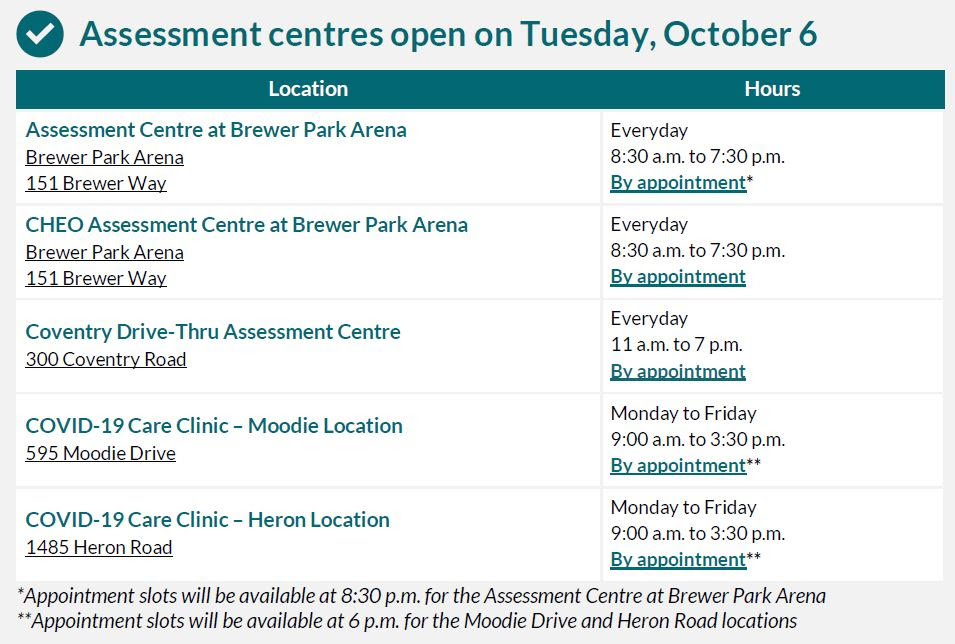 When should you go for COVID-19 testing?  There are four reasons to seek testing for COVID-19:
You are showing COVID-19 symptoms or
You have been exposed to a confirmed case of the virus, as informed by Ottawa Public Health (OPH) or exposure notification through the COVID Alert app or
You are a resident or work in a setting that has a COVID-19 outbreak, as identified and informed by OPH or
You are eligible for testing as part of a targeted testing initiative directed by the Ministry of Health or the Ministry of Long-Term Care. 
"COVID-19 transmission is rising at a concerning rate in Ottawa," El-Chantiry said. "OPH is asking everyone to work together to turn this around. This means reducing our interactions where we are in close physical contact as much as we can to stop the spread of the virus."
Take a look at the below graphic which illustrates where residents are being exposed to the virus.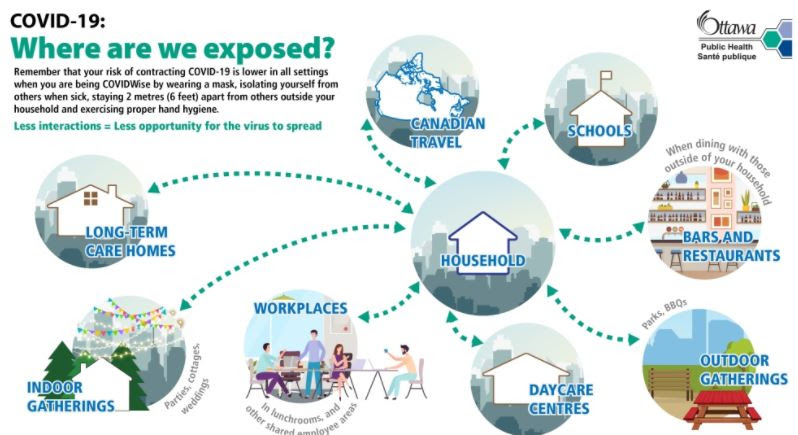 Because of the increased occurrence of COVID-19, El-Chantiry is asking residents to be extra vigilant this holiday weekend.
"With Thanksgiving arriving this weekend, it is important to recognize the holidays are going to look and feel different during the COVID-19 pandemic," El-Chantiry said. "Residents who plan on celebrating Thanksgiving should stay local, keep gatherings as small as possible, and connect with extended family and friends virtually, instead of in person."
A variety of factors can increase the risk of serious illness from COVID-19. Although current provincial guidance allows for up to 10 people indoors, and 25 outdoors, due to the extent of COVID-19 transmission in Ottawa, OPH recommends limiting gatherings to people you live with and one or two people who support you. 
---