OLA says nature not responsible for flood
WEST CARLETON – The Ontario Landowners Association (OLA) doesn't believe extreme spring flooding this year and in 2017 has anything to do with climate change, and he doesn't expect anyone to take responsibility either.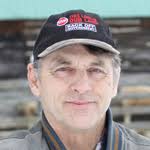 On the first day of June, OLA President Tom Black wrote his thoughts in a post on the OLA website. He says the 2017 and 2019 flooding is a man-made issue. He hopes his vocal approach to the issue this time around gets some attention this time.
"I tried to raise this issue in 2017 but nobody did anything about it, so I'm trying to be more public," Black told West Carleton Online yesterday (June 3). "We have contacts up and down the river. The water is sitting there like a bathtub. Someone's holding water back and that's a huge amount of water."
Black says there are several 'facts' that 'tell a different story' than a flood made up only of spring runoff and rain. He says the Carillon Hydro Dam is what sets the water level in the river.
"That dam is at least 62 feet high, so in that wide section of the river, extending back to Ottawa, this dam stores a massive amount of water," Black said. "Everyone knew early this year, there was a lot of snow and not much melting through the winter. So, you would think that in anticipation of more water, the common-sense thing to do would be to lower the water in the Ottawa to Carillon section early. Once spring starts this cannot happen because Montreal would be flooded out when combined with the flow from the Great Lakes down the St. Lawrence."
The Ottawa River Regulation Planning Board tracks water levels going back to 1933.
"You will see that someone decided to raise the normal water level in this stretch of river by about 1.38 metres starting in 1963," Black said. "The Carillon Dam was completed in 1962."

In January 2016, the Carillon Dam spilled water at 2,785 cubic metres per second (CMPS) and by the time April rolled around, water spilled from the dam at 4,843 CMPS. In May it spilled 3,204 CMPS. Compare that to 2017 where those same months are calculated at 1,967, 5,650 and 6,337 CMPS. In 2018 those numbers are again higher in January and February and considerably lower in April and May.
"In 2016 they dumped it very heavily during the winter months," Black said. "They didn't do that in 2017 and it's too late to do anything in April."
Black feels politicians should see those numbers as red flags.
"It would be pretty hard to not be aware of it," he said.
Black feels the dam operators may be trying to prognosticate the coming summer in each case and erring on the side of having more water in reserves than less.
"My feeling is there is money being made somewhere," he said. "Either that or it's incompetence. The snowfall and rain didn't cause this flood."
But Black admits he has no hard evidence.
"This is a huge cost," Black said. "There should have to be a major investigation before next spring."
Black says he saw something similar in 2015 along the Rideau Canal. He said the canal regulators started intentionally keeping the water levels high to beautify the area and appease the boater traffic.
"In 2017 we had huge rains and then we had huge farms completely flooded in North Gower," Black said. "We took the Rideau Valley Conservation Authority out for a drive and they couldn't believe their eyes. MP Pierre Poilievre and Lisa McLeod were on the tour. They had kept the water high because of a drought the year before and then they didn't react fast enough."
Black said those responsible agreed they had made a mistake.
"They agreed," Black said. "There were no consequences. Their job was to keep it high for the boaters."
Black says he's not holding his breath anything is going to happen based on his editorial.
"The OLA doesn't have much sway with politicians these days," Black said. "Nobody wants to play the blame game because there's too much of a cost."
Black says the numbers help tell the story, but it's pretty simple.
"If you have a river with a dam, then the dam controls the levels," Black said. "The numbers don't tell the whole story. They're just a moment in time, but it's obvious they released less water in the winter in the flood years. Carillon is the dam. It's 62-feet high and without that dam, the water level would drop to 20 feet. That's an awful lot of water you can accommodate."
---