OFS busy including two WC bush fires
WEST CARLETON – Volunteer firefighters were kept busy battling West Carleton bush fires during a burn ban, while firefighters across the city were kept busy all weekend answering a variety of calls.
"Busier than a one-legged waitress at an IHOP (International House of Pancakes restaurant)," Ottawa Fire Services (OFS) District 6 Chief Bill Bell told West Carleton Online this morning (April 27).
West Carleton firefighters responded to two bush fires on Saturday (April 25) in the west end of West Carleton.
"It's the 80-20 rule," Bell said. "Eighty per cent abide by the rule, the other 20 per cent think 'it's just a small fire'."
Bell is of course referring to the fact there is a provincial fire ban ongoing.
The first brush fire was just outside of Galetta on the Galetta Side Road near John Shaw Road.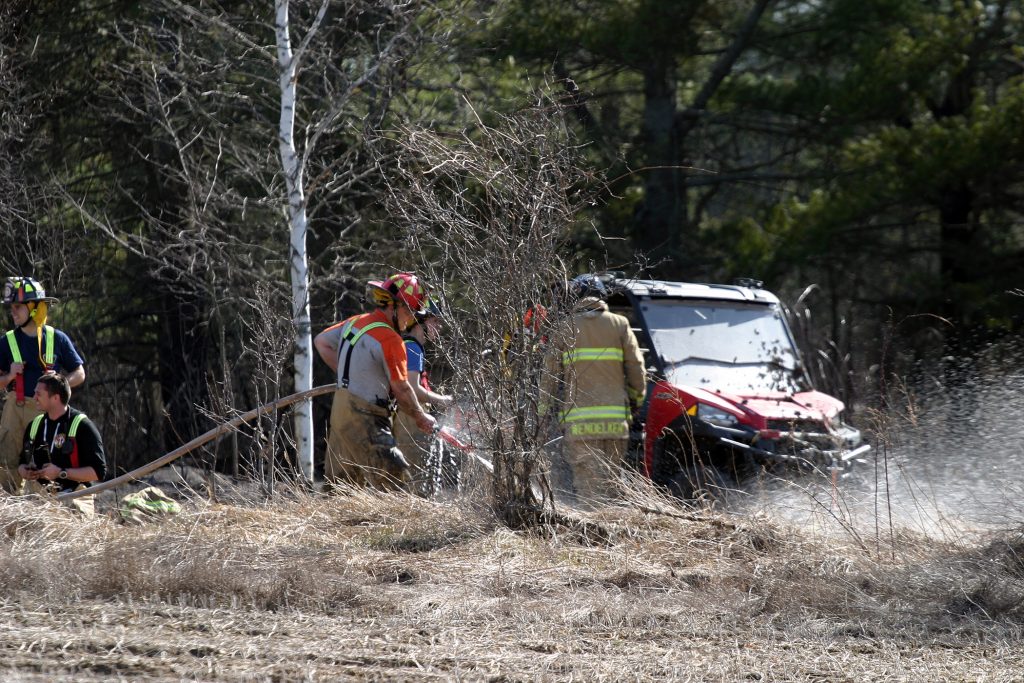 The OFS received a 911 call reporting a grass fire near at 1:24 p.m. Firefighters from OFS Station 62 in Fitzroy Harbour attended the call and confirmed a working brush fire. Additional trucks were dispatched to the incident.
"We had quite a few apparatuses there," Bell said. "We stopped the spread from reaching other property."
Unfortunately, the fire did claim two barns on the host property.
Bell said the fire started in a burn barrel and sparked nearby dry grass from there.
Winds pushed the fire towards a barn and a working barn fire was declared. The structure was unoccupied. The fire was declared under control at 2:50 p.m. A patient was put in the care of the Ottawa Paramedic Service.
"The landowner tried to put the fire out and had a minor burn to his arm," Bell said.
A little later Station 62 firefighters responded to their second brush fire of the day in nearby MacLaren's Landing.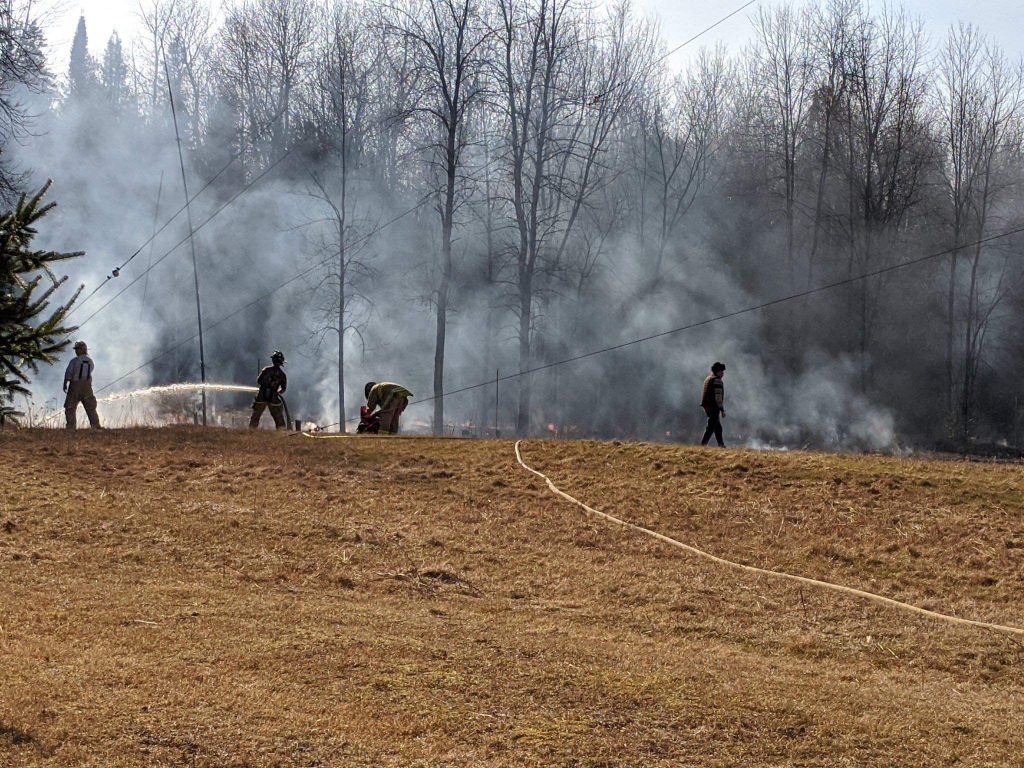 "Ottawa Fire Services received a 911 call for a brush fire that got out of control," OFS public information officer Jen McNeely released in a statement Saturday (April 26). "A working fire was declared. Firefighters were able to gain control of the fire quickly. OFS would like to remind residents that a burn ban is still in effect, open air fires are not permitted while the ban is on."
Bell said, even though people think the snowmelt provides the moisture to make fires safe, that just isn't true. Much of the flora is still very dry from its winter hibernation and provides a great fuel for fires. It has been a relatively dry March and April as well.
"Typically, we have a ban for most of April on to May," Bell said. "It may be extended due to COVID-19."
Keeping people home and away from groups is a key strategy in the fight against the pandemic and that includes firefighters. An extended ban keeps firefighters ready for more significant calls.
"This frees us up for higher priority calls we'd rather be available to attend," Bell said. "It's good when people adhere to the burn ban."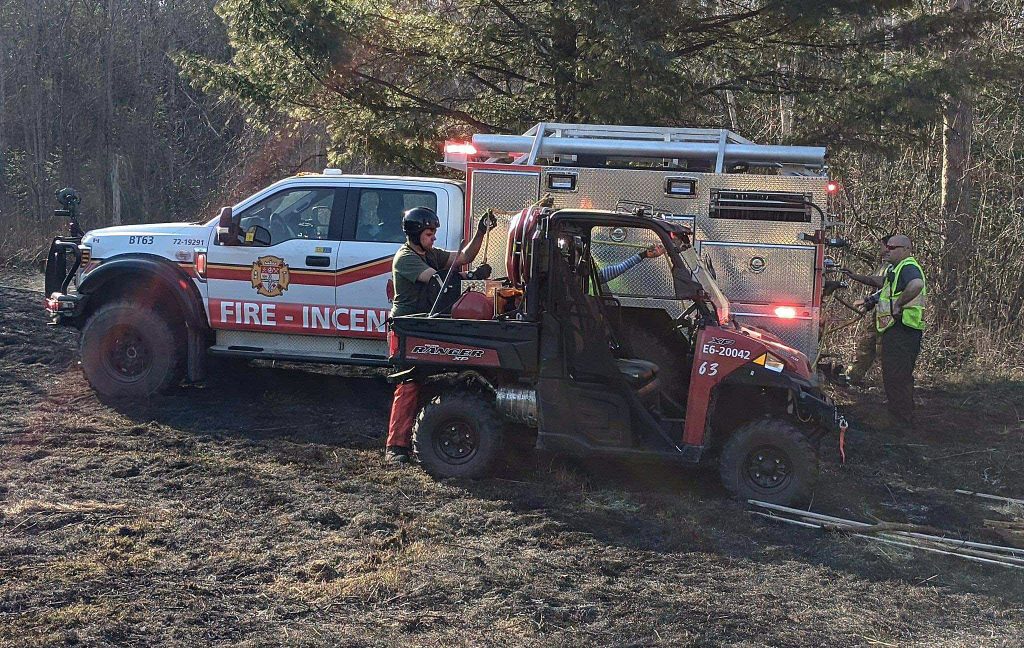 Bell says serving as a firefighter during a pandemic is a new challenge for the OFS. One policy change is firefighters now provide patient care in their full self-contained breathing apparatus. This allows the firefighters to work safely without putting a strain on the supplies of disposable personal protection equipment, which they are sharing with their emergency care partners.
But another challenge is working as a team when battling fires or attending emergencies and maintain physical distance – which just isn't possible in all cases.
"It is a challenge," Bell said. "We try our best to self-screen and make sure our firefighters don't have any symptoms. When we get a call we're fairly confident no one is sick. But someone could be asymptomatic. Every time there is a call, there is a risk."
Unfortunately for firefighters across the city, there were several calls for service over the weekend.
On April 25, OFS firefighters performed a water rescue in Bay Ward on Cassels Street.
OFS received 911 calls reporting people in the water after falling out of their kayak. Water rescue teams responded to the scene. Three people were rescued.
Firefighters from Station 42 also responded to a motor vehicle collision in Bay Ward on the Queensway near the Eagleson Road westbound off ramp.
OFS responded to a vehicle rollover reported by Ottawa Police Services around noon on April 25. Firefighters confirmed one person was trapped inside an SUV which was on its roof. Ottawa Fire Technical Rescue Team technicians stabilized the vehicle using re-jacks and additional fire fighters supplied hose lines as a precaution during the extrication of the patient. The patient was placed into the care of Ottawa Paramedics and transported to hospital.
On Saturday, Osgoode area firefighters were also battling a grass fire.
OFS received a 911 call reporting a grass fire on River Road with fire heading towards a home 30 feet away. On arrival firefighters declared a working grass fire. An aggressive fire attack prevented the fire from reaching the home.
On Sunday firefighters responded to a fourth grass fire on the 8th Line Road in Osgoode Ward.
OFS received a 911 call reporting a brush fire around noon. Arriving firefighters reported open flame travelling in a field with small shrubs and declared a working grass fire. No buildings were exposed to the fire.
Saturday evening Gloucester-Southgate firefighters received multiple 911 calls reporting the roof of a single-family home on fire. Upon arrival, firefighters declared a working fire. Crews confirmed there were no occupants in the house and were able to knock the fire down. The fire was declared under control at 7:12 p.m. There were no reported injuries. An Ottawa Fire Investigator was dispatched to the scene to determine the cause.
Early this morning (April 27) there was a tragic fire on Britannia Road in Bay Ward.
The OFS received multiple 911 calls reporting flames visible from a three-storey wood frame single home. Upon arrival firefighters declared a working fire. A second alarm was declared at 3:12 a.m. Crews remain on scene performing suppression operations. Firefighters rescued.
Unfortunately, there were also three fatalities. All three were rushed to hospital after being pulled from the but succumbed to their injuries. The victims include an 83-year-old woman and a 76 and 49-year-old man.
---